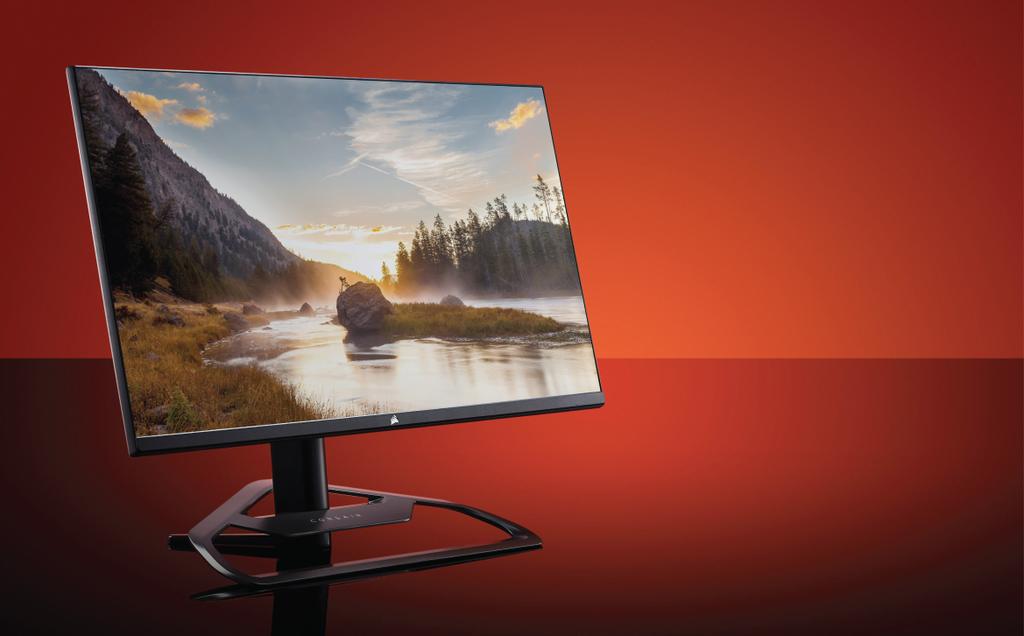 NEARLY 800 BUCKS for a 1440p panel? In 2021? This thing needs to be very good indeed. Enter the new Corsair Xeneon 32QHD165, a 32-inch IPS gaming panel with a 1440p native resolution, 165Hz refresh, and sub-3ms pixel response.
On paper, that's not a hugely impressive core feature set, especially for the money. But there's more to a subjective gaming experience than mere numbers. Some things require a more subjective, qualitative assessment. But, let's cover the 32QHD165's speeds and feeds. The 1440p resolution translates into 2,560 x 1,440 pixels on an 16:9-aspect panel and sub-100dpi in terms of pixel density. An Apple Retina-style display this isn't.
Speed-wise, it has a 165Hz refresh and response of below 3ms by the grey-togrey standard and 1ms in the alternative MPRT metric. VESA DisplayHDR 400 certification ensures peak brightness of 400 nits, though there is no local dimming and this is not a true HDR display. Static contrast, meanwhile, is pegged at the usual 1,000:1 for an IPS panel.
As for accuracy, Corsair quotes 98 percent coverage of the DCI-P3 gamut, which is impressive for a gaming-biased monitor and in part a function of the use of quantum dot tech in the Xeneon's backlight. It also has adaptive refresh in both AMD FreeSync Premium Certified and Nvidia G-Sync compatible varieties.
Inputs are covered by a pair of HDMI 2.0 ports, a DisplayPort 1.4 socket, and USB-C with DisplayPort 1.4 alt mode and power delivery. The latter is limited to just 15W of power—we'd rate 65W as the bare minimum for a desktop replacement laptop and 100W as preferable.
For the record, the HDMI ports are limited to 144Hz and support a so-called "console mode" that downscales 4K to 1440p. For now, that's of most relevance for the Sony PS5, which doesn't support 1440p. But suffering the GPU load of running at 4K only to downscale that to 1440p doesn't make a whole lot of sense.
The whole thing is wrapped up in a well-engineered chassis complete with a die-cast aluminum stand with height, tilt and swivel adjustment. In terms of ergonomics, Corsair deserves praise for the clarity and logic of the Xeneon's OSD menu, it's a cut above the norm.
But is the image quality exceptional? Strictly speaking, no. That's not to say this screen is poor—the core image is punchy, vibrant, accurate, and well-calibrated when using the preset modes, such as sRGB. It's a quick panel that does justice to its on-paper specs and happily turns its hand to pretty much any type of gaming. Online shooters, such as Apex Legends, have plenty of speed and little latency. Graphics fests, such as Cyberpunk 2077, have basic HDR support and decent overall visuals, while 1440p gets the job done for Total War-style strategy titles.
However, the Xeneon 32QHD165 struggles to justify that premium pricing. It can't compete with the stunning visual detail of a 4K monitor. Esports addicts who care about the last word in latency will be unimpressed by the 165Hz refresh. And if you want truly eye-popping HDR drama, it's simply not on offer here.
In the real world, for most gamers, 165Hz is plenty. As an all-round gaming panel that delivers decent visual detail without hammering your GPU, the Xeneon's 1440p res also makes sense. But to put its price into context, the LG UltraGear 32GP850-B goes for $, while cheaper alternatives based on VA rather than IPS panels start for as little as $. For us, the price needs to be nearer $ than $ for the overall proposition to make sense.
VERDICT
Corsair Xeneon 32QHD165 Review
PROS
Really nice engineering
Great all-round performance and image quality
CONS
Too pricey for a 1440p panel
USB-C only delivers 15W charging
Add your review
Best Corsair Xeneon 32QHD165 prices ?
MORE DEALS