32 in GAMING MONITOR
Gaming monitors from Dell often come with Alienware branding, but the Dell-branded S3220DGFis a subtler affair. You won't find wild design or RGB LEDs on this panel – instead, it concentrates on providing a solid experience. The Dell's panel uses VA technology, which should deliver superb contrast, and it has a 2,560 x 1,440 resolution, a 165Hz refresh rate with AMD FreeSync 2 support andan1800Rcurve. Read our DELL S3220DGF Review.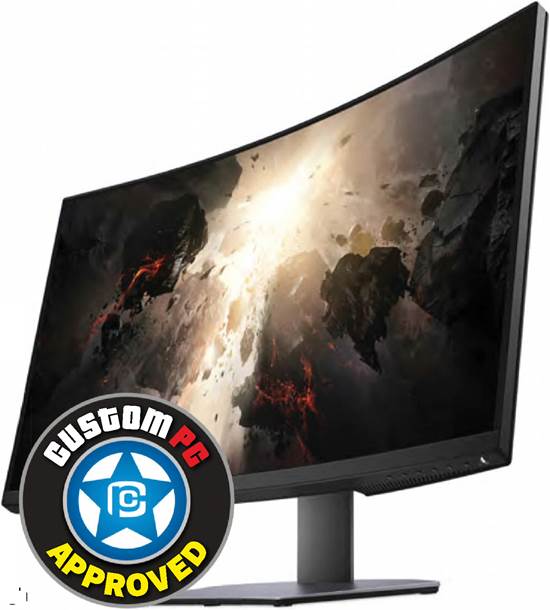 It's a good specification for lots of gaming scenarios – the curve and large diagonal make single-player games look immersive, and the refresh rate is quick enough for mainstream esports. The density level of 92ppi is good enough for esports too, and the relatively low resolution means you won't need an enormously powerful GPU to play games on this panel at native resolution. However, you'll want to move up to a 4K screen if you want crisper imagery.
Decent design joins the solid internals. The plastic exterior is sturdy and discreet, the display doesn't wobble, and it has height, swivel and tilt adjustment – the only missing feature is portrait mode. It has four USB3 ports and a straightforward, fast on-screen display menu system. Aside from the lack of RGB features, there are also a few notable missing gaming features – it has no USB-C ports or headset hook, and you only get a basic cable-routing hole.
When it comes to image quality, though, the Dell impresses. The VA panel provides a fantastic contrast ratio of 4,616:1 out of the box, and that figure remained at a superb 3,750:1 with the initial brightness of277cd/m2 dialled back to 150cd/m2. The colossal contrast ensures incredible vibrancy and punch, and the sub-0.06cd/m2black level means great depth in darker areas.
The delta E of1.64 and colour temperature of 6,519Kare excellent, and the gamma average of2.26 is good. Colours are supremely accurate, and the Dell delivered a decent sRGB coverage level of 95.5 per cent. For mainstream gaming, it's excellent.
For gaming, the 165Hz refresh rate and 4ms response time provide the smoothness and speed required for mainstream play, but there's still a little blurring in fast-paced situations. The overdrive modes don't cause notable inverse ghosting, but they don't deliver a big performance improvement either. If you're a keen esports fan, we recommend finding a non-VA panel at 240Hz with a faster response time.
For HDR content, the Dell only supports Display HDR 400, but in its HDR mode, its peak brightness of 462cd/m2 pairs with a low black point, so you can see a difference in HDR content on this panel – there's certainly extra punch and depth. Dell's display only uses edge-lit backlighting, though, and it only handles a moderate 85 per cent of the DCI-P3 colour gamut. You'll get a boost to HDR content on this panel, and it's better than most more affordable gaming displays, but it's not a huge upgrade.
Conclusion
The Dell S3220DGFis an unfussy and practical display. It has excellent core image quality and a subtle design, while its size, resolution and curve delivers an immersive gaming experience with modest GPU horsepower. The refresh rate is also fine for mainstream gaming, but you'll want a quicker response time for highly competitive, fast paced gaming. Those are acceptable compromises at this price, though, and the Dell will sate plenty of gamers. It's a terrific large gaming monitor for a very fair price.
MIKE JENNINGS

VERDICT
DELL S3220DGF Review
Great image quality and smart, sensible design make for an ideal mainstream gaming display.
PROS
Consistently impressive image quality
Good balance of size, resolution and curve
Sturdy, subtle design
CONS
Only middling HDR performance
Not the best response time
Some missing features
Add your review
Best DELL S3220DGF prices ?

$

199.00
1 new from $199.00
in stock


£

399.99
4 used from £331.08
6 new from £399.99
in stock


Enjoy stunning panoramic views during gameplay with this Dell 32-inch curved gaming monitor. A vibrant 2560 x 1440 resolution coupled with a contrast ratio of 3000:1 delivers precise colors for an immersive gaming experience, and This Dell 32-inch curved gaming monitor has AMD FreeSync 2 to...
$

443.00

$699.99
out of stock

MORE DEALS