It's not hard to imagine the perfect laptop. Big screen, full-size keyboard, yet the whole thing should be nice and small. Try explaining this to an industrial designer and they're likely to start making excuses about 'contradicting yourself, 'logic' and 'the laws of physics'. Read our LG Gram 15 Review.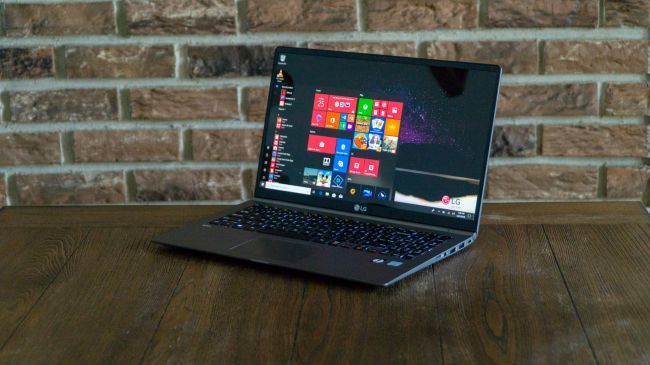 At least the people at LG have made an effort. The Gram weighs just a fraction over 1 kg, which is what you'd expect for a much smaller laptop. It's plain Full HD, not ultra-sharp, but with 97 per cent of the sRGB colour range covered, it's fine for photo and video editing. And it's a touchscreen, which isn't essential but saves you looking silly when you tap it without thinking.
Impressive ultra-light laptop with long-life battery and full-size screen
The built-in stereo speakers are tinny, but there's a headphone jack as well as three traditional USB 3.0 ports and one Type-C, the latter supporting Thunderbolt 3 external storage and monitor connections. There's an HDMI socket too, and a Type-C Ethernet adapter is included.
The plain grey case looks impeccably stylish, but we had the same concern as with the Acer Swift 5 the alloy used in its construction has been moulded so thin that the whole thing feels more like plastic than metal and flexes more than we'd like when handled. LG, however, claims it's passed several
LG Gram 15 SPECIFICATIONS
1.8GHz Intel i7-8550U quad-core processor • 16GB memory • 512GB SSD • 15.6in 1920×1080-pixel screen • 802.11ac Wi-Fi • MicroSD card slot • USB Type-C port with Thunderbolt 3 • 3x USB 3.1 ports • HDMI 2 port • Webcam • Windows 10 Home • 17.7x358x228mm (HxWxD) • 1.09kg
durability tests.
The keyboard is indeed full-size, although the backlit keys are a little smaller than some, leaving bigger gaps. There are function keys along the top and a numeric keypad at the right, but the US key layout gives you a double-width left shift instead of a double-height Return, which feels unfamiliar even when other differences are ironed out by tweaking Windows' country setting to UK. The glass-topped touchpad is smooth and perfectly responsive.
What makes the Gram special, though, is that its light weight doesn't mean compromising on performance or battery life. The quad-core i7-8550U processor had no overheating problems and delivered plenty of speed for office and creative tasks, comparable to a desktop i5 chip. There's no separate graphics chip, but 3D games ran smoothly with some quality compromises.
The SSD isn't the fastest, but its 512GB capacity is very practical. And the battery lasted an excellent 11 hours 30 minutes in our video-playback test, making this a laptop that's not just easy to take anywhere, but will keep going until you're there.
LG Gram 15 VERDICT
Best value
LG Gram 15 Review
It's not cheap, but the Gram squares the circle of full-size screen, all-day battery and low weight.
Add your review
Best LG Gram 15 prices ?
MORE DEALS

See also THE COMPLETE GUIDE TO…OLED laptops
ALTERNATIVE of LG Gram 15
Adds MX 150 graphics and a 4K screen (albeit less colour- accurate), but weighs 2.09kg