HP ENVY X360 15-BQ100AU 15.6IN 2-IN-1 LAPTOP – ONE OF THE FIRST LAPTOPS WITH A MOBILE AMD RYZEN CPU FAILS TO IMPRESS
HP ENVY X360 15-BQ100AU – For a decade, if you wanted a laptop with decent specs and useful battery life, it was going to have an Intel CPU in it. AMD was missing in action when it came to laptop CPUs, releasing a handful of lukewarm chips that ended up in budget machines. With AMD's new Ryzen platform, they're back in the laptop game and HP are amongst the first OEMs to release a laptop using it.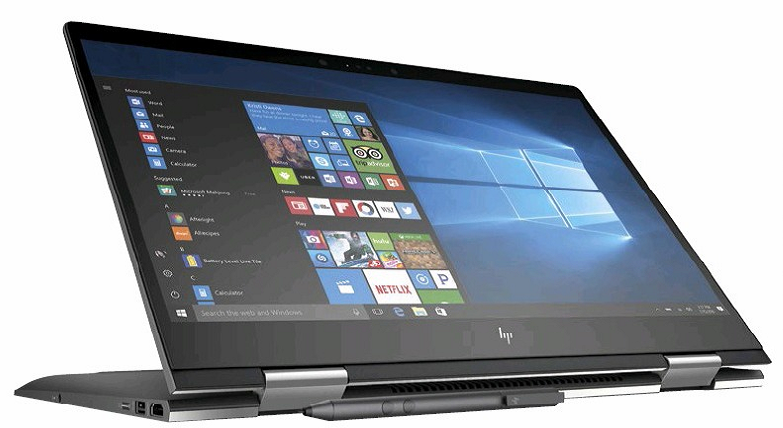 The laptop in question is the HP Envy x360 2-in-1, which besides the internals, is practically identical to the Intel based HP Envy x360. Same dimensions, same weight, same Bang & Olufsen speakers, backlit keyboard and 15in 1080p touchscreen with stylus support that can fold all the way around. An SD card reader, lx USB 3.1 Type-C, 2x USB 3.1 and a HDMI port round out the I/O. All standard stuff.
Build quality is solid, with no flex and a very dense feel to the unit. It's a bit of a porker, at 2.16kg, overweight compared to other 15in laptops that tend to clock in around the 1.8kg range. There's a full numpad, which is a nice treat, but it results in an off-center keyboard that messes with your muscle memory for a few days until you're comfortable with it. The Envy x360's trackpad is larger than most, but not as classy as Apple's sublime trackpads.
Inside this Ryzen variant of the HP Envy x360 is obviously, a Ryzen 5 2500U CPU, with four cores and eight threads that operates at base frequency of 2GHz, but when pushed, can run at 3.6GHz.
Its closest competitor would be the Intel i5-8350U and i5-8250U. Unsurprisingly, in the PCMark 10 Professional Edition benchmark, the Ryzen 5 2500U scored a fraction higher than the i5-8250U laptops we've seen. Performance wise at least, the Ryzen 5 2500U manages to keep up with Intel's latest.
An impressive feat from AMD, considering how lacking their previous range of laptop CPUs performed.
The Ryzen 5 2500U is paired with a Radeon Vega 8 GPU. It's not in the same arena as a dedicated GPU, but for a built-in GPU, it outshines the Intel UHD 620 that comes with the i5-8350U, scoring a whopping 2421 in the 3DMark Fire Strike (1080p) benchmark, compared to Intel's paltry 514. While the HP Envy x360 isn't a gaming laptop, the Radeon Vega 8 does manage a satisfactory gaming experience, albeit with the quality turned down.
A relatively thin chassis on the Envy x360 means that the fans spin up often, even under light load like web browsing. When gaming, the fans are like a hairdryer and the chassis becomes scorching hot when touched near vents. The Envy's 1.96cm thick chassis was not designed for a powerful GPU generating loads of heat, just built-in Intel graphics, which is nowhere near as power hungry as the AMD's more substantial GPU.
Considering the I IP Envy x360 is a 15in laptop, it's reasonable to assume some of that big chassis is filled with extra battery capacity. Unfortunately, it only comes with a relatively small 55.8Wh battery. Instead of using the larger chassis for more battery capacity, HP thought that customers would prefer a HDD together with the M.2 SATA SSD. In 2018, that's probably the wrong bet.
It's comforting to know that Intel finally has a competitor when it comes to mobile CPUs. Intel has had it too good for too long and competition from AMD is just what this segment of the market needs to keep it interesting. When it comes to pure grunt, the Ryzen 5 2500U keeps up with Intel's latest and the Radeon Vega 8 GPU, whilst not a gaming barnstormer, can play along. Whilst the Ryzen CPU is great, HP's choice of chassis to place it in, is not as good. It's heavy, contains a small battery, and has difficulty extracting all of the the heat this powerful CPU spits out.
ANTHONY AGIUS
HP ENVY X360 15-BQ100AU: KEY SPECS
AMD Ryzen 5 2500U Quad-Core 2GHZ-3.6 GHz CPU • 16GB DDR4-2400 SDRAM. AMD Radeon Vega M Graphics • 256GB SSD & 1TB HDD • 15.6in 1080p IPS multitouch display • 1x USB 3.1 Type-C • 2x USB 3.1 • 1x HDMI 2.0