They used to say a week was a long time in polities. Given recent events, that's probably been revised down to about five minutes. The tech industry also moves pretty quickly, so when a PC maker announces a new product, the clock is ticking to get it into shops before people start questioning its existence.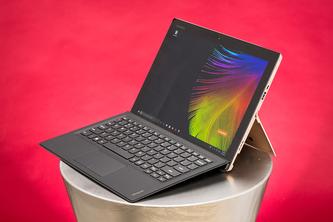 After seeing Lenovo's Miix concept at the I FA trade show in Berlin a year ago, we'd almost given up hope.
A slim design, crisp display and high performance levels.
Here it is, though, as promised: a stylish Windows 10 laptop-tablet with a slim touchscreen and an even slimmer keyboard (attached by a magnetic hinge). That was exciting a year ago, before Microsoft's Surface Pro 4 arrived. Since then, just about every laptop has evolved into some sort of hybrid, and the IdeaPad Miix 700 looks like a lot of other machines, including some of Lenovo's own.
The metal case does feel very nice, though. It's just a fraction thicker than the Surface Pro 4, but positively svelte compared with HP's Elite X2. It's also cheaper, while still offering impressive specifications.
The display has a crisp 2160×1440 resolution, giving you as many pixels in its 12in screen as you'd typically find in a 27in monitor. Although it doesn't quite match the color accuracy of the Surface Pro 4, it covers 89 per cent of the sRGB range, which is more than adequate for tasks like editing photos.
We weren't so happy with the keyboard. It connects neatly and securely, and can lie flat or at a slight angle (a kick-stand supports the screen – see image below left). But the keyboard feels much flimsier than the one on Lenovo's ThinkPad XI, and bounces when you type (the keys feel cramped and lack travel, too). Occasionally, ours even failed to register characters, which may have been a problem with our particular review model. The touchpad worked fine, but was too small for comfort. Lenovo's Active Pen stylus, which costs extra in the US, comes included in the UK (maybe we don't live in 'rip-off Britain' after all!).
Battery life – at six hours 40 minutes of video playback in our tests – should get you through most periods between mains sockets, but lagged an hour behind the Surface Pro 4 and considerably short of Lenovo's optimistic claim of nine hours. The m7 processor beats Intel's low-power mobile range, but it's no i7, and struggled with tasks like editing videos and 3D games. General Windows tasks felt very snappy, though, making this a good two-in-one system at a fair price.
SPECIFICATIONS
Intel Core M7-6Y75 processor • 8GB memory • 256GB SSD . 12in 2160 x 1440-pixel screen . 1x USB 3.0.1x USB 2.0 • Micro HDMI • MicroSD card reader • 802.11ac Wi-Fi • Bluetooth 4.0 • Windows 10 Home • 14.5x292x219mm (HxWxD) • 0.78kg • One-year warranty
VERDICT:
The keyboard leaves a lot to be desired, but if frequent typing isn't your main reason for buying, this is a good all-round hybrid
See also THE COMPLETE GUIDE TO…OLED laptops
ALTERNATIVE:
Acer Switch Alpha 12
Specs are a bit lower all round, but if you want to pay a bit less, this is a decent hybrid with a stylus