Today's laptops can be so minimalist in their design that they are hard to tell apart. No such problem with the Acer Swift 5 (2018).
We imagine Acer put several teams to work on it, and they each came up with different ideas, and then they said yes to all of them.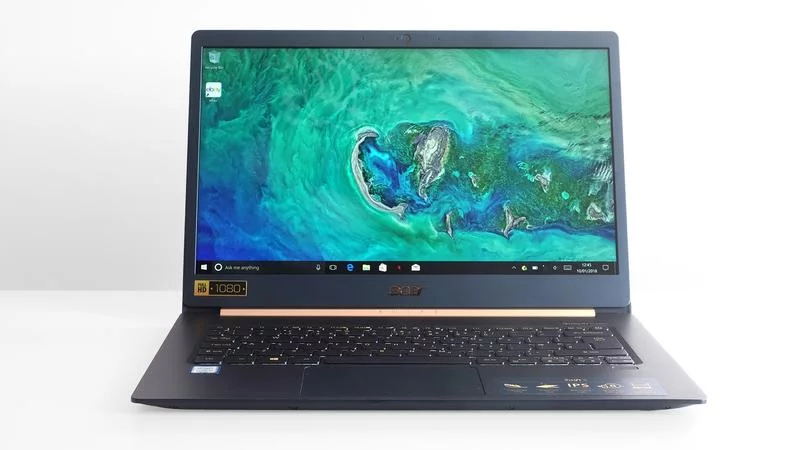 A slick-looking, compact laptop, with a good battery and lively performance
Specifications
DIMENSIONS (WXHXD):  

327.66 x 15.24 x 228.6 mm

WEIGHT:

970 grams

DISPLAY:

14-inch Full HD (1920 x 1080) 16:9 In-plane Switching (IPS- Pro) Technology

PROCESSOR:

8th Generation Intel-Core i7-8550U @ 1.80GHz

RAM:

8GB LPDDR3

STORAGE:

256GB SSD

GRAPHICS:

Intel UHD Graphics 620

OS:

Windows 10 Home

CONNECTIVITY:

802.11ac Wi-Fi and 2×2 MIMO

PORTS:

2x USB 3.0 Type-A, 1x USB 3.1 Type-C,1x HDMI
From the front, the black glossy finish and slanted edges look slick, despite an odd curve at the top for the webcam.
From the back, the shiny silver hinge, with its chunky end caps, seems to belong to another machine. And if they really needed to engrave 'Swift' on it (in upper case), they could at least have got it the right way up.
The big Acer logo on the lid (in lower case) is the opposite way round, and while the lid is metal, they've added a ridged effect to make it feel like plastic.
All those contradictions aside, this is a slim and light laptop that doesn't bend or creak too much.
The keyboard is backlit, but not evenly, while some keys are cramped and typing feels a bit squishy.
Still, the aluminium surround makes a comfortable palm rest, and the large touchpad works well.
There's even a fingerprint reader for Windows 10's 'Hello' login feature.
You get a full set of ports, and although this is categorized as a 13.3in laptop, the glossy Full HD screen is actually 14in.
Covering 83 per cent of the sRGB color range in our tests, it's not ideal for serious photo editing, but still better than many we've seen.
This combination keeps Windows 10 zipping along quite nicely in everyday tasks, helped by 8GB of memory.
The battery lasted over nine hours in our videoplayback test, making this a practical travelling companion.
That's not bad, but you can buy the Asus ZenBook UX310UA with the same specification and an ultra-sharp 3200×1800-pixel 13.3in screen.
The ZenBook's battery lasted under seven hours, but it's still a great deal. Take your pick.
Huge performance from its ultra-slim stature

8-hours long battery use

Three ports only -one can only dream for more!
Light and Nimble
Much like the entire Acer Swift line-up, this next-gen take of the Acer Swift 5 (2018) is extremely lightweight and compact.
The magnesium alloy chassis promises a smooth and elegant feel against one's fingers.
On the front sits a 14-inch Full HD IPS display screen that delivers a wide field-of-view.
This is especially great when watching movies or getting work done.
The display panel also features superbly thin bezels, reinforcing that large screen look on a compact chassis.
Acer's Workhorse
Even with its diminutive frame and compact design, the Acer Swift 5 (2018) is built for productivity.
Most might wonder, though, if it can withstand the pressure of working in a fast-paced environment?
Roaring inside is an Intel 8th Generation Core i7-8550U processor with 8GB RAM and 256GB SSD.
The specs alone make it clear this new Acer Swift 5 will keep up with various workloads; be it multiple word processing tasks or a tonne of Google Chrome tabs.
Odd Keyboard
Unfortunately, the keyboard on the Acer Swift 5 (2018) is a hit-and-miss.
While it has great key-travel, it doesn't come with the same tactile feedback the larger Acer Swift 7 offers.
Acer has also put the power button as part of the keyboard layout, making it confusing when I wanted to press Delete.
Indeed, the power switch is now located at the third most-sought after keyboard button.
However, these little changes will not affect the overall user experience.
VERDICT
Editor choice
Acer Swift 5 Review
If you're looking for a lightweight, yet powerful laptop that VERDICT: works perfectly well on-the-go, the Acer Swift 5 is a good choice. They might have worked a little too hard on the 'premium' look, but the Swift 5 packs a decent computer into a very compact chassis
Add your review
MORE DEALS

See also THE COMPLETE GUIDE TO…OLED laptops
ALTERNATIVE:
The smaller screen has slightly better colour and a lot more pixels, but battery life doesn't match the Swift