In the old days, computers were made up of a bunch of widgets slotted together. When a component failed or a better one came along, you could undo a screw or pop open a flap and do a quick swap. Desktop PCs are still like that, which is why they're not extinct, despite being unattractively bulky. But nowadays we carry more processing power in our pockets than we used to have on our desks, and one way engineers have achieved that miniaturization is by abandoning 'modularity': the principle that parts should be independent of the whole.
Best LG G5 prices ?
MORE DEALS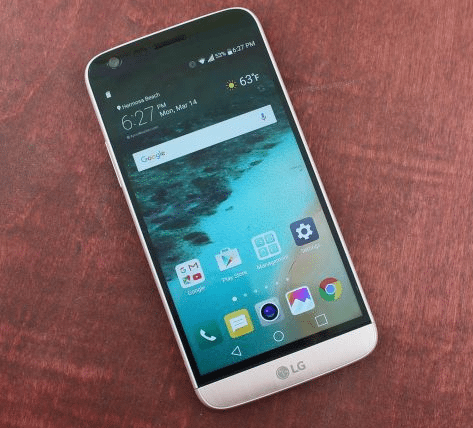 This latest phone from LG unexpectedly reverses that trend. Instead of a seamlessly sealed case that can only be opened with special tools and a degree of bravery, it has a bottom cap that slides off at the squeeze of a button. This reveals the yellow battery, which you can replace easily enough to make it practical to carry a spare when you're out for the day, rather than a charging case or battery pack. More interestingly, the cap can be replaced with modules that add features to the phone.
Two of these are available from LG. The CAM Plus increases battery life (although, at over 11 hours of video playback in our tests, it's decent already) and adds physical controls for shutter speed, zoom and taking photos. The Hi-Fi Plus module, developed with the hi-fi company Bang & Olufsen, improves the quality of audio playback, for sharpeared people who can hear the difference between regular MP3s and high-quality sound files and are fed up with their phone making the latter sound like the former.
It's a lovely idea, but neither of these options feels like a must-have, and LG's two external accessories, a 360-degree camera and VR goggles, even less so. Considering that these are made specifically for this phone, we were surprised by how clunkily they fit on. The modules clip into place well enough, but it's obvious that your G5 has an extra blob stuck on the bottom. Along with the fussy protrusions at the top for the camera, flash and fingerprint sensor, this gives the whole thing the air of a Heath Robinson prototype rather than a polished product.
That's unfortunate, because LG so nearly got it right. Modular designs tend to be boxy and cluttered, but the G5 is as slim, sleek and light as this year's other top-end phones, with a neat aluminium body and a beautiful, bright, sharp display that covers 97 per cent of the sRGB color range and shows the time and notifications even when switched off. Slightly smaller than an iPhone 6s Plus, it's definitely a large phone but not unwieldy, and its Snapdragon 820 processor runs apps and games as smoothly as rivals like the Samsung S7. LG's version of Google's Android 6 Marshmallow operating system has some annoyances, but no major problems.
An innovation that did impress us was the inclusion of two separate cameras on the back. The main 16-megapixel unit uses a fast f/1.8 lens and optical stabilization to get great pictures even in tricky situations, and worked very well in our tests, although the Samsung Galaxy S7 was even better. The G5's secondary 8-megapixel camera has a 135-degree field of view, almost a 'fish eye' lens, which lets you capture wider landscapes or fit anything from a plate of food to a building into a shot when you can't stand far back from it. It's amazingly useful and makes even mundane subjects look dramatic.
VERDICT
The G5 is an excellent phone with plenty of advanced features, but the modular gimmick doesn't make it better than Samsung's S7.
SPECIFICATIONS
5.3in 2560×1440-pixel screen • 16-megapixel rear camera • 8-megapixel wide-angle camera • 8-megapixel front camera • 32GB flash storage • microSD card slot • 802.11ac Wi-Fi • Bluetooth 4.2 • 3G/4G • 149x74x7.7mm (HxWxD) • 159g • One-year warranty.