Monochrome Class Act – Black and white photos on a smartphone have never & looked this good
In early August, a device we've wanted to review for quite some time finally arrived. Here's our take on the Huawei P9 Plus.
Inside the box of the P9 Plus was a Fast Charge adapter, USB Type-C cable, basic earphone, Quick Start Guide, and a pin to pop open the SIM tray. The P9 Plus sported a slim brushed metal body and a subtle, but lovely, champagne gold color. Considering its screen size of 5.5-inch, the P9 Plus wasn't as big as expected either, courtesy of the incredibly thin bezels on the sides. Smooth but chamfered edges gave it a good grip, making the device quite a pleasure to hold.
Looking at the device we found components placed at the usual spots. There's the SIM tray on the left power button and volume rocker are on the right, as well as the fingerprint sensor at the back, along with the P9 Plus's selling point -the dual camera. In addition,there was an IR blaster at the top (neat!), while the speaker, audio jack and USB Type-C port were located at the bottom.
We found the P9 Plus to be very responsive and stable; it didn't crash or froze any programs while we were using it. The Kirin 955 was more than capable of handling any combination of apps we threw at it and like the Mate 8, the P9 Plus excelled in the battery life department. The one weakness we can point out is the audio, which sounded slightly hollow and lacked bass.
As expected, there's quite a few preinstalled apps. Fortunately, nearly all of them can be uninstalled, if not disabled. There were useful ones, such as the Smart Controller App, which can turn the P9 Plus into a universal controller, but its effectiveness was a hit or miss, however; some devices or appliances didn't react to it.
Moving on, the camera was hands down the best part of the phone. The dual camera, one capturing only in monochrome (black and white) and the other a standard camera. Using the monochrome camera, we found that it can capture a lot of detail and has great dynamic range. The standard camera, on the other hand, shows a small degree of noise and less detail than the monochrome camera. It also doesn't have 4K video capturing, which is something we would have loved to see in a device of its class. However, it did have very good low-light capability and dynamic range, enough that there was hardly a need to use the HDR mode.
3DMark Slinghost: 947 points
PC Mark Work: 6,825 points
Antutu: 99,212 points
Specification
Display: 5.5-inch 1080 x 1920 Super AMOLED
CPU: Quad-core 2.5 GHz Cortex-A72 + quad-core 1.8 GHz Cortex A53
GPU: Mali-T880 MPA Memory: 4GB
Connectivity: Bluetooth 4.0, WiFi, WiFi Direct, LTE
Storage: 64GB eMMC Flash expandable with microSD
Operating System: Android 5.0.2 Camera: Dual 12MP (rear), 8MP (front)
Dimensions: 152.3 x 75.3 x 7mm Weight: 162 g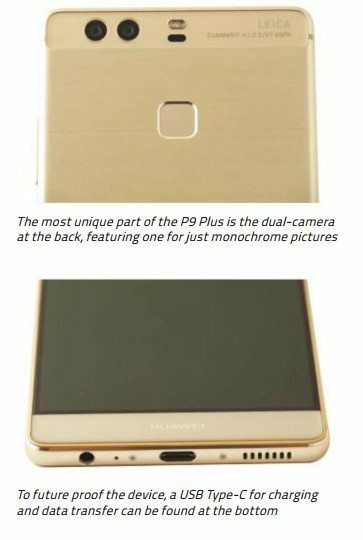 Monochrome camera Performance
Audio No 4K recording
Verdict
The highlight of the P9 Plus is undoubtedly the Leica co-engineered dual-camera, which delivered some amazing shots, especially via the monochrome camera. If casual photography with a bit of black and white artistic twist is to your taste, do check out this device