Can fewer pixels actually add up to more gaming fun?
That's the new LG 34UC79G's core proposition. At 34 inches and with a 21:9 aspect ratio, you might expect LG's gaming panel to pack 3,440 x 1,440 pixels. Instead, it rocks a mere 2,560 x 1,080, a resolution we're more used to seeing on 29-inch super wide monitors.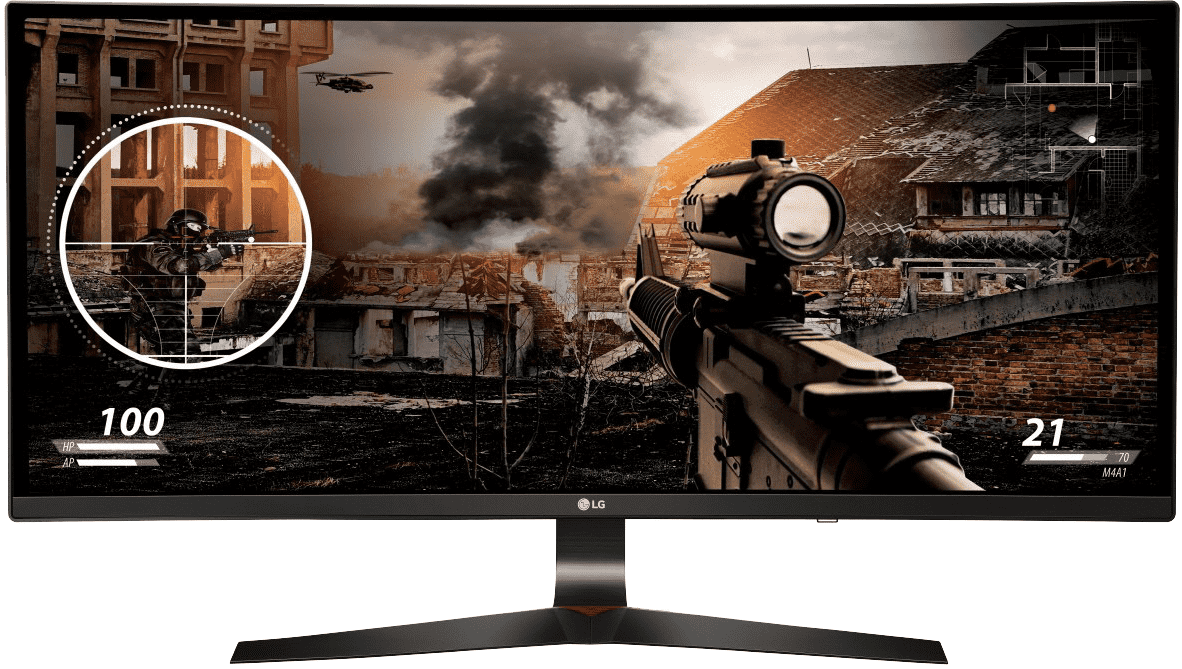 The performance implications of that lower resolution are twofold.
It allows the 34UC79G to crank out a 144Hz refresh rate over a standard DisplayPort 1.2 connection – 3,440 x 1,440 at 144Hz requires too much bandwidth. Then there's the minor matter of GPU performance. The more pixels you have to pump, the more load you put on the GPU. 3,440 x 1,440 is almost double the number of pixels of 2,560 x 1,080. Fewer pixels mean less load and more frames.
There are, of course, downsides. That's obvious the moment you fire it up. The coarseness of the pixel pitch is immediately apparent. As a corollary, you don't get a lot of desktop real estate, either, despite the generous 34 inches. The 1,080 vertical pixels feel especially stingy, and result in a lot of scrolling around web pages and other documents. At this price, there are far better options for pure productivity.
It's not the most stellar monitor when it comes to image quality. Yes, it's an IPS panel, but it won't blow you away with its punch and vibrancy. The backlight lacks zing, and the standard calibration crushes some details in darker tones.
A little dither-related pixel fizz is also visible in gradients.
As for pixel response, it's good enough for the gaming remit and to cash in on that 144Hz refresh rate, but it's not going to scare the best TN panels. The gentle curve is also a little perplexing.
If you like the idea of a curved monitor, you'll be disappointed here. If you don't, well, you won't want any curve at all. That said, the IPS tech does deliver fantastic vertical viewing angles and a nice colour balance overall.
If you have a powerful GPU, the 34-inch widescreen panel zipping along at 100+ frames per second is a sight to behold. In terms of response and fluidity, there is no beating a high-refresh panel. On a related note, if you have an AMD graphics card, LG includes support for the FreeSync adaptive refresh technology. There's also no doubting that adding pixels would somewhat undermine that sense of slick, lag-free performance.
Elsewhere, you get a good looking display in terms of the design of the stand and chassis. The 34UC79G sports very thin bezels on three sides, plus a small chin along the bottom. As this is a gaming panel, it eschews the white-and-silver aesthetic for black and red. It's very nicely put together and assembles neatly.
The 34UC79G's on-screen control menu will likewise be familiar to LG fans. There are lots of options, though accessing them through the single joystick-style button on the base of the lower bezel can be tricky.
All of which makes LG's latest a niche proposition.
As a productivity tool, it's limited by the relatively modest 2,560 x 1,080 native resolution. However, for gaming, the 34UC79G has to be worth a look. It's well priced for such a large IPS screen, and the 144Hz refresh and FreeSync support make for a fantastic gaming experience.
Jeremy Laird