L34UC79G-B is a curved 34in widescreen unit that supports FreeSync at 144Hz, so we were surprised that it costs, seriously undercutting many other curved panels on the market.
The biggest reason for the affordable price is the 2,560 x 1,080 resolution.
That's lower than many other large, curved screens and it means individual pixels can be seen up-close, but it's not all bad, as the lesser pixel count means it's easier to get this screen running with mid-range graphics cards.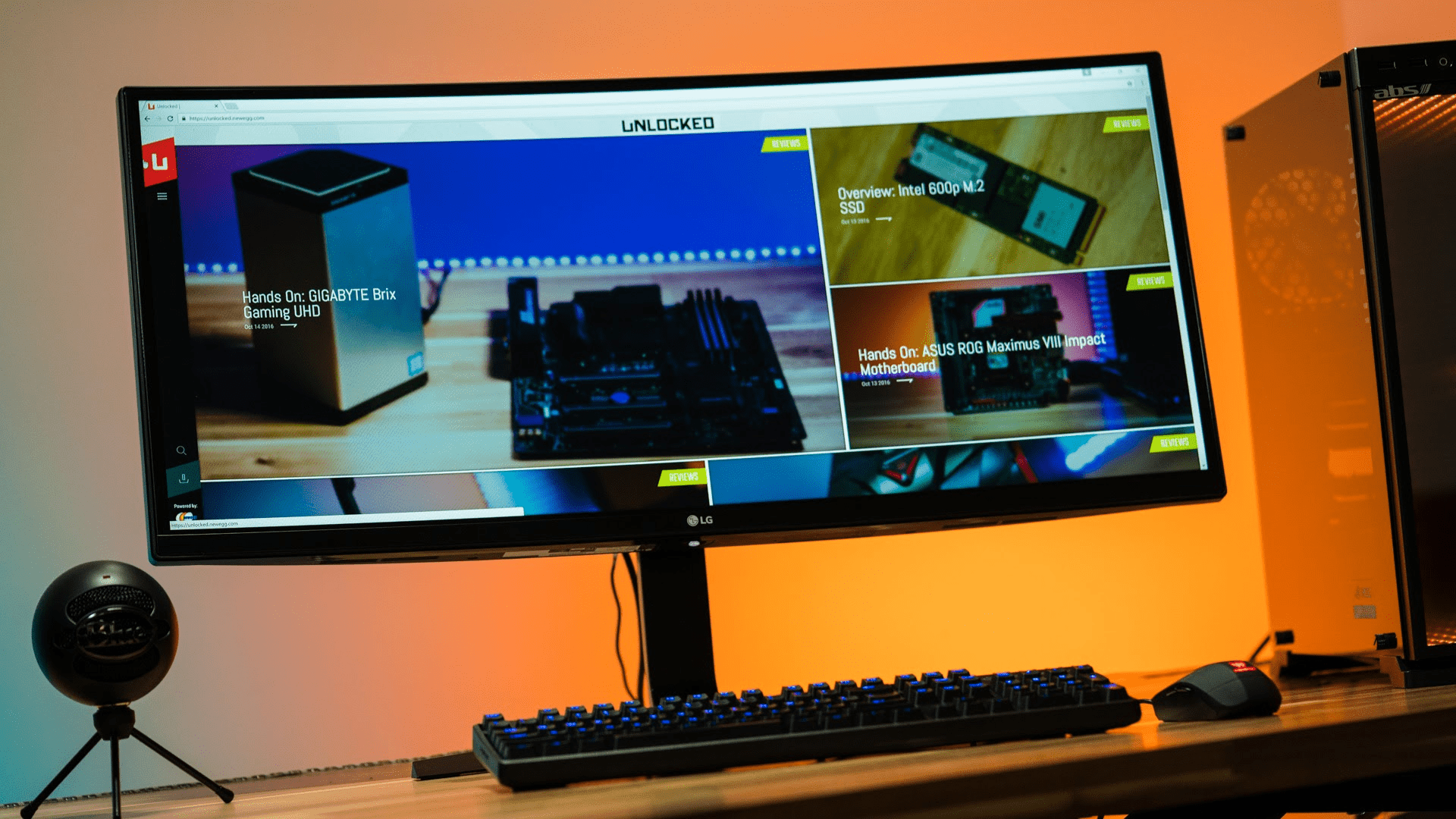 It also makes it easier to achieve smooth frame rates with FreeSync, which functions at a minimum of 50fps and a huge peak of 144fps. It worked well on our Radeon RX 580 test card in Deus Ex: Mankind Divided and The Witcher 3, providing tear-free gameplay at solid speeds. The curved, wide design is great for immersive gaming – in many scenarios, it's better than a standard 4K panel, which will have reduced width and extra height. The wider field of view provides more immersion in racing titles and more room to manoeuvre in FPS games, and it serves up more useful screen real estate in strategy and MOBA titles.
The LG uses an IPS panel, which usually means solid colour accuracy, and it's secured inside a design that mixes matt black material with red accents. The stand is sturdy and easy to assemble, and it offers 120mm of height adjustment. It can't tilt, swivel or rotate, but that's normal for more cumbersome widescreen displays. Meanwhile, the on-screen display (OSD) takes up the right of the screen and is controlled by a joystick. There's a quick menu for common settings such as brightness, contrast and volume, with more in-depth options in the full-fat menu. It's quick and easy to navigate, even if the joystick is a little wobbly.
In terms of performance, the LG's factory brightness level of 259 cd/m2 is fine, and the black level of 0.19cd/m2 is excellent – enough to deliver deep black shades. Those figures combine for a contrast ratio of 1,363:1, which is better than many gaming monitors, meaning colours are well defined across the entire range. Those colours are accurate, too. The delta E of 2.28 is good, and the 6,501K temperature is fantastic. It all means colours will appear as the developer intended, and the LG can produce 92.1 per cent of the sRGB gamut.
With a reduced brightness level of 150 cd/m2, the LG continued to perform well. Contrast and colour temperature remained solid, and the delta E improved to 0.74. The LG's wide design didn't cause uniformity issues either. The brightness varied by less than 12 per cent, even in the corners, and colours only deviated by around 5 per cent. It's a rapid panel too. It doesn't have the super-low response times of TN panels, but its average response time of 10.3ms is still easily fast enough for gaming.
Ignore the pre-configured gaming modes though. The first FPS mode's colour temperature of 7,286K is too chilly and robs colours of vibrancy, and the second FPS option drops the contrast to an underwhelming 586:1. Meanwhile, the RTS option makes the contrast and colour temperature a little worse than the factory settings.
Conclusion
The LG 34UC79G-B's factory settings are fantastic, whether the screen is at full brightness or a more conventional level. It has good uniformity, the gentle curve wraps around the user and AMD FreeSync works well, even at very high frame rates. The resolution makes pixels a little chunky on the large display and there aren't any speakers, but the LG 34UC79G-B is otherwise a solid curved, ultrawide FreeSync gaming screen, delivering good core performance on AMD's current GPUs, while significantly undercutting the high-resolution competition.
MIKE JENNINGS
FreeSync worked well on our RX 580 in Deus Ex: Mankind Divided
SPECIFICATIONS
Screen size 34in
Resolution 2,560 x 1,080
Panel tech IPS
Max refresh rate 144Hz
Inputs 1x DisplayPort
1.2a,2xHDMI2
USB 1xUSB3 input, 2x USB 3 outputs
Audio 1×3.5mm in/out
Power supply External
OSD control Joystick
VERDICT
LG 34UC79G-B Review
A decent curved 34in monitor for a fantastic price, although its low resolution means pixels can look a little chunky.
Add your review
Best LG 34UC79G-B prices ?
MORE DEALS