VIEWSONIC XG2700-4K Review – Monitors have been typically 27 inches for years, but their resolution keeps rising. While many are Full HD (1920×1080 pixels), pricier models increase this to 2560×1440, which packs in a bit more Windows desktop space at the expense of making icons and text slightly smaller. The next step, however, is a much bigger one – to 3840×2160, also known as 4K.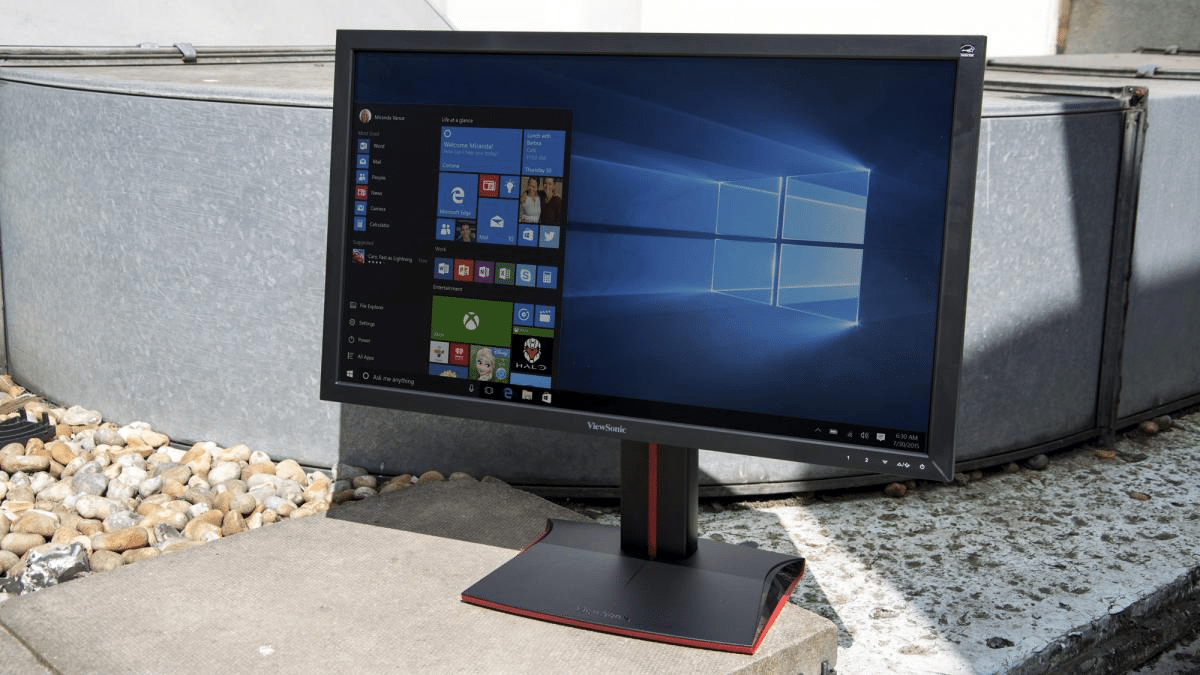 The XG2700-4K gives an eye-poppingly vivid picture
Unless you have the eyesight of a golden eagle, you won't want to use all these pixels to squeeze in the equivalent of four Full HD screens, making everything tiny. Instead, you'll set Windows 10's scaling options to make programs look about the same size, but much sharper, with four times more detail. Even text looks better, and with photos you see more of what you shot without zooming in.
SPECIFICATIONS
27in IPS LCD • 3840×2160-pixel resolution • HDMI port • 1x DisplayPort 1.2a • Mini DisplayPort 1.2a 2x MHL 2.0 ports • Headphone port • 4-port USB hub 643x556x231mm (HxWxD) • Three-year warranty
This 4K monitor from Viewsonic is aimed at gamers, who may struggle to get the benefit: you need a really powerful graphics card, such as AMD's Radeon RX 580, to run 3D games at such a high resolution. The XG2700-4K incorporates AMD's FreeSync, which gives smoother movement in games, and runs at 60Hz for a flicker-free picture. With Low Input Lag and Ultra Fast mode enabled, we saw very little delay or ghosting.
More interestingly, the XG2700-4K also promises accurate color reproduction and can distinguish a billion colors rather than the usual 16.7 million. This means it could support high dynamic range content.
By default, the XG2700-4K gives an eye-poppingly vivid picture, which many people will love from the moment they switch it on. For serious photo editing, though, there's an sRGB mode that turns the brightness and contrast levels right down to maximise accuracy. In our tests, this covered more than 97 per cent of the sRGB colour range close enough to the claimed 100 per cent – with excellent accuracy. This isn't an especially attractive piece of hardware, and like other 4K screens it's expensive, but for serious gamers and anyone wanting good-quality colour, it's well worth considering.
VERDICT:
A monitor that suits both games and creative programs is a sign that 4K is going mainstream, but it's still something of an expensive luxury


BE THE DIFFERENCE: 4K UHD resolution, ultra-fast response time and amazing refresh rate give you the edge in all your gaming quests
SMOOTH GAMING: AMD FreeSync technology enables smooth frame rates to aid you in battle
Last update was on: 2022-04-30 1:01 pm
BE THE DIFFERENCE: 4K UHD resolution, ultra-fast response time and amazing refresh rate give you the edge in all your gaming quests
SMOOTH GAMING: AMD FreeSync technology enables smooth frame rates to aid you in battle
IN IT TO WIN IT: A fully adjustable ergonomic stand delivers the comfort you need for marathon gaming sessions
ULTIMATE VISIBILITY: Black Stabilization feature provides heightened visibility and detail by brightening dark scenes
FLEXIBLE CONNECTIVITY: The XG2700-4K supports laptops, PCs, and Macs with HDMI, USB, DisplayPort, and Mini Display Port inputs
INDUSTRY-LEADING WARRANTY: 3-year coverage with access to our US-based customer service team
INCLUDED IN THE BOX: LCD Monitor, Power Cable, Mini DP to DP Cable, and USB 3.0 Cable
Viewing Angles : 178 degrees / 178 degrees (Typ)
ALTERNATIVE:
Supporting Nvidia C-Sync rather than AMD, this 60Hz 4K monitor has great sRGB color but won't go as vivid as the XG2700-4K