Following the disappointing news that the brilliant free software updater Secunia PSI has been discontinued by its developers, Jonathan Parkyn compares the alternatives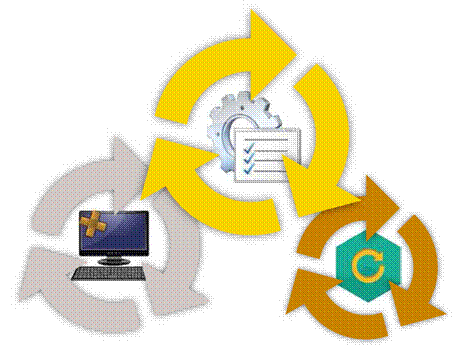 SUMo Review | bit.ly/sumo448 | 5/5
FEATURES 4/5
PERFORMANCE 5/5
EASE OF USE 5/5

What we liked:
Short for Software Update Monitor, SUMo has two key advantages over its rivals, the first of which is its simplicity.
Run SUMo and it scans your PC for installed programs and tools, then displays a list of what it's found, highlighting any programs that are in need of updating with an amber or red warning.
It doesn't automatically download the update itself – you have to click a program, then Get Update to open the program's download page in your browser. From here, you can download and install the latest version yourself.
SUMo's other benefit is the huge number of programs it supports. Its developers don't explicitly state how many applications and programs the tool supports, but in our tests, SUMo was able to spot and provide updates for several programs that other tools of this type failed to pick up on.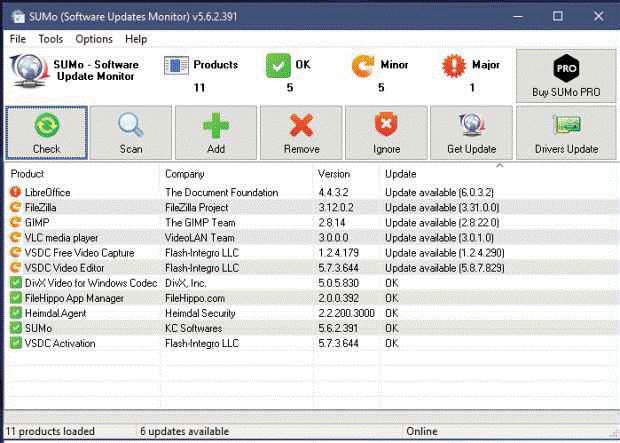 By default, SUMo is set to check for updates every time you start your PC, but you can customise this and other functions by clicking Options, then Settings. A handful of extra features, including the option to manually include or exclude specific folders in your scans (in case you've installed programs in non-standard locations, for example) and the ability to export your list of applications as a text file or spreadsheet (CSV) file, round out this excellent tool.
How it can be improved:
SUMo doesn't currently update device drivers. There's a Drivers Update button among its tools, but clicking it simply prompts you to install the separate DUMo tool by taking you to its web page (bit.ly/dumo448).
It would be great to see a single free program that integrates the functions of both.
Another welcome function would be for SUMo to automate the update process in the free version. This is currently reserved for users of SUMo Pro, which costs around
OUR VERDICT
SUMo doesn't fully automate the update process, but it's lightweight, easy to use and – most important of all – it supports the widest selection of applications and programs of all the updaters we tested.
Patch My PC Updater Review | bit.ly/patch448 | 5/5
FEATURES 5/5
PERFORMANCE 5/5
EASE OF USE 4/5
What we liked:
The main bonus of this excellent free tool is that it's portable, so it doesn't need to be installed – you just download and run it.
Another major benefit is that it automates much of the update process, downloading and silently installing items with one click of the Perform Updates button.
The program offers a generous selection of useful extras, too, including the ability to batch-install the latest versions of many popular programs by ticking the relevant boxes in the left-hand pane. A built-in uninstaller, a scheduler and the option to create automatic restore points prior to updating are also handy.
How it can be improved:
Presentation isn't Patch My PC Updater's strong suit. The program's inelegant layout can be confusing because it's easy to assume that the programs listed in the left-hand pane of the main area are tools the updater has found on your PC.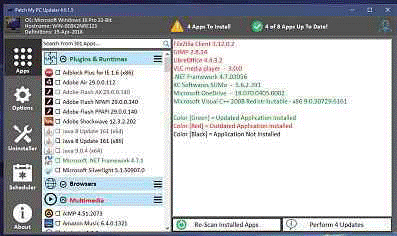 Also, Patch My PC Updater isn't quite as thorough as SUMo. According to its developers, it supports more than 300 programs, but it missed a couple of the applications that our Gold Award winner was able to catch.
OUR VERDICT
It's better at automating the update process than SUMo and is bursting with genuinely useful extras, but Patch My PC Updater doesn't support as many programs as our top choice.
Kaspersky Software Updater Review | bit.ly/ksu448 | 3/5
FEATURES 3/5
PERFORMANCE 3/5
EASE OF USE 5/5
What we liked:
A free tool from a dependable brand, Kaspersky Software Updater doesn't offer a great deal in the way of features – the ability to customise the update schedule is pretty much the only significant option available – but it's by far the easiest to use of all the programs in our test.
The software scans your PC for programs, then only lists the ones that need updating. You can 'Update all' in one batch or install the latest versions of individual applications by clicking the Update button next to each one.
The update process is, for the most part, automatic and silent. Once you've set the tool updating, you don't need to work though individual installation screens. However, in a couple of cases, we found the automatic update process failed with no obvious explanation.
How it can be improved:
While Kaspersky Software Updater is completely free, you'll be frequently prodded to buy the company's other products, such as its antivirus software. It also lags behind SUMo in the number of programs it detects and updates.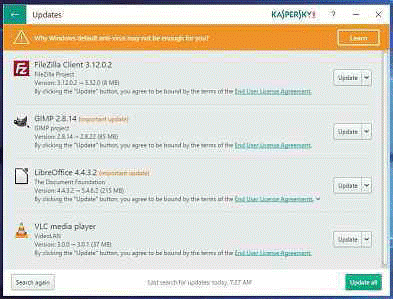 OUR VERDICT
Brilliantly simple, but lacking in features, Kaspersky Software Updater is great if you want to keep your programs up to date without having to think about it too much.
BEST OF THE REST
Ninite Review | ninite.com
A slightly different proposition to the other tools here, Ninite is a website that automates the process of installing some of the most popular freeware tools, including Gimp, LibreOffice, VLC, Malwarebytes and more. Just tick the boxes and download your custom installer. Not only does Ninite block toolbars and other unwanted foistware from being installed, but it can also keep your selected programs up to date. Just run the custom installer again – it'll automatically check for and install the latest versions.
FileHippo App Manager Review | bit.ly/hippo448
Technically still in beta, FileHippo App Manager is a program updater tool from the people behind the popular software download website (filehippo.com). You can choose to check for updates on a daily schedule or at startup. Click the 'Download & Run' button next to any tools that need updating.
FileHippo App Manager is easy to use but it failed to find updates for several of our installed programs. It's also marred by prominent advertising.
Heimdal Free Review | bit.ly/heimdal448
Heimdal Free positions itself as a security tool, updating your software in order to eliminate vulnerabilities and prevent cyber­attacks. You can set it to silently monitor and auto-update supported programs, or opt to be notified when updates are available and manually apply them yourself.
The traffic-filtering and malware ­scanning components are only available if you pay for Heimdal Pro.