YOU'LL NEED THIS
CHROME OR EDGE, UBLOCK ORIGIN OR ADBLOCK
(free) Your choice of browser and favored ad blocker
YOUTUBE RECENTLY STARTED testing a three-strikes policy for viewers who use ad blockers on its website. If it detects that you have one installed, it will give you three chances to disable the tool before it blocks you from watching any videos. Read our Keep Your Ad Blocker Working.
This strict new policy is intended to discourage us from using ad-blocking extensions such as uBlock Origin (ublockorigin.com) and instead subscribe to ad-free YouTube Premium for $ a month. But Google is far from the only company to clamp down on ad blockers, and many sites now insist that you disable yours before you can access their content.
Here, we explain how to block ads without being blocked yourself.
1 ADD SITES TO YOUR AD BLOCKER'S WHITELIST
Whitelisting a website that demands you disable your ad blocker is effectively caving in, but it does mean you'll be able to access its content without being scolded. Putting up with ads on one site is preferable to seeing them everywhere.
» The quickest way to whitelist a website is to click your ad blocker's toolbar button and switch it off for the site you're trying to view [Image A]. It will turn back on automatically on the next site you visit. The popular extension AdBlock (getadblock.com) lets you 'pause' ad-blocking rather than permanently whitelist a site. Click its toolbar icon and select 'Once' below 'Pause this site', then refresh the page.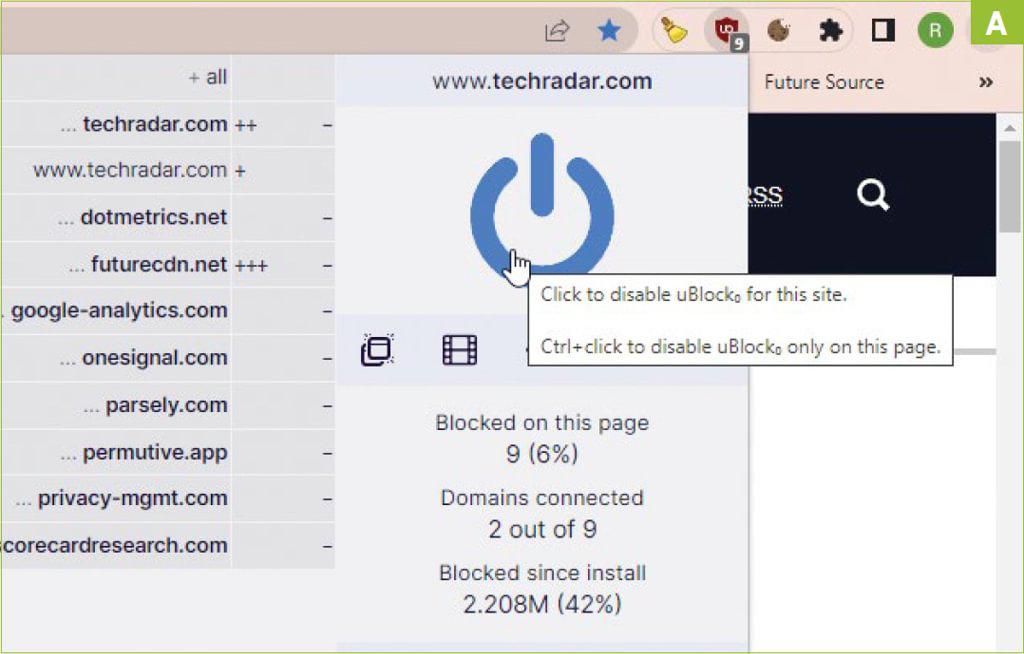 » Alternatively, go into your ad blocker's Options or Settings, and select Whitelist, 'Trusted sites' or similar. Enter the URL of the site you want to disable ad blocking on, and click Save or 'Apply changes'.
» In the Brave browser, which blocks ads by default through its Shields feature, you can whitelist a site by clicking the Shields (lion-head) button. Click the 'Advanced controls' menu and choose 'Allow all trackers and ads'. Similarly, in the new DuckDuckGo browser, click the shield icon at the start of the address bar and click the 'Protections are On for this site' slider to change the setting to Off.
2 TURN OFF JAVASCRIPT IN YOUR BROWSER
The most common way websites detect that you have an ad blocker is using JavaScript. This code allows them to check if certain elements related to advertising are missing or hidden. If so, they will conclude that you're using an ad blocker and ask you to disable it to access their content.
» Turning off JavaScript for the site may let you bypass its ad-blocker warning, though it can also prevent content from loading properly. On YouTube, we found that it removes all the videos, so obviously isn't an ideal solution, but you may have more luck on other sites.
» In Chrome and Brave, you can disable JavaScript by clicking the padlock icon in the address bar and choosing 'Site settings'. Click the dropdown menu next to JavaScript, select Block, then reload the web page. You'll now see a slider for switching JavaScript on and off in the padlock icon's panel for that site [Image B].
» In Edge, click the padlock icon, select 'Permissions for this site', and block JavaScript there.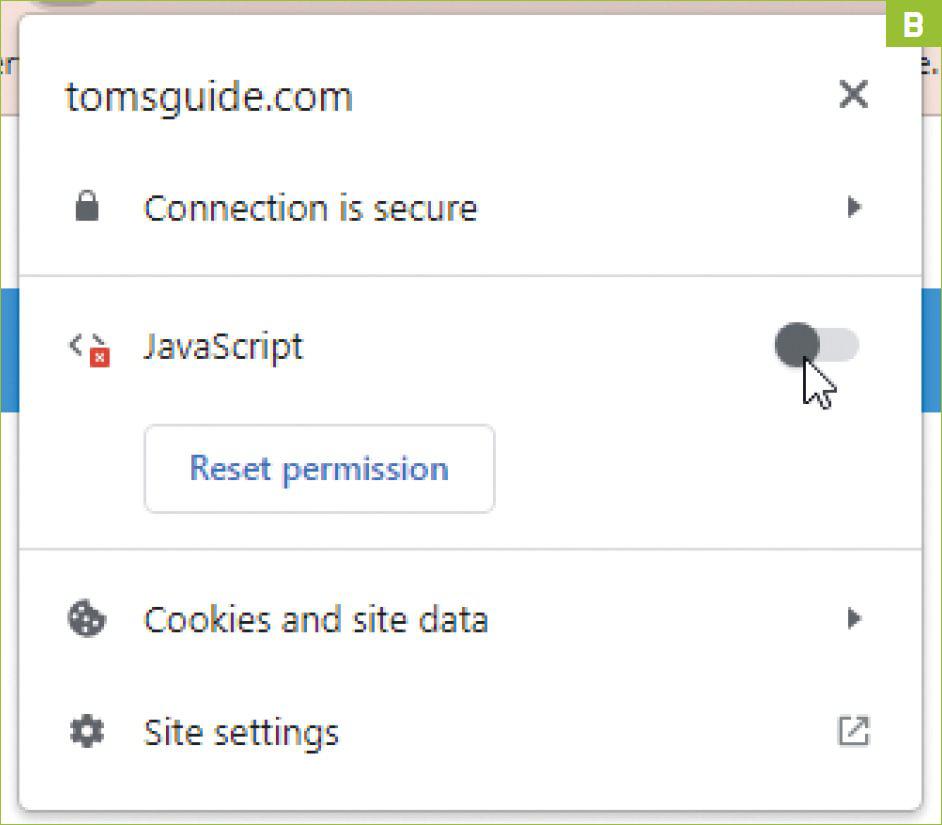 » Firefox doesn't offer a specific setting for blocking JavaScript, but you can install the Disable JavaScript add-on (tinyurl.com/nzh89ke6). Click its toolbar button to block or allow JavaScript as required.
3 TWEAK YOUR AD BLOCKER'S FILTERS
Ad blockers use filter lists to detect and block adverts and trackers in your browser, which you can augment with additional filters that block other annoyances, including scripts that detect the ad blocker.
» In uBlock Origin, for example, open the dashboard by clicking the cog icon in the extension's panel or right-clicking its toolbar button and selecting Options. Click the Filters tab and tick the box next to 'uBlock filters—Quick fixes' [Image C], which includes code for removing 'Ad blocker detected' messages, then click 'Apply changes'. It's also worth applying a general 'annoyances' filter such as 'AdGuard'—Annoyances' or 'EasyList—Annoyances'.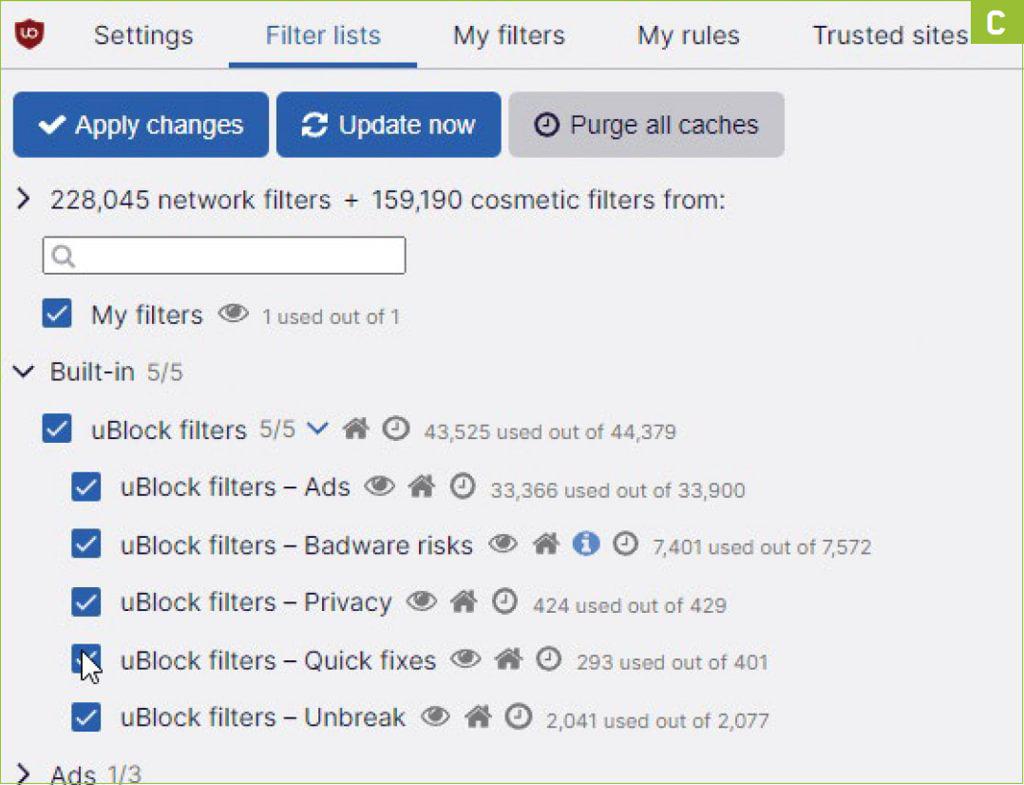 » In Brave, you can access similar options by going to Settings, then Shields and clicking 'Content filtering', while AdBlock includes a dedicated filter called 'Adblock Warning Removal list'.
» If these filters don't stop YouTube blocking your ad blocker, find the option for adding new filters to your blocker—click 'My filters' in uBlock Origin or Customize in AdBlock—then copy and paste the code from our Pastebin account into the text box: tinyurl.com/yhv53nw5. Click 'Apply changes' or Save to add the filter to your ad blocker, and prevent YouTube from detecting one.
4 SWITCH TO YOUR BROWSER'S READING MODE
One way to access text content without disabling your ad blocker is to switch to your browser's reading mode. This strips all the clutter from web pages, including adverts, and also blocks scripts that detect you're using an ad blocker.
» Chrome has just added a long-awaited 'Reading mode' feature, though you may need to enable it via chrome://flags. Click the 'Show side panel' button in the browser's toolbar, select 'Reading mode' in the dropdown menu [Image D], and the decluttered text from the current page will be displayed in the panel, without any nags about ad blockers.
» In Edge, click Enter Immersive Mode in the address bar to switch to reading mode, and in Firefox click the 'Toggle reader view' icon (or press F9). In Brave, go to brave://flags and enable Reading Mode to activate the feature.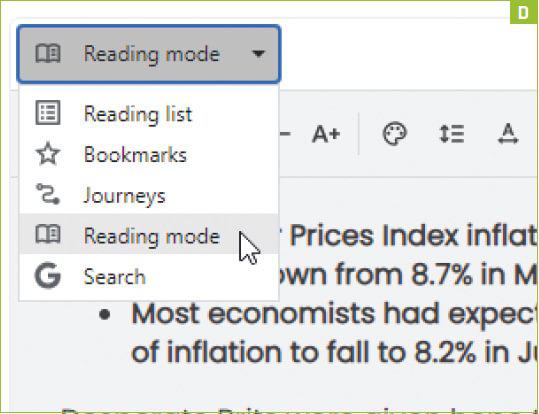 » However, this won't work when you're trying to view image and video content without seeing ads.
5 VISIT THE SITE IN PRIVATE BROWSING MODE
Your browser's private—or incognito—mode disables cookies and trackers that potentially allow websites to detect your ad blocker. However, it also disables extensions, so to avoid seeing ads, you need to make an exception for the blocking add-on.
» In Chrome, open the Extensions page at chrome://extensions, click the Details button next to your ad blocker, and choose 'Allow in incognito'. In Edge, tick 'Allow in InPrivate' [Image E], and in Firefox choose Allow next to 'Run in Private windows'. Brave's built-in ad blocker works automatically in private windows so you don't need to change anything.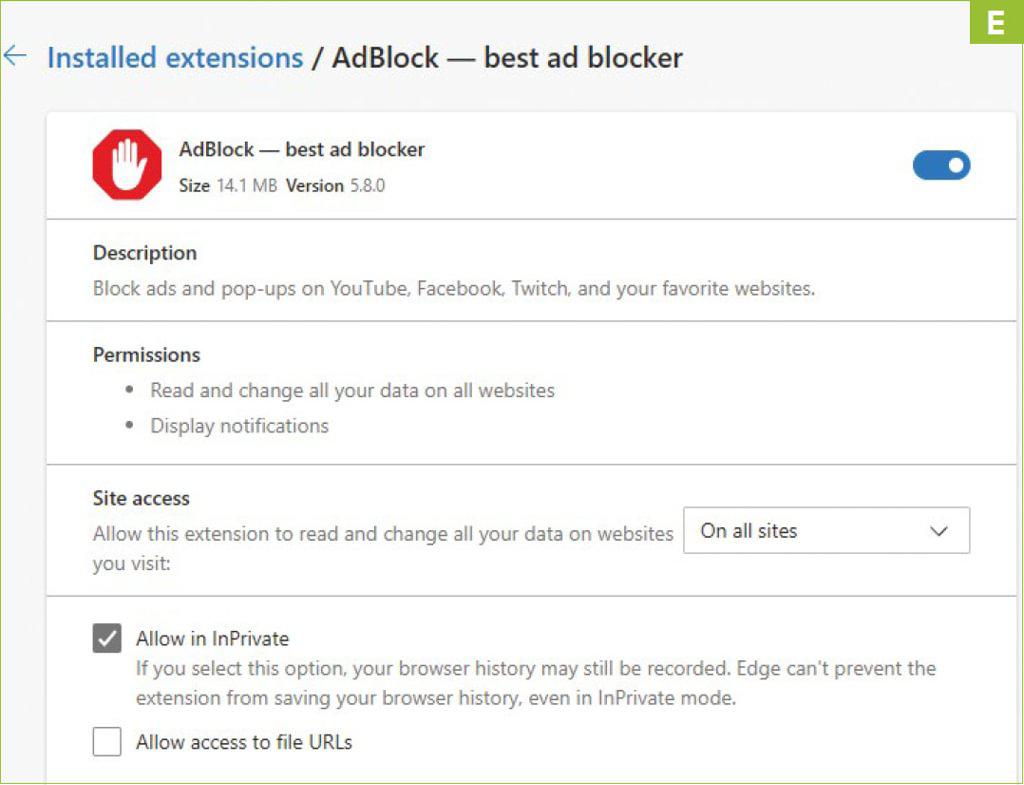 BEAT YOUTUBE'S NEW AD-BLOCKER RULE
We've explained how to stop YouTube detecting you're using an ad blocker, but Google is unlikely to tolerate such workarounds for long. Indeed, we expect it's already developing ways to stop them.
To avoid seeing any adverts in YouTube videos without having to pay for YouTube Premium, you can use an alternative front-end for the streaming service that removes all ads and trackers.
On your PC, FreeTube (freetubeapp.io) provides an ad-free YouTube experience, and prevents Google from tracking your viewing habits.
On your Android device, you can ditch the YouTube app for NewPipe (https://newpipe.net), which also lets you watch videos without ads or tracking. Instructions are provided at tinyurl.com/2ws5ww4n.
On your Android/Google TV or Amazon Fire TV device, SmartTube (tinyurl.com/3mvhcavf) lets you enjoy YouTube without ads.