The best choice for power users and tinkerers. With little different from 2017's offering – but that's fine. Read our KASPERSKY INTERNET SECURITY 2018 Review.
Kaspersky shuns simplicity in favor of an extensive feature set
Some security suites pride themselves on elegant simplicity. Kaspersky goes the other way, packing in what's probably the industry's most extensive feature set. Last year's release was so heavily laden with features that you might well wonder what could possibly be added to justify the new 2018 release.
Surprisingly, the answer is more or less nothing. There are no new buttons to play with at all – just a few under-the- bonnet technical updates. For example, the ransomware module now does a better job of spotting when something's tampering with your files, and there's now extra protection to stop viruses from infecting your computer while it's being restarted.
Alongside the expected antivirus and web-protection modules, it boasts clever features like Safe Money, which lets you automatically divert specific websites into Kaspersky's own hardened browser -an intelligent approach that takes the friction out of web security. Webcam protection is sensibly implemented too: if anything activates your camera, you'll get a warning with an option to block it.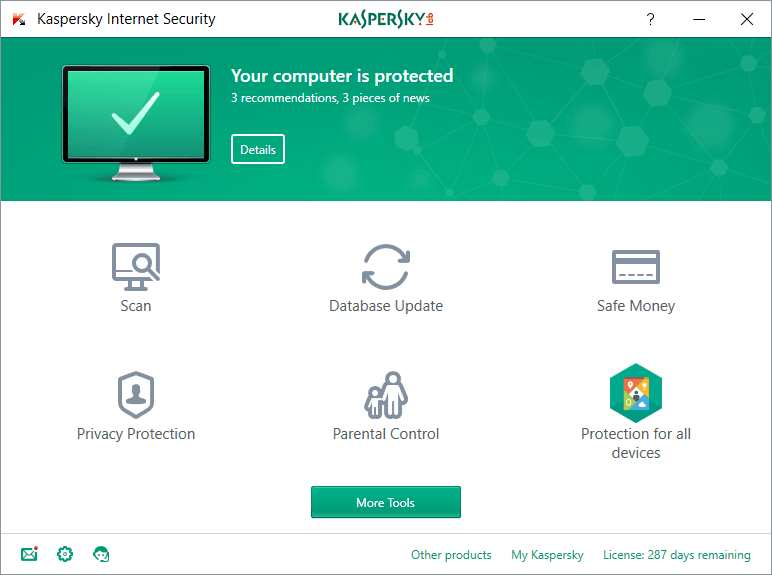 You may also like:
Some of Kaspersky's features are even quite distinctive. Trusted Applications mode, for example, neutralizes drive-by downloads and trojans by automatically blocking any application that isn't expressly whitelisted. Power users might not find that very viable, but for certain scenarios it's perfect. There's also a software cleaner, which aims to help you remove unwanted programs that might not be easy to uninstall through the regular channels.
Even the more familiar modules are thoughtfully executed. The automatic software updater and vulnerability scanners are clear and simple to use, and Kaspersky's parental control module is very flexible, giving you highly granular control over what your child can do and when. You can blacklist or whitelist contacts on Facebook and Twitter, and block the transmission of certain key phrases – so your little one can't be tricked into sharing your address or credit card details.
There's even a built-in VPN, which can be used to cover your tracks online or access blocked content. But your usage is capped at just 200MB per day, and you don't get to choose your exit mode.
Otherwise, the only part of Kaspersky Internet Security that undershoots expectations is the Rescue Disk link. While other packages seek to make it as painless as possible to get into their respective recovery environments, Kaspersky merely directs you to an ISO file and leaves you to it. Technical users will be fine, but this sort of casual treatment isn't what you need in a crisis.
Still, if you can live with that, the rest of Kaspersky's performance should make you very happy indeed. In AV-Comparatives' tests it achieved a very strong 99.7% score – within a whisker of perfection. And it wasn't tripped up by a single false positive.
The suite also has a modest impact on system responsiveness. Just like Bitdefender Internet Security, Kaspersky whooshed through AV-Comparatives' application and web-browsing tests with "very fast" ratings in each.
It fared slightly worse on the first run of the file-copy test – here it was only "fast" – but regained its speed on subsequent runs. In short, you don't need to worry about Kaspersky bogging down your PC.
A final point in Kaspersky's favor is the price. Don't be put off by the 2017 branding: the code will activate the 2018 suite.
In all, you might be tempted to go for Kaspersky as an alternative to Bitdefender Internet Security. Just be aware that the two suites are aimed at slightly different constituencies – as reflected, perhaps, in the fact that Kaspersky Internet Security doesn't have an equivalent to Bitdefender's Autopilot mode. This isn't a suite for people who want set-and-forget security, but for power users and tinkerers.
Best KASPERSKY INTERNET SECURITY 2018 prices ?

$

52.99
4 new from $33.00
in stock

MORE DEALS