WHICH ANTIVIRUS SHOULD YOU USE IN 2018?
HOW WE TESTED
We collated recent results from two of the world's leading antivirus testers. Croydon- based SE Labs and the German AV-Test. Both tested for protection and accuracy (number of false positives), with AV-Test adding scores for performance (the impact on a PCs speed). To see the results in full, including those for other programs tested (such as BullGuard, McAfee and Trend Micro) (SE Labs, July to September) and (AV-Test July to August).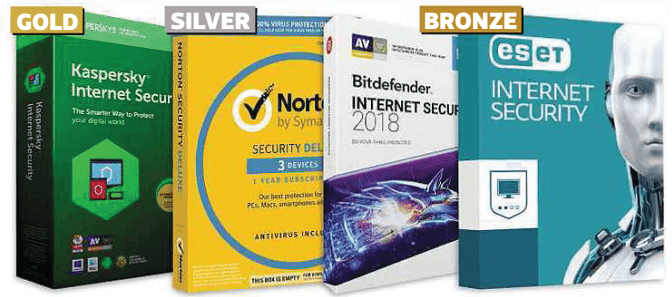 Kaspersky Internet Security 2018
Kaspersky claimed top spot for our ninth consecutive test, delivering flawless results. It was the only program to get full marks in all five categories across both tests. It blocked everything it should have, producing just one false positive (in AV- Test's analysis) from 1,437,401 samples, which was crucial in pipping Norton. Its impact on our standard PC was minimal, slowing file-copying by just four per cent (the average is 16) and program launches by 10 per cent (the average is 13). SE Labs awarded it the "rare privilege" of a 100 per cent rating.
As well as Kaspersky's superiority in avoiding false positives, it has several tools Norton lacks. These include webcam protection, to prevent hackers accessing it, and a safe browser, which blocks malicious websites. But its chief asset is a software updater that automatically installs the latest (and theoretically safest) version of programs. Norton's only point of supremacy is in offering a password manager, but we prefer LastPass anyway.
SILVER – 

Norton Security Deluxe
One day Norton may beat Kaspersky, but yet again it misses out by a tiny margin. Like its great rival it blocked every threat, but – across both tests – misidentified three safe programs as malicious. It also slowed computers more than Kaspersky. But it's still an exceptionally powerful antivirus that came "very close" (in SE Labs' words) to stealing the crown.
JOINT BRONZE – 

Bitdefender & ESET
Our confidence in recommending Kaspersky and Norton comes from their excellent performance in both tests.
No other antivirus excelled across the board, but two products performed outstandingly well in one test, less so in the other. ESET's 100 per cent protection rating in SE Labs wasn't matched in AV- Test, which gave it 96.9 per cent in July. That 3.1 per cent failing could be fatal for your PC. In contrast, Bitdefender scored 100 per cent in AV-Test, but only 91 per cent in SE Labs. Both are good products, but you only need one antivirus on your PC, and it should be Kaspersky or Norton.
…AND FREE SOFTWARE?
Avast and AVG are the only two you should consider, though we can't recommend them. In SE Labs AVG's protection score of 90 per cent is far too low for comfort. Avast's was even worse (88 per cent). They both blocked more in AV-Test, but also slowed down the PCs more than we'd like, particularly when launching software.

IS IT STILL SAFE TO USE KASPERSKY?



We know what you're thinking: is it still safe to use Kaspersky, given the accusations thrown at the Russian company? To recap, both the United States' General Services Administration (GSA) and the Department of Homeland Security has banned the US government from using Kaspersky products, in the wake of an investigation into Russian interference in the 2016 presidential election.
There have been allegations of ties between Kaspersky staff and Russian intelligence, while in October The Wall Street Journal claimed Kremlin-backed hackers used Kaspersky to hack into a computer owned by a National Security Agency employee.
Kaspersky has dismissed the claims as a "witch hunt", and we're inclined to agree. Banning Kaspersky within US government systems feels like an overreaction borne from nothing more than a vague mistrust of Russia. Are Russian hackers engaged in cyber-warfare? You bet. Are US and UK hackers doing the same? No question. Do either care what you do on your PC? Almost certainly not. They have much bigger targets. You need to worry far more about ordinary cyber-criminals, not hackers supported by foreign governments.
My contacts in the security industry are sceptical about Kaspersky's reported links with Russian authorities. They say it would be "commercial suicide" for the company, and that such an extraordinary claim needs extraordinary evidence. None has been provided. They also point out that many Russian security experts work for US companies, and vice versa. The antivirus industry is a small world – everyone knows everyone. Maintaining a conspiracy would be formidably difficult.
So when people ask me, as they often do, which antivirus to use, I recommend Kaspersky without reservation. It's what I use on all my devices.
Should you want to switch, then I suggest Norton, owned by US company Symantec.