A stellar selection of extras, along with rock-solid antivirus protection, makes this our top choice for 2018
Bitdefender scored highly in last year's Labs, and the 2018 release brings some new goodies into the mix. One is the new Safe Files feature – a ransomware protection module that pre-emptively blocks unknown applications from writing to particular folders without your explicit authorization.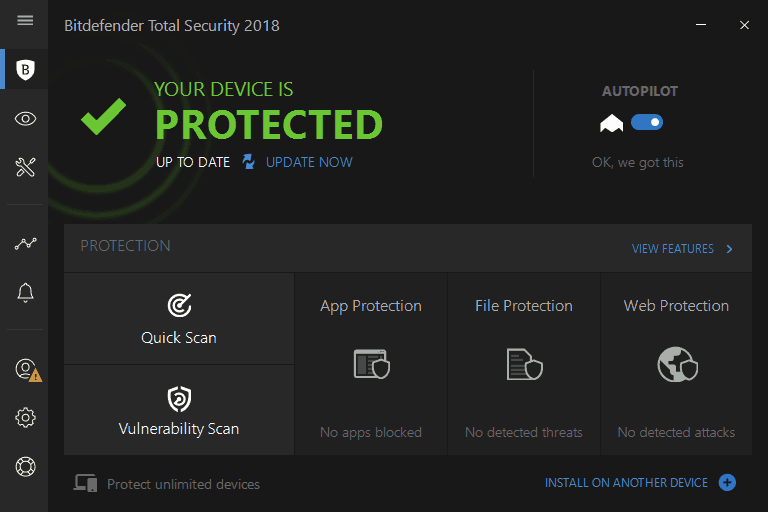 All the obvious locations are protected by default, and you can add as many additional folders as you like. It's a simple measure that should stop ransomware – if you deny access to anything you don't recognize.
The other notable addition is webcam protection. You can now disable your camera completely – ensuring you can't be spied on – or block it only for your web browser.
You can also whitelist specific apps, or enable notifications so you get an immediate warning if something turns your camera on.
Aside from that, it's largely business as usual. Bitdefenders signature Autopilot mode makes the software perfectly unobtrusive: when it's switched on, the software silently decides what to block and what to allow without involving you at all. Only the most major incidents (such as a suspected ransomware attack) trigger a user notification.
And if you're dubious of trusting your day-to-day security to an automated system, be assured that Bitdefender's pedigree is impeccable. In AV- Comparatives' latest malware protection test, it was one of only four antivirus packages to achieve a 100% score – and it did it without flagging a single false positive.
That's a claim that no other security suite can make.
Bitdefender also scored very highly in the performance tests, attaining "very fast" ratings for both launching applications and web browsing. Only in the initial file- copy test did its performance drop down to merely "fast", and that's nothing to be ashamed of. Overall, Bitdefender ties with Kaspersky for the title of fastest security suite overall.
Those credentials on their own make Bitdefender a top choice, but there are also worthwhile secondary features. The custom firewall is, in our view, easier to configure than the standard Windows one. And there's a secure browser called Safepay that opens in a protected full-screen mode, so you're shielded from screen-sniffers as well as other types of hack. There's an interesting file-encryption feature too, which lets you create any number of password-protected "file vaults", which appear as virtual drives in Explorer for easy access.
It's not the most flexible system in the world, though: vaults are created at a fixed size, so if you outgrow one then you'll have to create a new vault and move everything across.
A password manager is also included, but you may not immediately realize it, as Bitdefender counter-intuitively refers to a password database as a "wallet". It works with Chrome, Firefox and Internet Explorer, and will sync across multiple PCs – but again it requires the Bitdefender software to be installed, so it won't mesh with Mac or mobile devices.
One last feature worth mentioning is the built-in rescue environment. Most antivirus tools will let you boot from a safe CD or USB flash drive, but Bitdefender cleverly sets up its own rescue environment directly on your hard disk, so you can boot into it with just a few clicks. While we hope you'll never need to use this feature, it's great to have: when disaster strikes, you want jump through as few hoops as possible.
Regrettably, Bitdefender Internet Security 2018 does blot its copybook by including a Tools icon that merely opens an advert for the premium Total Security suite. Even in a free security suite this is rude behavior; in a paid-for product it leaves a sour taste in the mouth.
It's a plus that the recommended retail price makes Bitdefender Internet Security 2018 a bit cheaper than Kaspersky – and you can save a lot by shopping online for an old boxed copy of the 2016 or 2017 release. These will update to the current version for free, netting you the very latest protection at a bargain price. Even if you end up paying the full whack, it's well worth it for a security suite that simply can't be beaten for effectiveness and performance.
Bitdefender is well worth its high price and leads the way on performance and effectiveness
Best BITDEFENDER INTERNET SECURITY 2018 prices ?
MORE DEALS