AMD and Intel are both about to release halo chips
There is yet another processor fight brewing, but this time around, the battle is potentially going to be a little different. It's at the top of the market, as our two contenders each release top-of-the-range desktop processors.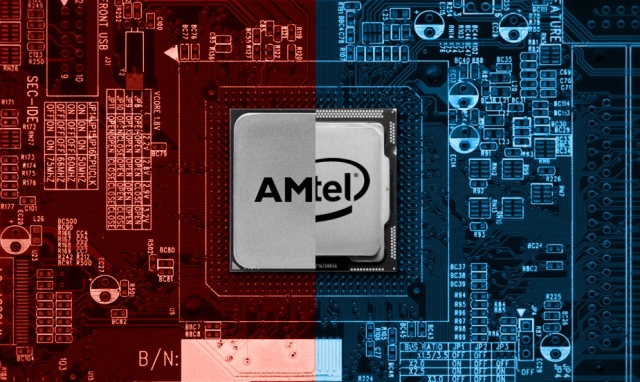 AMD's Ryzen has been giving Intel something of a headache, because it offers some serious bang for your buck. However, there has always been one area where Intel has ruled: at the top of the tree. If you really want the best, the fastest, for gaming, you go to Intel.
Take a look at the Hall of Fame for 3DMark. You have to scroll all the way down to fiftieth position before you reach anything other than Intel's finest. No matter how impressive AMD's chips get, the Intel fanboy can always counter with the boast of absolute superiority in the all- important gaming arena, even if it does come at an alarming premium. Now that we are about to see each company release its top chips, is this position about to change?
In the blue corner, from Intel, we have the Core i9-9900K. This is the first mainstream Intel chip with eight cores and 16 threads. It's based on Intel's 14nm++ process, and has a base clock of 3.6GHz, with a boost of up to the magical 5GHz figure. It also comes in a snazzy dodecahedron box. And we've got one in for review (the CPU, not the box)—turn to page 78 to find out what we make of it.
In the red corner, from AMD, we have the Ryzen 7 2800X. Or we are expected to have very soon, if rumors are to be believed. An ''X800'' version was noticeable by its absence from the second generation (2000 series) Ryzen launch. The previous Zen core had a 1800X as its top dog. This fueled speculation that AMD was holding it back to use as a counter for Intel's eight-core processor. It was even hinted at the Zen+ launch by Jim Anderson that a 2800 might follow. Recent rumors of it carrying more than eight cores are spurious, however. You want more? You go Threadripper, and use a TR4 motherboard. What we'll probably get is a faster clock. The current 2700X has a base clock of 3.7GHz, and a boost of up to 4.3GHz. The jump to that 5GHz figure would be a long one.
Can a 2800X seriously unseat the 9900K as gaming king? It would be an amazing upset, but it is an unlikely scenario, too. It will be fast, though, and it'll benchmark faster on many tasks; but that ultimate single-core focused game test—that's a tall order. Expect some fisticuffs anyway, because the two are bound to be pitched against each other by all and sundry.
Meanwhile, AMD sales are doing rather well. The company posted healthy second-quarter earnings of $1.76 billion, up from $1.11 billion last year. Ryzen's market share has been steadily climbing; it is forecasted to reach 30 percent by the year's end. It's been so good that the supply of motherboards is struggling to keep pace. Asus plans to expand production as A320 boards become hard to find.
Part of this success is due to Intel's troubles. Its 14 nm foundry is working at capacity, leading to price rises and shortages across the board. It has even been forced to use 22nm production for its H310 chipset to keep supply lines healthy. Other silicon may move back, too. Intel really needs to get on with the move to 10nm. This is now expected to finally get moving by next July, with hints that production may even start in the spring. It can't come soon enough.
AMD and Intel sparring like this is hardly new, each trying to grab headlines with halo chips. AMD still offers the best price/performance option, and Intel still holds the shiny prizes. Keep fighting, though—competition is. as ever, good for us.
CL
There has always been one area where Intel has ruled: at the top of the tree.