Intel Core i5-4690K Review
Still the ultimate gaming CPU?All the gaming CPU you'll ever need. That's the familiar refrain for Intel's quad-core Core i5 processors in unlocked ?-series trim. The inference is that frills such as Intel's Hyperthreading technology, which allows a single Intel processor core to crunch two software threads simultaneously in parallel rather than sequentially in series, are irrelevant for PC gamers. The same applies to having a truck-load of cores. Six and eight-core chips sound impressive. But they won't run your games any faster. That's the sales pitch for the quad-core Intel Core i5-4690K. But is it actually true?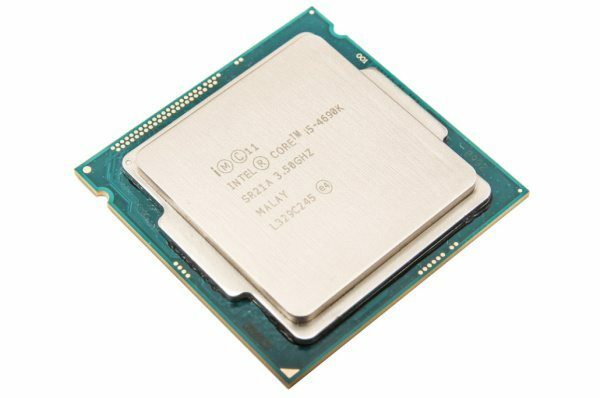 First, let's tick off the 4690K's basic speeds and feeds. It's a 22nm chip based on Intel's Haswell architecture, which means it's as advanced as it get for desktop PC processors today. Those four aforementioned cores run at 3.5GHz, with a Turbo boost function up to 3.9GHz. As a 'K' series CPU, the multiplier is also unlocked, allowing simple overclocking. And, as one of Intel's Devil's Canyon pairing, along with the Core i7-4790K, it gets improved thermal materials for better heat management compared to other desktop CPUs from the Haswell generation. As it happens, in our overclocking tests, the 4690K hits the same 4.7GHz as the 4790K. Nice.
More importantly, in our gaming benchmarks this month, the 4690K also runs the 4790K very close. The worst-case scenario is the minimum frame rate in Total War: Rome II, where the 4790K registers 43fps to the 4690K's 38fps. In Battlefield 4, there's literally nothing in it for minimum frame rates and even the averages are only separated by about 3 per cent.Actually, on that note, even Intel's six-core Core i7-5820K is essentially no faster in our game benchmarks. Even the megamoney Core i7-5960X Extreme and its eight mighty cores wouldn't be much faster in most games.
That's the key to the A690K's appeal. It's a giant killer at a relatively modest price.Of course, if you broaden your computing remit out beyond gaming, the 4690K is a less compelling proposition. Without Hyperthreading support, it's at a clear disadvantage in applications like 3D image rendering and video encoding. The 4790K, for instance, is over 25 per cent quicker when coding HD video in the x264 codec. Ouch.Confidently, then, we can say the 4690K is a killer gaming CPU today. What's less certain is the outlook for the future. For the better part of a decade, the PC gaming industry has been promising that the future is multi-threaded games. To date, that prediction hasn't entirely materialised.
Yes, games that scale to more than one CPU core are now the norm. But more than four CPU cores? That's still unusual. In that context, the 4690K is surely all the CPU you need for the vast majority of games today.
But here's the thing. There's actually good reason to think that could change dramatically in the next few years. Firstly, that's because the latest generation of games consoles from Microsoft and Sony have unambiguously thrown in their lot with multi-threaded gaming. Both are based on essentially the same eight-core AMD CPU that offers fairly feeble single-threaded performance and only makes sense if games are properly multi-threaded.Apart from the fact that a lot of PC games are straight ports from consoles, for better or worse, console games tend to set the broader game development scene. Just as important, the next version of Microsoft's multimedia API for the PC, DirectX 12, is going big on multi-threading optimisations for games. It's due out with Windows 10 later this year.All of which makes us just a tiny bit unsure about recommending the 4690K for the really long haul. For the next 18 months, it's an easy choice. How much longer after that it will continue to look is a much tougher call.
Awesome gaming performance; tolerably affordable; runs relatively cool and quiet.Clockspeed 3.5GHz, 3.9GHz Turbo