WHILE THE PIXEL 2 shares important features with the Pixel 2 XL (SoC, IP67 rating and camera), it has enough differences to set it apart from its big brother, which is why we're looking at here.
The most obvious difference is its smaller size (146x70x7.8mm, 143g) and smaller display (5in).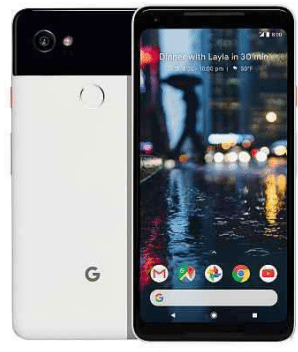 As the Pixel 2 uses a standard 16:9 aspect ratio display, its screen doesn't fill the phone's front in the same way as the Pixel 2 XL's. As a result, the Pixel 2 looks similar to the original Pixel, which is to say a little plain. That said, the refined rear casing looks and feels better than the original. The Pixel 2 is also available in three colors (black, white and blue), compared to the Pixel 2 XL's two.
Google has used a 1,920×1,080 AMOLED display, giving a sharp pixel density of 441ppi. We prefer the more expansive screen of the Pixel 2 XL, and more resolution would be nice, but Full HD is still perfectly well suited to this screen size.
Image quality is good. We measured the screen as able to cover 96% of the sRGB colour gamut, producing perfect blacks and a peak brightness of 417cd/m2. More importantly, colours look richer and more vibrant on this screen than on the Pixel 2 XL's, and there were no viewing angle issues.
The Samsung Galaxy S8 has the slight lead in image quality, however, and its display can also go brighter in direct sunlight.
A smaller handset means that the Pixel 2 has a slightly smaller battery than its big brother. However, the Pixel 2 still lasted a decent 14h 17m in our video playback test, and managed to last through a day of heavy use. Again, there's no wireless charging, and the handset is charged exclusively through its USB Type-C port. You'll need to use the bundled adaptor to use wired headphones as, like the Pixel 2 XL, the Pixel 2 doesn't have a 3.5mm headphone jack.
We prefer the look of the Pixel 2 XL and its larger, more expansive display. That said, the Pixel 2's screen looks better, and the handset is considerably cheaper. If you want a pure Android experience, then, the Pixel 2 is the easier phone to recommend. Keep in mind, though, that the Galaxy S8 has dropped in price and for a 64GB model with a microSD card slot. If you can live with Samsung's changes to Android, it's a better choice overall.
David Ludlow
VERDICT
A well-performing phone with an excellent camera and pure Android experience, and its screen is better than its big brother's