The best phone Sony has produced in years. It's big, but you get a lot of phone for your money
Sony Xperia XA2 Ultra review – The Sony Xperia XA2 has one key attraction: its price. It costs the same as the excellent Honor 9 at launch and is less than the OnePlus 5T. What you get for your money is impressive, starting with the phone's most obvious feature: an enormous 6in screen. When Sony says Ultra, it means Ultra.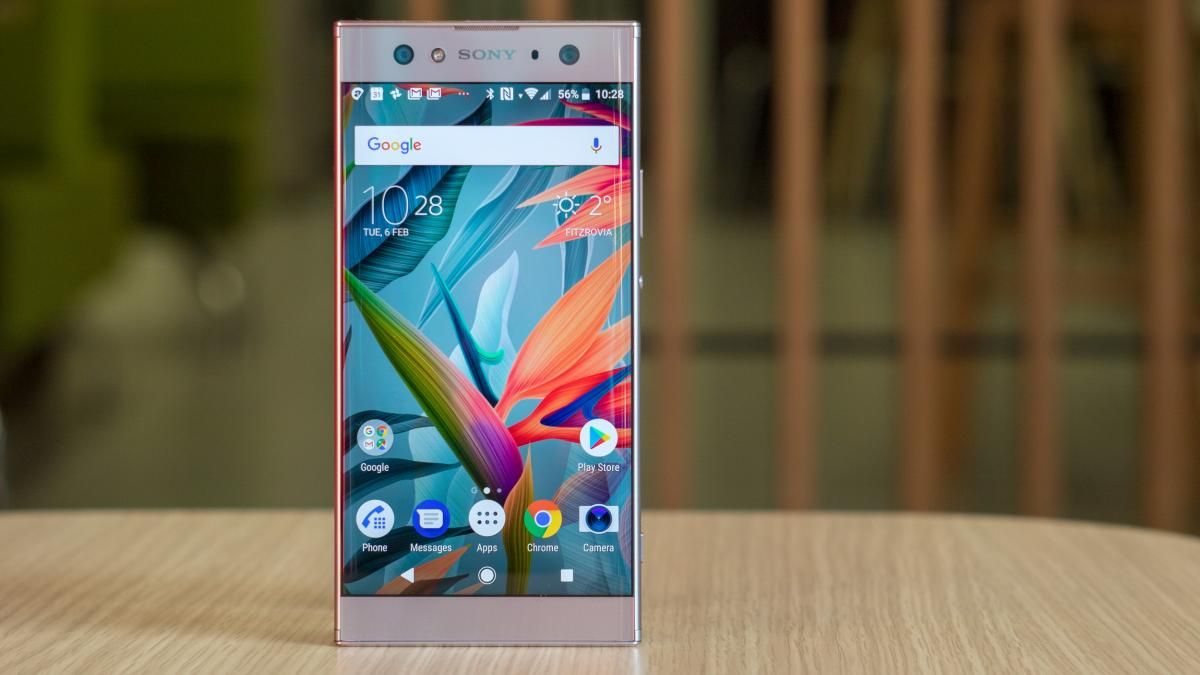 There's no trendy 18:9 aspect-ratio display. Sony sticks with 16:9 and, while the bezels to the left and right are suitably thin, its forehead and chin bezels are chunky by modern standards. The resolution is a conservative 1,080 x 1,920, too.
Still, if you watch Netflix, iPlayer or Amazon Video on your commute, you'll find 1o8op on a 6in screen isn't a bad thing at all. Graphics look crisp and sharp-edged with no visible pixelation, while 1o8op displays usually require less power to run than screens with more pixels.
Sony Xperia XA2 Ultra review: Beastly design
The downside is that the Sony Xperia XA2 Ultra is a beast of a phone. In fact, this is the largest handset I've tried to slide into my pocket recently. It's 163mm tall, 9.5mm thick and weighs a positively obese 221g. The £270 Honor 7X has an 18:9 aspect ratio screen, the same 6in diagonal and is much slimmer and lighter.
Still, you can just about hold the thing in one hand, and the phone looks good and feels well put together. There's Gorilla Glass 4 on the front so it doesn't pick up fingerprints too readily while the rear is matte-finish plastic, so that's greasy-digit-proof as well. It's available in silver, gold, blue and black, and looks nice in all but the gold, which has an odd sheen of green when it catches the light.
The Sony Xperia XA2 Ultra is also stuffed with features. A fingerprint reader sits in the centre of the rear panel, just below the camera, while NFC means you can use it for contactless credit-card payments. The microSD slot will take cards of up to 256GB and you get a 3.5mm headphone jack, USB-C for data transfer and charging, and even a dedicated, two-stage shutter button for the camera on the right edge.
What the Xperia XA2 doesn't offer is dust or water resistance. I also wish Sony would round off the corners; unless you line your pockets with Kevlar, it won't take long before the XA2 wears a hole in your trousers.
Sony Xperia XA2 Ultra review: Vivid display
Sony was effusive about the Ultra's display when it first announced the phone, saying it was its most vibrant screen yet. And, despite my initial scepticism, I'm impressed.
You can choose from three colour profiles: Ultra Vivid, Standard and (enhancements) Off. First, I flipped to Ultra Vivid and fired up the opening sequence to Altered Carbon on Netflix. I was immediately struck by how deep and rich its dark background looked, and how vibrant and HDR-like other colours were. Yet the screen somehow manages to look balanced, with no overly ruddy skin tones, for example.
It's the same story elsewhere in the user interface – which is Android Oreo, overlaid with Sony's usual launcher software.
Although graphics and
ABOVE At first glance, it's not at all obvious what sacrifices Sony makes to keep this phone under £400
I was immediately struck by how deep and rich dark backgrounds looked, and how vibrant and HDR-like other colours were
BELOW The XA2 Ultra is available in a range of colours, but we're not fans of the gold
wallpapers stand out in almost neon colours, there's no sense that colours are unnatural when you browse your photo library.
In testing, the XA2 performed well, but with some weaknesses. The Ultra Vivid mode returned a coverage rate of 92.3% of the DCI-P3 colour gamut. With "enhancements off', you get 87.2% of sRGB, which explains why the screen looks a touch dull in this mode. The enhancements "Off' mode turned out to be the least colour- accurate of the three modes on offer, and Ultra Vivid also garnered the best colour-accuracy score (average Delta E) – still, at 3.7 this is nothing to be proud of.
There are still plenty of positives, though, not least the display's high peak brightness of 616cd/m2 and its fantastic contrast ratio of 1,607:1. Both of these results go some way towards explaining why, in Super Vivid mode at least, the XA2 Ultra's display looks so good to the eye.
Sony Xperia XA2 Ultra review: Solid performance
With such good build, design and screen performance, there has to be some give and, for the XA2, that comes in the phone's performance. An octa-core Snapdragon 630 processor, Adreno 508 GPU and 4GB of RAM means that, when compared with the Honor 9 and OnePlus 5T, it's positively sluggish. You can feel it in everyday use, too, and although the 1o8op display keeps things smooth in casual games such as Threes and Candy Crush, you'll have to play more demanding titles like Asphalt with the quality dialled right down. At least it's better for gaming than the Honor 7X.
The battery life is predictably pretty good, though, with the phone's 3,58omAh battery comfortably lasting a day to a day and a half with moderate use and stretching to 16hrs 54mins in our video-rundown test.
Sony Xperia XA2 Ultra review: Nifty selfies
If the price and size of the Sony Xperia XA2 Ultra grabs all the headlines, it's the camera tech that's most interesting. For once, not the rear: this is a 23-megapixel camera with an f/2.0 aperture, a decent-sized 1/2.3in sensor, phase-detect autofocus and a single-tone LED flash.
What's curious is the front arrangement, which includes two cameras. One has a resolution of 16 megapixels, an aperture of f/2.0, optical image stabilisation and a 1/2.6in sensor. The other is an 8-megapixel snapper with an f/2.4 aperture and a smaller 1/4in sensor. There's also a single LED flash.
These allow you to capture regular selfies with the 16-megapixel camera and wide-angle shots with the 8-megapixel one, useful when you want to capture a small group of three or four friends. You'll still have to squeeze pretty tightly together, and be prepared for a little fish-eye effect. I wasn't impressed with the quality of either camera, especially in low light – both softened skin tones unflatteringly, and the results were so oversaturated that it looked like I'd been at the gin – but it's nice to have the extra option nonetheless.
The rear camera, on the other hand, is seriously impressive. At sunset, pitched against the excellent OnePlus 5T, the Sony's camera consistently outperformed the OnePlus, especially with HDR mode enabled. It reproduced the golden light cast by the winter sun superbly, while exposing the foreground with just enough brightness to avoid looking unnatural.
It falls down in low light without the flash enabled, though, and my test shots were rife with compression artefacts and distracting chroma noise. Here, it's the OnePlus 5T that does better, capturing cleaner, less blotchy images.
As for video, 4K capture is possible, but not in the main part of the video recording app, which is annoying.
There's also no image stabilisation in the phone's 1o8op 6ofps mode, but you do get HDR video at 1o8op and very good stabilisation.
Overall, the Sony Xperia XA2 has an excellent sets of cameras for the money, adding to the phone's all-round appeal.
Sony Xperia XA2 Ultra review: Easy decision?
In fact, there's very little to complain about with the XA2 Ultra aside from its sheer size. The screen is great to look at; the phone itself looks good; the rear camera produces excellent- quality stills and video; and the battery life is great too.
This is the best phone Sony has produced in years – the only thing
LEFT Want to take wide-angle selfies? The XA2 Ultra has you covered
that might give you pause is the competition.
The awkward fact is that, in the 7X, Honor produces an 18:9, 6in smartphone for £100 less than the Sony XA2 Ultra and, although battery life and performance isn't quite as good, it's slimmer, lighter and generally a slightly better buy.
Choosing a phone is a personal decision, though, and while the XA2 Ultra isn't perfect it makes a pleasant change to say that this Sony is a genuine contender. JONATHAN BRAY
Sony Xperia XA2 Ultra review: SPECIFICATIONS
Octa-core 2.2GHz Qualcomm Snapdragon 630 processor • 4GB RAM • Adreno 508 graphics • 6in IPS screen, 1,080×1,920 resolution • 32GB storage • microSDXC slot (up to 256GB) • 23MP rear camera • dual 16MP/8MP front camera • 802.11n Wi-Fi • Bluetooth 5 • NFC • USB-C connector •  3,580mAh battery • Android 8 • 80×9.5x 163mm (WDH) • 221g • 1yr warranty