THE THING WITH LUXURIES is that, once you've experienced them, it can be difficult to go back to the mundane. Whether it's fine wines, high-end hi-fi, or expensive motors, experiencing the good stuff often means that nothing else comes close. That's why this Acer Predator XB323QK 4K gaming monitor should come with a warning, lest people are tempted to spend $+ trying to get a machine powerful enough to drive it. Read our Acer Predator XB323QK Review.
–GUY COCKER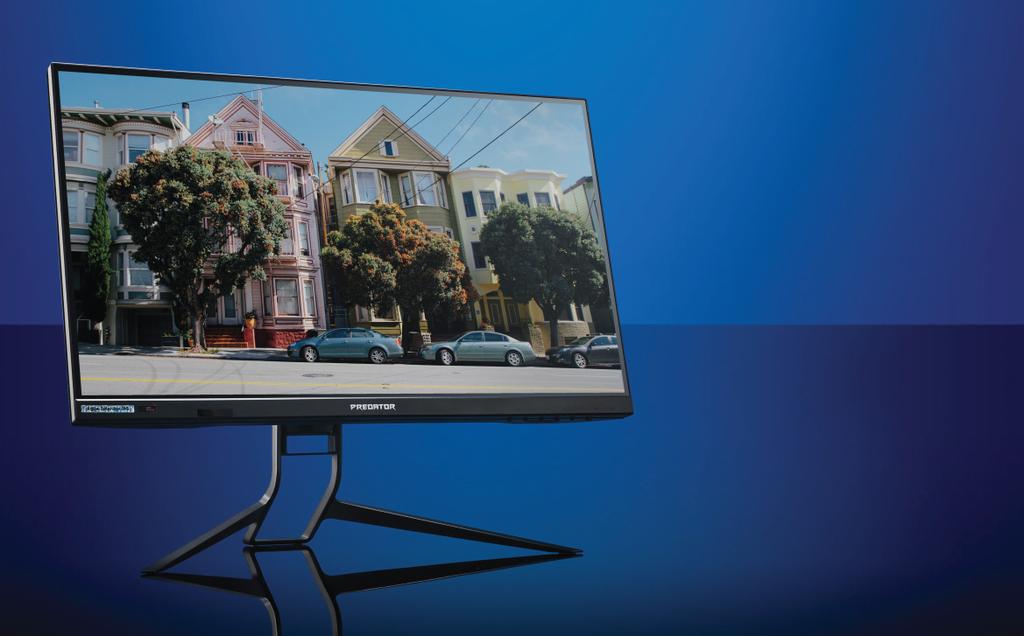 If money's no object though, this monitor has everything going for it. It's a 4K display with an IPS panel, a huge 32-inch screen, a 144Hz refresh rate, and support for both AMD FreeSync and Nvidia G-SYNC. Those stats make it a dream monitor for gamers, offering the most premium of experiences short of an 8K television or an OLED monitor.
The Predator XB323QK also has lots of worthwhile extras and features, including two HDMI 2.1 ports, allowing you to connect both an Xbox Series X and PlayStation 5 simultaneously while taking advantage of their 4K 120Hz variable refresh rate signals. There's also a USB-C port with 65W power delivery, meaning you can connect a laptop and power it at the same time.
It also has configurable RGB lighting on the rear for that pro gamer look, built-in speakers, a headphone jack, and two USB-A ports next to its video inputs. Sadly, these are located on the underside of the body and are rather fiddly to access.
Thankfully, the monitor's performance is as impressive as its feature set. Picture quality in games is stunning thanks to a display that boasts fantastic detail and great responsiveness. Colors aren't the most vibrant, but this can be alleviated by digging into the monitor's on-screen setup and tweaking the settings. There are also preset modes available for genres such as Racing and Sports.
Gamers are also covered thanks to dual compatibility with AMD FreeSync and Nvidia G-SYNC and, combined with the 144Hz refresh rate, games driven by a suitably powerful GPU look stunning on this screen. Similarly, console owners will be able to get the best out of their machines on the Predator XB323QK thanks to the two HDMI 2.1 ports.
The screen's rated brightness of 400 nits is standard for gaming monitors and bright enough for most uses, including work and gaming. The 90 percent DCI-P3 color space rating will be good enough for most, although content creators may want to invest in something better.
The metallic stand feels sturdy, which is important for this heavy 13.5kg monitor. The stand allows you to move the screen up and down as well as tilt it 30°, but you can also VESA mount it if you wish.
It's rare for a monitor to have built-in speakers, and though they go loud, they start to sound rather tinny at over 30 percent volume, so make sure you have some change for a decent set of speakers or headphones. Similarly, the 65W USB-C power delivery may not be sufficient to power many of the gaming laptops that will be used to drive this monitor.
The Predator XB323QK is pricey thanks to its 4K display, but it very much delivers for those looking to push their high-end GPU to the max. Support for both FreeSync and G-SYNC means it will be compatible no matter what GPU you buy in future, while a generous set of connections make this the ideal monitor for someone who uses desktops, laptops, and consoles for gaming. If you have the desk space and a beefy PC, it's a fantastic 4K gaming monitor.
VERDICT
Acer Predator XB323QK
Acer Predator XB323QK Review
PROS
4K 144Hz display
USB-C and HDMI inputs
FreeSync and G-SYNC
CONS
Expensive
substandard speakers
some color tweaking required
Add your review
Best Acer Predator XB323QK prices ?
Acer Predator XB323QK NVbmiiphuzx - XB3 Series - LCD monitor - 4K - 31.5" - HDR
$

959.93

$1,069.99
in stock


$

1,199.99
5 new from $1,069.92
in stock

MORE DEALS

$, www.acer.com
SPECIFICATIONS
Native resolution 4K (3840×2160)
Refresh Rate 144Hz
Panel technology IPS
Response time 1ms
Aspect ratio 16:9
Inputs 2x HDMI 2.1, DisplayPort 1.4, USB-C
Display features AMD Freesync, Nvidia G-SYNC
Contrast ratio 100,000,000:1
Dimensions 71.6 x 30.9 x 53.4cm
Weight 13.5kg