HP Pavilion Mini Desktop Review – HP bowl into the small media PC market with the Pavilion Mini
Given the power they put in smart TVs these days, I do wonder if the classic media PC is redundant. Nevertheless, lots of hardware makers still produce them.
The latest company to be inspired by Intel's low-power chippery is HP, with its uniquely styled Pavilion Mini Desktop.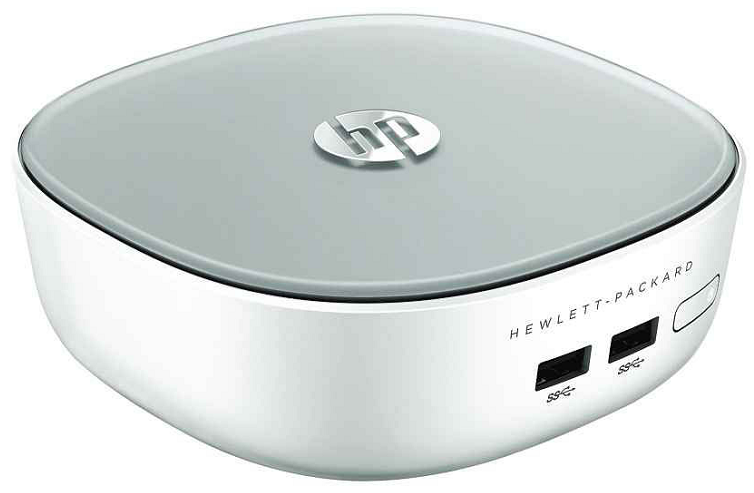 It makes a range of these, for the Pentium-powered 300-020na, and progressing up to the Core i5 300-050na. It's chosen not to do a 'bare bones' version, so they all come with a surface-mounted processor, installed RAM and a hard drive.
The 300-030na reviewed here falls neatly in the middle, and it uses the Intel Core i3-4025U with Intel HD Graphics 4400 (1.9GHz, 3MB cache, two cores).
Truth be told, this is an older CPU design, being a 22nm Haswell-ULT generation that first appeared in April 2014, but it's reasonably efficient and doesn't yet have a Skylake replacement.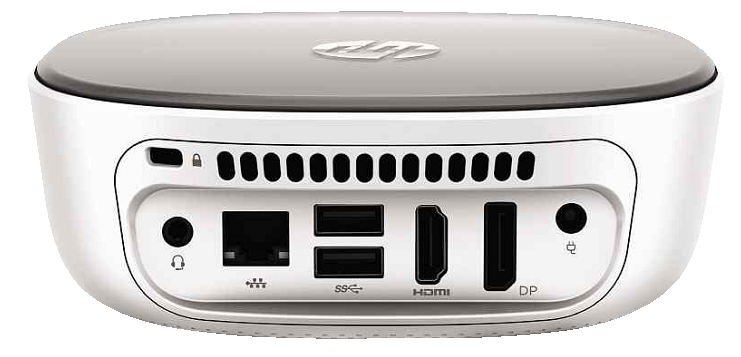 What I immediately noticed about HP's design was that it hasn't gone overboard with the 'mini' aspect in its noodle-bowl- inspired casing. It's significantly larger than the Intel NUC or latest Zotac Zbox designs, though this does allow for better air circulation.
Internal access is via three screws on the base, and then you can get to the SoDIMM memory slot and the 2.5″ drive in a relatively straightforward way.
My only real disappointment here was that there's no micro-SD or M.2 module, so the only realistic internal storage upgrade is to swap out the drive for a 2.5″ SSD. I'd seriously recommend that anyone who buys one of these does that, because the preinstalled Seagate ST1000LM024 (a rebadged Samsung Spinpoint) 1TB drive isn't that quick, even if it has tons of capacity.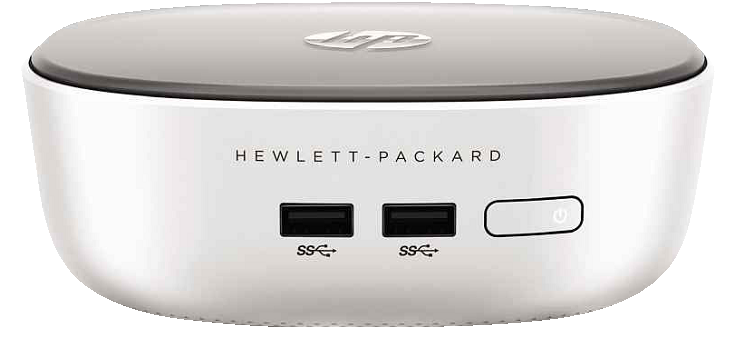 There's one memory slot, occupied by a 4GB DDR3L module in this case, which I'm reasonably sure you can
HP Pavilion Mini Desktop Review: Specifications
Operating system: Windows 8.1 64-bit.
Processor: Intel Core i3-4025U with Intel HD Graphics 4400 (1.9GHz, 3MB cache, two cores).
Memory: 4GB DDR3L (1×4 GB); Total slots: 1 DIMM.
Storage: 1TB 5400rpm SATA.
Dropbox: HP Connected Drive 1.
Display: LCD monitors sold separately.
Network interface: Integrated 10/100/1000 gigabit Ethernet LAN.
Wireless connectivity: 802.11b/g/n (2×2) and Bluetooth 4.0 combo.
Video: Intel HD Graphics, 1 HDMI, 1 DisplayPort.
Ports: 4 USB 3.0, 1 headphone/microphone combo, 3-in- 1 memory card reader.
Power: 45W AC power adapter.
substitute for an 8GB one if required.
Where this design does better is in respect of the available ports – something that often gets overlooked on small machines. There are no less than four USB 3.0 ports, both HDMI and full size DisplayPort, plus a 3-in-1 card reader. It also has excellent networking though a gigabit LAN port, and a wireless module that combines 802.11 b/g/n and Bluetooth 4.0.
Included in the price is Windows 8.1, though obviously that can be upgraded to Windows 10 for free for at least the next nine months or so.
And this is the point where my generally approval of what HP had done with the Pavilion Mini took something of a beating. For whatever reason, there are parts of HP that never got the memo entitled 'users hate crapware', because this machine is armpit deep in it.
Evernote, Cyberlink, McAfee, WildTangent, Foxit, Bonjour, Snapfish and Dropbox are all on here, along with HP's own collection of commercial opportunities. It took me almost an entire day to install the 160- odd updates to Windows 8.1, so the thought of spending even longer clearing this software
For general web work and video playback it's more than acceptable
crud off wasn't an appealing one. HP can put what it likes on here, as can Lenovo and Dell on its own kit, but I will keep on mentioning how it damages the user experience each time I see it, until they stop.
What you don't get for this price is a mouse, keyboard or monitor, but I'd generally assume that the TV might often be the replacement for that last item. HP does a Bluetooth mouse and keyboard that it includes with some models, and they can be bought as an accessory pack. However, I haven't heard great things about them, so I'd consider sourcing your own input devices.
Overall, this is well designed and featured machine that wouldn't look out of place in the lounge. It isn't super quick or remotely a gaming platform, but for general web work and video playback it's more than acceptable. It could also double as a small office machine, because it's almost silent in operation.
Shame HP couldn't resist the urge to tar-and-feather it with apps and links that its customers invariably won't want, mm Mark Pickavance
HP Pavilion Mini Desktop Review: Verdict
HP Pavilion Mini Desktop
A nifty media PC with crapware issues
Add your review
MORE DEALS

HP Pavilion Mini Desktop Review: DETAILS
Requirements: Keyboard, mouse and monitor