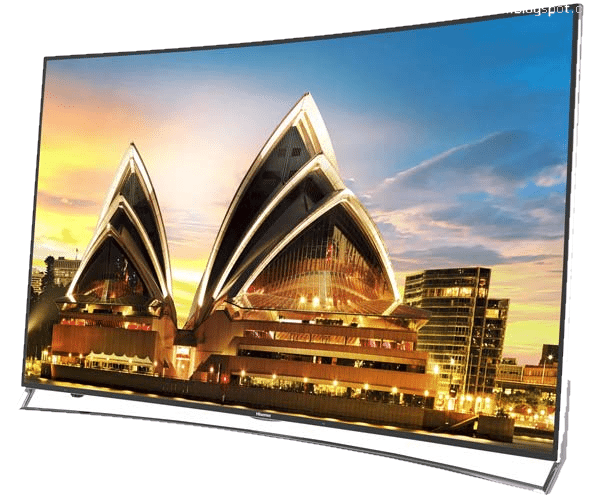 This range-topping TV from Hisense comes loaded with tech. Will it turn heads?
In this pixel-packed world, it seems prosaic labels for new TV technologies just aren't enough. We demand suffixes that promise more. Hisense, the giant Chinese TV brand now making in-roads into the UK consumer market, has bagged ULED. It certainly sounds suitably futuristic.
Yet there's a fair degree of marketing flimflam about what ULED actually is or means – as far as I can tell it's an umbrella reference to the Quantum Dot colour filter used by the set, as well as the backlight control of its rear-mounted LEDs. So ULED may not be anything fundamentally revolutionary, like OLED, but it hints at something a bit special.
I'm actually surprised Hisense didn't opt for P-LED – for Premium. It's an adjective that crops up a lot when you talk to the brand. For better or worse, Chinese TVs have a reputation for being cheap and cheerful. Hisense, however, is keen to stress it can assemble TVs with higher aspirations. And it's more than half way to convincing with the 65XT910.
This curved 65in set boasts local dimming LED control, onboard HEVC (for 4K Netflix and Amazon) and VP9 (for 4K YouTube) decoders, plus HDMI 2.0 with HDCP 2.2. It's far from scruff y when it comes to design. Yet it's priced beneath many of its comparable marketleading East Asian rivals. So is this upstart dragon too good to be true?
A slice of style
The XT910 (sometimes referred to as the LTDN65XT910XWTSEU3D) is certainly a good-looking telly. It's curved – quite overtly so – and sports a thin bezel with matching chromed stand. I still flatly refuse to endorse the concept of curved TVs – they makes EPGs look foolish and offer no noticeable viewing benefit – but will concede that off -angle viewing on the XT910 is good, with no obvious loss of contrast or color.
The set may not be particularly thin, but this obviously isn't an issue when you're sitting square-on. It reclines slightly on two stabilising feet, which gives it a bit of an imperious pose.
As advertised, the XT910 supports HDCP 2.2 sources, but only on two of its four HDMIs (inputs 3 and 4). This could perhaps prove limiting if owners intend to invest in a variety of 4K content sources – a 4K streamer, 4K UHD Blu-ray and Sky Q box for example. The set is compatible with dual-band Wi-Fi, giving you the option to connect in the generally less congested 5GHz band.
In addition to Freeview HD, there's also a single generic (not Freesat) satellite tuner. The TV will record to a connected USB hard drive.
Hisense's user interface is clean and unfussy – there's no LG WebOS cleverness here. Setup offers three configuration modes, which is unusual. In addition to Home and Shop, there's Premium, which promises best performance but with increased power consumption. With this mode I measured a draw of 227W on average, so it's not anything which should concern owners. If you lived with a big plasma back in the day, that would have drained the National Grid of twice as much.
As a rule of thumb, Premium mode proves to be much brighter than Home. Consequently I'd advise caution if you tend to watch in lighting-controlled rooms. Color vibrancy is high, and the set oversaturates. I actually preferred the TV in its Home default, which takes some of the intensity away, making for a more comfortable watch.
Hisense is going its own way when it comes to smart TV. The result is a rather simple portal with little in the way of catch-up TV. It utilises a tiled design, with the main page touting BBC iPlayer, Sport and News apps, Netflix, Chili Cinema and YouTube. The Hisense app store also includes Plex and DailyMotion alongside the usual twaddle. A Quad Core processor is at play here, but navigation can still seem a bit ploddy. Menus are quick to disappear, too, although the timeout can be adjusted.
The onboard media player, with both network and USB sources, is very good. I successfully played MKV, WMV, MP4, AVI and MOV video files, as well as MP3, WMA, WAV, AAC and FLAC audio rips.
Making a stand with Standard
The image presets offered are Standard, Dynamic, Natural, Theatre, Game and Sport. I'd say the best all-round option for those uninterested in tweaking is Standard.
Picture quality is entertaining, but there are caveats. Out of the box, the XT910 tends to over-sharpen everything. You'll need to dial back the sharpness setting to zero to remove unwanted ringing. Contrast can be enhanced via an adaptive contrast control; this darkens blacks but also squashes shadow detail.
Raw image resolution looks gorgeous with UHD material. The Netflix 4K app was the only source of 2,160p programming during my audition (Amazon is promised to arrive very soon), and it's encouraging to report the screen looks great with the good stuff . For extreme detail and depth, one of the bestlooking streams to be had is Adam Sandler's Ridiculous 6. On the 65XT910, its Wild West vistas are gloriously intense.
And the TV also shines with 1080p. I never got the sense the panel was doing anything particularly clever with detail or texture algorithms, but that didn't stop the big CGI close-ups in Jurassic World from being a grin-inducing visual delight.
Hisense's TV does a solid job handling dark scenes; the local dimming tech has no problem with my reference material, like Uma Thurman's live burial in Kill Bill Vol 2. The LED array uses 240 controllable zones to minimise halo effects and blooming.
Yet motion handling is the XT910's Achilles' heel. An Ultra Smooth Motion (SMR) interpolation mode, which can be set to Low, Middle or High, is actually best left off. Do this and motion resolution peaks at around 950 lines at 6.5 pixels per frame, using a 1080p monoscope. There's motion blur and judder on horizontal pans but no unsightly artefacts. Switching processing to Low doesn't restore motion detail, but it does smooth out those pans, although it appears to skip frames. Crank up the processing to Middle or High and it induces very obvious motion noise, although fine detail is preserved.
Another potential issue for buyers is that this active 3D TV (sold with one pair of 3D goggles) exhibits high levels of crosstalk, making for a generally uncomfortable dimensional experience.
It creates more of a good impression when it comes to audio. Thanks in part to licensed dbx-TV DSP, it has copious volume and clarity. I don't think owners will feel an immediate need to invest in a soundbar.
Credible competitor
With the XT910, Hisense has made a credible move into the high-end TV space. The set is competitively priced and has plenty of eye-candy appeal. The company says it is HDR compatible, too – and may even be so by the time you read this courtesy of a firmware update (during my audition it was SDR only).
I think there are improvements to be had when it comes to motion handling and upscaling, and the smart platform lacks catch-up options, but as a low(er)-cost bigscreen option it's undeniably good value. Well worth an audition.
Specifications
3D: Yes. Active Shutter4K: Yes. 3,840 x 2,160TUNER: Freeview HD; DVB-S2CONNECTIONS: 4 x HDMI inputs; 3 x USB inputs; Scart; component video; composite video; digital optical audio output; Ethernet; built-in dual-band Wi-FiSOUND: 2 x 15WBRIGHTNESS (CLAIMED): N/ACONTRAST RATIO (CLAIMED): N/ADIMENSIONS (OFF STAND): 1,446(w) x 839(h) x 152(d)mmWEIGHT (OFF STAND): 32kgFEATURES: USB and network multimedia playback; HEVC decoder; VP9 decoder; smart portal featuring Netfl ix 4K and (via firmware) Amazon 4K; Quantum Dot colour filter; HDR via firmware update; Ultra Smooth Motion (SMR) interpolation mode; curved design; USB recording.