Fed up with a non-functioning touchpad and tearing videos, John Knight explores a Chromebook distro and is unprepared for the speed that awaits.
GalliumOS 2.1 Review – GalliumOS is a tailor-made distribution for Chromebooks, with specific hardware and software optimisations designed to increase performance and battery life. The software is getting older (2016-2017), and the desktop is lightweight XFCE. It only support x86 processors.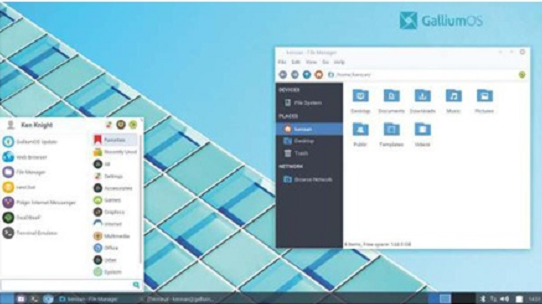 Run Linux on a Chromebook and you'll soon find out that hardware support is usually a nightmare. Something isn't going to work, whether it be the keyboard, video acceleration, or most commonly, the touchpad GalliumOS is a distro where, all the necessary tweaks have been made, and everything runs straight from the box.
GalliumOS is a lightweight Linux distro, designed for Chromebooks, with specific optimisations to maximise performance and minimise load. It's based on the already lightweight Xubuntu, though with the last stable release being early 2017. libraries are getting a little old now, with XFCE 4.1.2, and Linux kernel 4.8.17 (or 4.9.4 for Braswell-line processors).
In order to squeeze out the greatest possible speed, the kernel has been optimised for specific x86 CPU lines (check the website's Hardware Compatibility List to download the right version): ZRAM is used for swap: alternative kernel schedulers are used: unnecessary services and kernel features have been cut: and the kernel watchdog timer has been disabled for better battery life. Last but not least, it uses the lightweight compositor Compton, which has tear-free video playback and tasteful window tweaks without a tangible performance hit.
Get into your good (Chrome)books
Installing GalliumOS itself is easy enough – if you've installed Ubuntu or Mint, you can install this – but the machine preparation can be very difficult. Chromebooks are usually locked down and designed to run Chrome OS only, so there's a good chance you'll need to flash your firmware. Scripts exist to aid the process for some machines, but either way. this isn't a task for beginners.
Once running. GalliumOS is crisp, tidy and responsive, and that touchpad finally works! There's a pleasing blue aesthetic and XFCE has been tweaked to be more like the kind of conventional interface one would expect from the Windows 9x series onwards.
Lightweight distros are all about compromise, so have the right areas been trimmed, and can you live with these cutbacks? Well, there's nothing like Ubuntu's Software Centre, meaning you'll need to use the more advanced Synaptic. Furthermore. USB keys don't open automatically – you need to manually do so in the file browser. These two issues alone may exclude any computing beginners. And when you enter a terminal command of a program that's not installed, that handy apt get command that Ubuntu derivatives now output is nowhere to be seen.
GalliumOS is an ultra-fast. lightweight distribution for Chromebooks with perfect non-tearing video playback Did we mention the touchpad works now?
So are these compromises worth it? Absolutely. GalliumOS is lightning fast and transforms this older hardware. It actually feels like you're using a new computer, and a well spec'd one at that. For the first time on this machine, video playback is smooth and tear-free, even in HO (large Matroska files were playing flawlessly). And this is with desktop effects enabled Heck. LibreOffice loads in around two or three seconds.
If only for thoroughness' sake, we thought we'd try out 3D acceleration. Performance on glxgears  and Planet Tux was consistently excellent, so we upped the ante and tried Steam. Steam itself was impressively smooth and responsive, but it all fell apart once the 30 games started. This distro may breathe new life into Chromebooks, but it can't miraculously replace cheap hardware! Streaming might be worth a go though.
Overall this has been a very worthy endeavour and transformed the office paperweight (a cruddy Acer C710) into a genuinely desirable machine that's a pleasure to use. If you happen to check GalliumOS's social media feedback, you'll see their users are very happy people.
Verdict
And for good reason: this a fantastic piece of work.
Well designed and fast. In need of an update, but essential for anyone trying Linux on a Chromebook.
» Rating 8/10