FastStone Image Viewer 6.6 Review
www.snipca.com/29295
What you need: Windows XP, Vista, 7, 8.1 or 10
Digital cameras and smartphones can now shoot hundreds of photos a minute and store umpteen gigabytes of video, so we've all become rather snap happy – and photo software has struggled to keep up. Most programs take a few seconds to display each JPEG as you cycle through the day's snaps, then grind to a halt when you try moving video files around.
FastStone is a merciful exception. Its new version focuses on letting you handle photos, videos and folders as quickly as possible. Large 'batch' operations – that let you convert, move or rename multiple files in one go – are now significantly faster than in other photo-management software, including Adobe's pricey Lightroom.
There are visible changes too, notably in the overhauled full-screen video player. The playback-control bar now hides automatically until you next move your mouse, similar to VLC. You can now set a video to play on a loop or play the next file automatically; use mouse gestures to fast-forward 10 seconds within a video or skip to the next video; and remember playback position. Meanwhile, in the program's browser view, you'll find a new 'Specify date range' field to help you control those unwieldy import sessions.
As ever, FastStone incorporates a nimble photo editor that lets you crop, resize and straighten photos; tag and watermark your images; adjust colour and exposure; create slideshows; configure print jobs, and even remove blemishes. You can't yet edit videos, even though the video player contains editing buttons – a minor confusion that needs to be ironed out.
That aside, FastStone Image Viewer is a superb program that punches above its 16MB weight and free price tag. To get it, click the first 'download' button on the link above and then run the installer. It takes seconds and there's no junk to dodge. In XP and Vista, click 'download' under 'portable'.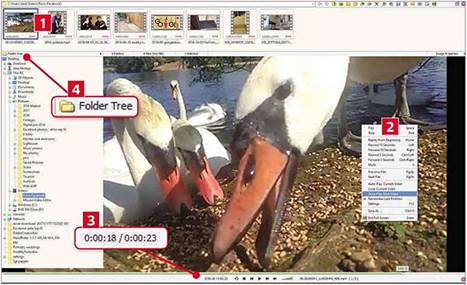 1 FastStone Image Viewer automatically integrates with File Explorer to display your folders and files. Double-click a video thumbnail to play it in the revamped full-screen player.
2 Right-click for new playback options such as Loop Current Video, Auto-Play Next Video and Remember Last Position (now enabled by default for videos longer than 10 seconds).
3 Move your mouse to show the playback controls, and hover your cursor over this to see a time position. Scroll your mouse to skip to the next video (default), or to skip 10 seconds. To configure gestures, press F12.
4 Hover at the top to see other files in the same folder. Click a thumbnail to play, or click Folder Tree to open the sidebar. To launch Browser View and access import tools, press Enter.
By using OCR technology, it has become easy to extract text from images. The optical Recognition software has a unique algorithm that helps in taking out words from the image. You will find plenty of image to text tools available online. You can choose from any one of them.