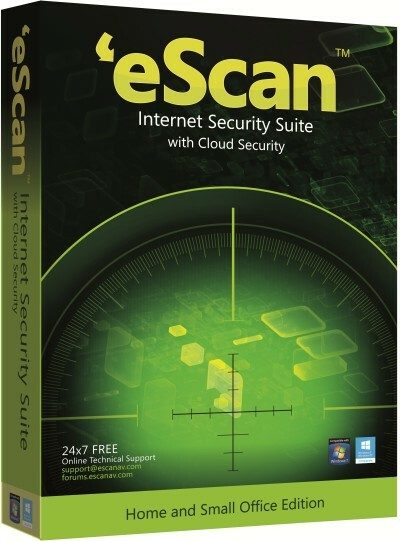 Roland Waddilove puts his PC's security in eScan's hands
When you think of the top antivirus and security companies, eScan is probably not among the names that come to mind. However, the company has a range of products from the basic eScan Antivirus to the top of the range eScan Universal Security Suite. On test here is a package in the middle: eScan Internet Security Suite, which offers more than basic antivirus protection, but it is still reasonably priced. New to the this version is an updated UI, secure delete, USB vaccination, dynamic phishing filter, and eScan Security Network.
A recent Real-World Protection test by AV-Comparatives showed that eScan detected nearly every malware attack, scoring higher than Bullguard, ESET, Lavasoft, McAfee, Sophos and others. It wasn't the best, but it was a pretty good result. It has received 11 Virus Bulletin VB100 awards from its last 12 tests stretching back several years. Those results should dispel any doubts about its security and its ability to protect against threats. Indeed, no problems were encountered while it was on the test PC. The Suite provides a collection of security modules: file antivirus, web and parental control, privacy control, mail antivirus, antispam, firewall, endpoint security and cloud protection. File security is real-time antivirus protection and there are quite a few configuration settings, such as include/exclude zip archives, exclusions and exceptions, blocking executables on USB flash drives and network locations, and an option to protect folders you specify from deletion or modification. The Endpoint security module enables you to lock down a computer and only run applications you specify. You can also select the times at which restrictions should apply. This could be used to increase your own protection, but is really useful when used with the parental controls, that can block websites unsuitable for youngsters and teens.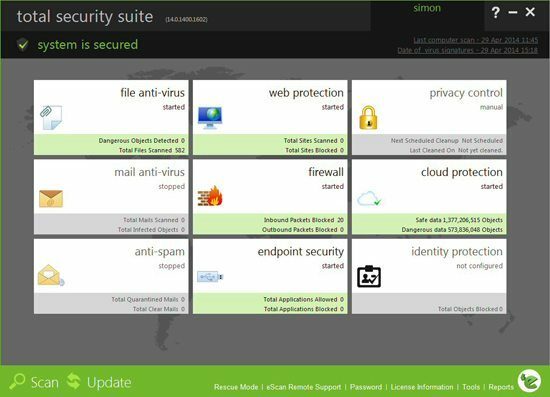 The firewall interface is not as simple as some, but if you know how these things work, you can dig out useful information, such as which applications have accessed the internet, how much data that have up/downloaded, Expert rules, application rules, trusted IP ranges and MAC addresses can be specified. Privacy control, a clean-yourtracks module akin to tools such as CCleaner, can be scheduled to run automatically fired up manually. It cleans caches, cookies, browsing history, the Recycle Bin, recently accessed files lists, and so on. A Secure Delete facility also enables you to erase specified files and folders permanently. Mail antivirus and Antispam are for email clients as opposed to web-based email. The user interface is functional, rather than attractive, and easy enough to find your way around. You can quickly see enabled modules, there are Update and Scan buttons and schedules can be configured to perform automatic malware scans and virus definition updates. This is a good security application that performs well and is better than some rivals, although it is not quite the best.
Roland Waddilove
A comprehensive security suite..