Epson WorkForce WF-3720DWF Review – Just a fortnight ago we were marveling at how far Epson 's printer technology had progressed between its 1980s dot-matrix models and the current WorkForce WF-3620 color inkjet. Well, it 's come on a bit further: here's the WF-3620's replacement.
This is still a multi-function printer/scanner (MFP) operated from a color touchscreen, but the design is cleaner and classier . It 's a shame the minimalism extends to the removal of the SD card slot, which was handy in the fairly unlikely event that you wanted to print straight from a digital camera, although there's still a port for USB sticks.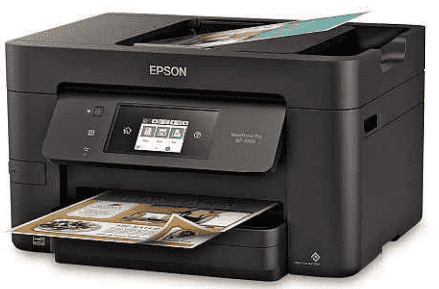 More disappointingly , the scanner's automatic document feeder (ADF) can no longer handle double-sided documents, which was an unusual and useful feature.
You can still print both sides of the paper (duplex). Wi-Fi is built in, with support for direct output from Apple and Android apps as well as from Epson 's own app and cloud service, and faxing is also possible with a telephone socket.
Our black text document printed at 19.2 pages per minute (PPM), excellent for a budget inkjet printer , while color graphics slowed this to 5.6ppm. High quality photos were slow , at over three minutes per 6x4in print. The scanner took 28 seconds to capture an A4 page at a sharp 600dpi, but crawled through a 1200 dpi scan in 2.5 minutes. You won't often need that resolution, and it 's a problem we've seen with other MFPs, but the WF-3620D WF was much faster. The 3720's print and scan quality was decent in our tests, with subtle improvements on its predecessor , bearing in mind this isn't a top-quality photo printer.
The 3620DWF was previously selling (and can still be found) for a hundred quid. The 3720 has an official, but as usual dealers are discounting this. As we went to press, some Amazon Marketplace sellers were listing it. The catch is that the 3720 takes a new type of cartridge, and color pages work out at over 9p, even using the XL inks, which is higher than average and much higher than the 3620.
Again, prices are likely to come down. For now, we like this printer, but overall we're not convinced it's better than the one it replaces, even if it's prettier.
Epson WorkForce WF-3720DWF Review: VERDICT
This is an effective multifunction printer , and fast in the tasks where it matters most, but missing features and pricey inks might put you off
Epson WorkForce WF-3720DWF Review: ALTERNATIVE
With similar features and limitations, this costs less to run, at under 6p per page or maybe less with HP's Instant Ink subscription
Printer wonderland
Printer wonderland I need to buy a new printer for my small home office, but I'm a bit baffled about what to get. I need colour prints and decent mono performance, and I definitely need double-sided printing. I don't print in particularly big quantities, but the printing I do tends to be concentrated into a week or so every month, so my printer might be left unused for a few weeks at a time; I've heard that inkjets can dry out in those kinds of circumstances.
I'm flexible about buying something that's either low cost or cheap to run, although obviously both would be best. Can you suggest something? Antonia Adams The first question to answer is whether you need an inkjet or a laser device. Inkjets have multiple advantages for a home office: they're typically smaller and quieter, use less electricity and are easier to maintain. On the downside, they're often slower to print, may not print as well on plain paper, and can be prone to ink issues if left unused for long periods. Office inkjets are getting better, however, and the best are cheaper to run and almost as fast as the equivalent laser. It's been some time since we encountered dried or clogged print-heads, so generally we'd recommend an inkjet over a laser. You don't mention whether you need to scan, copy or fax, but we'd generally recommend a multifunction peripheral (MFP) unless space is a critical issue; they're usually not much more expensive than the equivalent single-function printer.
With that in mind, on a budget of less, we'd recommend Epson's Workforce WF-3720DWF, which combines good features, reasonable speed and strong results.
Its main • If we could choose just one small office printer, it would be HP's PageWide Pro 477dw downsides are that it can't automatically scan, copy or fax both sides of an original document, while its running costs could be lower. If your budget can stretch, you'll be able to choose from several printers with much lower running costs. We've just reviewed Epson's Workforce Pro WF-C5790DWF, which is only narrowly beaten by HP's brilliant PageWide Pro 477dw. Both get close to competing lasers for speed and quality, and at less than 5p per page they're much cheaper to run. We're less impressed with refillable ink tank printers such as Canon's Pixma G4510 or Epson's EcoTank ET-4750. Both come with enough ink to print thousands of pages, and with ongoing running costs of less than a penny a page they're likely to prove better value over a few thousand pages. Unfortunately, as printers they're disappointing: nowhere near the WF-C5790DWF or PageWide Pro 477dw on speed, and barely a match for cheaper printers such as the WF-3720DWF.