Editor choice
Epson EcoTank ET-4750 review: Spend more, pay less
Epson EcoTank et-4750 Review – There are plenty of jokes about life under communism, but capitalism has its comedy value too. For example, it's easy to buy products that save you money – you just have to pay more. Epson's EcoTank series addresses the high cost of inkjet printer cartridges by using receptacles that you can fill up from a bottle. A special bottle made by Epson, of course, in exactly the right shape to slot into the relevant hopper (they're now physically different to prevent you mixing them up), but still, you get a lot more pigment per pound.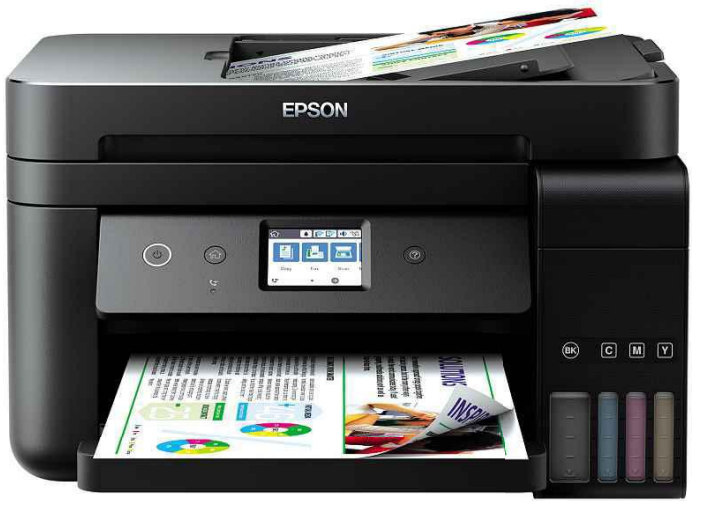 If you print a lot, this should work out to be good value
The ET-4750 comes with enough to print 11,200 colour pages or 14,000 black. These are imaginary printer-industry pages – real ones will sometimes use a lot more ink – but that's impressive compared with the lew hundred sheets you get out of a conventional inkjet, and a full set of refills, rated for 6,000 and 7,500 pages respectively. Then again, an all-in-one inkjet printer/ scanner with middling speeds like this would normally be about a quarter of the price.
Clearly, to save money you'll need to print a lot of pages. It's hard to say how many, since there are lots of different printers you might buy and the price of ink fluctuates. Very roughly, if you print 5,000 pages before you scrap your ET-4750, you'll be winning. If you only use your inkjet for family photos and Christmas letters, that might sound a lot. But to someone running a small office or working from home in a document- heavy job, it's more than plausible.
Our test documents hit 16 pages per minute (ppm) for mono text and 5 ppm for colour graphics, which are decent speeds for a bog-standard inkjet, though slower than office models you could get for this money. Photo prints were much slower, but looked good. Scanning a single A4 page was surprisingly slow, at 28 seconds, but again we had no complaints about quality.
There's a 30-page automatic document feeder (ADF) on top, and duplex (double-sided printing and scanning) is automatic. Faxing is supported, and you get a full set of connections: Ethernet, USB, and Wi-Fi, with all the usual support for mobile devices and online options. A simple colour touchscreen tops off a machine that's as solidly designed as it's expensive.

VERDICT:
EcoTank finally feels like a good-quality mainstream product, and the numbers do add up over time – if your wallet can take the hit
Epson EcoTank ET-4750 review
At last, an EcoTank printer worth buying. If low print costs are a priority, this is an excellent buy
Add your review
Cartridge-free printing - comes with up to 2 years of ink in the box (1).
Includes enough ink to print up to 14,000 pages black/11,200 color (2) - equivalent to about 30 ink cartridge sets (3).
Save up to 80 percent on ink with low-cost replacement bottles (4) - plus easy-to-fill, supersized ink tanks.
Free shipping
Last update was in: 2018-05-25 4:35 am
Ultra-low-cost per page: Reduce printing costs by 74%
Three years worth of ink included: Print up to 14,000 pages in black and 11,200 pages in colour
Next generation ink filling system: Enjoy hassle and mess-free refills with the enhanced ink bottles
Last update was in: 2018-05-25 4:35 am
back to menu ↑
ALTERNATIVE:
HP's unique line-at-a- time 55ppm inkjet offers much faster output at just over 3.2p per colour page
back to menu ↑
SPECIFICATIONS
4,800x1200dpi maximum print resolution • 1200x2400dpi maximum scan resolution • Ethernet • USB • 802.11n Wi-Fi • 231x375x347mm (HxWxD) • 6.8kg
Epson Expression ET-4750 | How to Fill the Ink Tanks
This video demonstrates how to fill the Epson Expression ET-4750 ink tanks. To learn more, visit: http://bit.ly/2xuseI3.
Epson WorkForce ET-4750 | Take the Tour
The Epson WorkForce ET-4750 EcoTank All-in-One Supertank Printer is the perfect combo of value and convenience. Engineered for your home or small office, the ET-4750 prints, scans, copies,...