Epson's EcoTank system has always been a promising concept. Instead of costly and wasteful ink cartridges, EcoTank devices have enormous tanks, come with generous bottles of ink and slash print costs to a fraction of conventional levels. It's a great idea, but none of the previous EcoTank printers I've tested have been good enough to recommend. The new EcoTank ET-4750 finally delivers on the promise.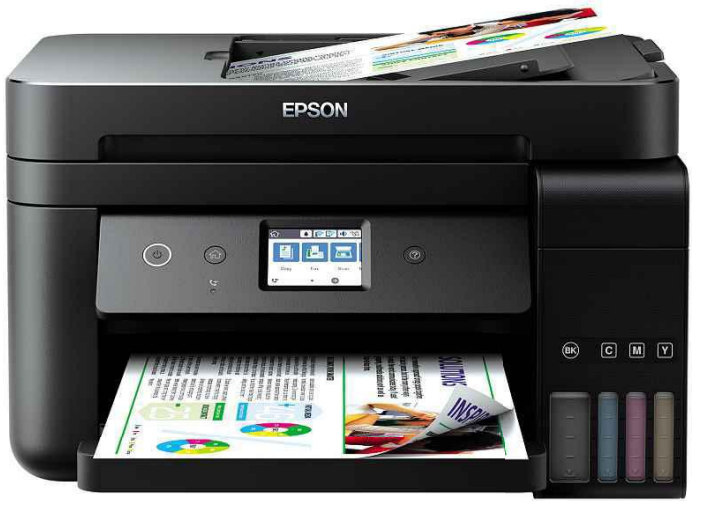 It's immediately clear that Epson has improved the EcoTank system itself. This MFP's ink tanks are neatly integrated into the front, where you can view their levels at a glance; just like a car's petrol tank, it's important not to let them run dry. More significantly, Epson has overhauled the filling system, introducing keying to eliminate the risk of misfuelling. The new system appears to be more leak- and splash-proof too; now you just slot a bottle on to the tank and leave it for a minute to disgorge.
For anyone printing moderate amounts, the financial arguments for the EG-4750 are compelling. This EcoTank printer is around more expensive than I'd expect for a typical MFP with its specification, but Epson claims it comes with enough ink for 14,000 black pages and 11,200 in color. Most inkjets arrive with ink for only a few hundred pages, if that, after which they typically cost about 7.5P per page. You'll only need to print about 5,000 pages over the lifetime of an inkjet MFP for the ET-4750 to prove better value.
Don't forget that savings are only one issue. Even if the two technologies cost exactly the same, I'd prefer the convenience of always having enough ink to the nagging annoyance of repeatedly ordering and installing new cartridges.
The ET-4750 delivered our mono text test at 16.3 pages per minute (ppm), and reached 5.2ppm on our colour graphics test. Both are solid results, office-biased MFPs that make up its true competition. Photos were quite slow – postcard-sized prints took about two-and-a-half minutes each – but the results were surprisingly good. Plain paper prints weren't as bold as I would have liked, but were free of any obvious flaws such as banding.
Unfortunately, the ET-4750 is cursed with a slow scanner. At either 150 or 300 dots per inch (dpi), A4 scans took 28 seconds. That's twice what I'd expect. A 1,200dpi postcard photo scan lasted almost two minutes. Suspecting a slow network interface, I repeated the tests via USB, but got near-identical times. At least, in terms of quality the results were excellent.
That slow pace inevitably extends to photocopies.
Single-page jobs were acceptable at 14 and 32 seconds for black and colour respectively, but copying ten pages using the 30-page
ABOVE You can now see ink levels at a glance, which is important as they shouldn't run dry
You'll only need to print about 5,000 pages over the lifetime of an inkjet printer for the EG-4750 to prove better value
automatic document feeder took two-and-a-half minutes in black, and four minutes in colour. Again, the results were good, if dark by default.
This lack of speed hurts Epson's claims that this printer is designed for business – there's nothing more frustrating than waiting for someone else's print job to finish – but it does include a number of features that will appeal to an office manager. There's a 250-sheet front tray, a fax modem, automatic double-sided printing and a three-year warranty (after registration). You can also print from pretty much anywhere and anything. Epson provides its own iPrint app, and you can email documents to be automatically printed too.
It may be slow to scan and copy, but for the first time I can recommend an EcoTank printer: the ET-4750 even makes it onto our A List, albeit as an alternative choice. It's well equipped, with a 2.8in touchscreen, a fax modem, and support for wired and wireless networking.
But there's a reason I don't give it five stars. When paying more than £400, it's disappointing that there's nothing special, tactile or nicely designed about this printer. Here's hoping Epson produces something even better with the next iteration. SIMON HANDBY
LEFT This printer packs in plenty of features, including a touchscreen, but not many frills
SPECIFICATIONS
4,800 x 1,200dpi four-colour A4 inkjet printer • 1,200 x 2,400dpi scanner • claimed 33ppm mono, 20ppm colour • fax modem • Wi-Fi • USB • Ethernet • Wi-Fi Direct • 375 x 347 x 221mm (WDH) • 6.8kg • 1yr standard warranty, 3yr after registration
Epson EcoTank ET-4750 review
At last, an EcoTank printer worth buying. If low print costs are a priority, this is an excellent buy
Add your review