CANON'S TS9050 is the flagship of the Pixma MFP range. It looks marvellous, with lovely high-gloss white panels and a huge touch control panel, but then, when it's setting you back, it ruddy well ought to.
Appearances aside, it's not immediately clear why the TS9050 costs twice as much as a good home inkjet. As you'd probably expect, it supports wired and wireless networks, can print from an SD card and can duplex print, but that's nothing you can't get for much less. What, then, is Canon playing at?
SIX SHOOTER
You need to dig a little deeper to find what you're paying for. Where cheaper models make do with four- or five-ink print engines, the TS9050 uses six inks, with the aim of combining great print quality on plain paper with exceptional photo printing. As with several other Pixma models, such as the TS8050, black pigment ink is used for bold text printing, while dye-based black, cyan, magenta and yellow inks handle graphics and photo prints. The TS9050's sixth cartridge is grey, and this is used for finer shade control in photos and neutral black and white prints.
The TS9050 also has a huge print resolution – Canon claims that nothing else beats its 9,600×2,400 dots per inch (dpi) – and few MFPs can match the equally impressive scan resolution of 2,400×4,800dpi. To top it off, the TS9050 has two paper inputs: a slim 100-sheet cassette in the base and a fiddly 20-sheet photo tray at the back. Its party trick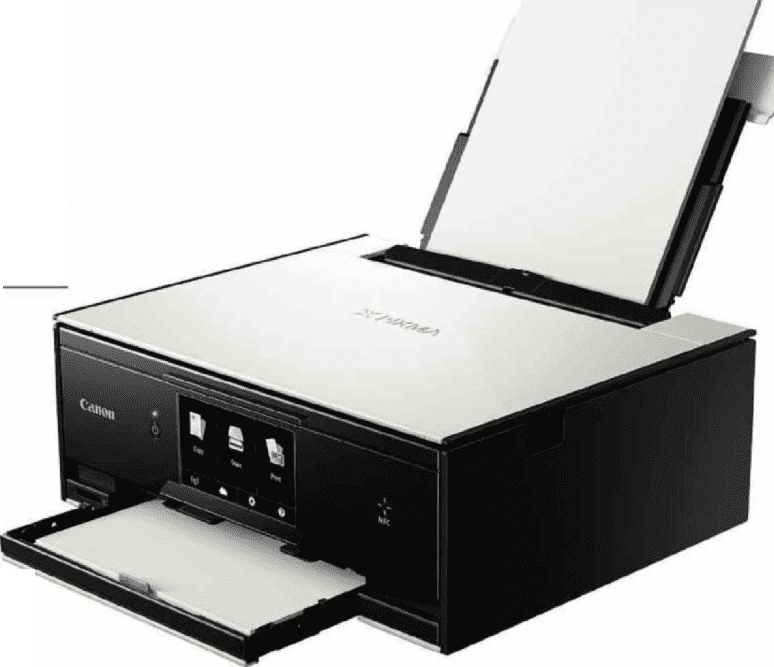 The TS9050 has a huge print resolution – Canon claims that nothing else beats its 9,600×2,400dpi
is a motorised paper output tray that slides out when you start printing, and retracts when you turn off the power.
In testing it was soon clear that the TS9050 isn't outrageously quick: managing just 13.4 pages per minute (ppm) printing text and 3.8ppm on colour graphics, it could barely outpace the far cheaper Pixma TS5050. At the highest possible quality, each 6x4in photo print took 1m 45s.
Timed over a wired network connection, scans were swifter, with previews taking six seconds and even a 600dpi photo scan completing in 19 seconds. However, we noticed that unless it had literally just been used, the scanner needed a few seconds to warm up, making it slightly slower in practice. Mono photocopies completed in 13 seconds, and colour copies in 25 seconds.
High specifications don't count for much unless they translate to great results, and in the TS9050 they generally do. Plain paper prints were good, with bold black text and strong colour graphics, while photos were exceptional.
Not all users will appreciate its slightly warm colour bias, but you can't fail to be impressed by the immense sharpness and detail on offer.
COPY AND HASTE
Scans were similarly impressive, combining crisp focus and great dynamic range to extract an unrivalled level of detail from originals. There were a couple of misfires, however: photocopies were dingy, while photos printed from an SD card were rushed and disappointing.
The TS9050 delivers the kind of prints and scans that will please enthusiasts and photographers, but it doesn't consistently delight. When more lowly Pixma models are so capable, yet so much cheaper, the TS9050 makes sense only if outright quality trumps any consideration of budget. If it doesn't, the better deals lie further down Canon's range, with the TS5050 and TS8050 both being good bets.
Simon Handby
Specifications
TECHNOLOGY Thermal inkjet • MAXIMUM PRINT RESOLUTION 9,600×2,400dpi • MAXIMUM OPTICAL SCAN RESOLUTION (OUTPUT BIT DEPTH) 2,400×4,800dpi (24-bit) • DIMENSIONS 140x372x324mm • WEIGHT 6.7kg • MAXIMUM PAPER SIZE A4/legal • WARRANTY One year RTB
VERDICT
CANON Pixma TS9050 Review
The Pixma TS9050 looks beautiful and produces great results, but at this price we'd expect nothing less
Add your review