Epson Expression Home XP-452
Buy now, pay later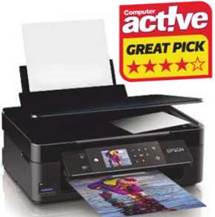 The old story: girl meets printer, printer costs 50 quid, girl takes printer home, printer chums out a few dozen pages and demands £'s worth of ink. We don't condone the version in which the girl then attacks a series of printers with a sledgehammer, but we can relate to it.
Decent printer fulfills most of your needs and is cheap to buy – less so to run
It's hard to know just how short your honeymoon will be with the Expression Home XP-452, because Epson doesn't say how much ink is in its starter cartridges. The regular refills (Claria Home Ink Multipack 4 Colours 29) officially cost £ in total and are rated for 175-180 pages. The better-value XL versions, yield 450-470. Even hunting for discounts on these, you'll pay at least 11p per colour page, as we found with the Epson Expression Premium XP-6100 (see our review, Issue 554).
Some pages, such as photo enlargements, will use more ink, but the example pages are standardised, so we can make a fair comparison between printers. On that basis, we'd usually expect costs to be around 8p per page. So it's no myth that you save money on the printer and pay it back on the ink.
You can sign up for Epson's ReadyInk scheme, which sends you more ink when you run out. Unlike with HP's Instant Ink, you don't have to guess how much you'll use per month, which is an unnecessary complication. But the benefit is only in convenience; you're unlikely to save compared with shopping
SPECIFICATIONS
5670x1440dpi maximum print resolution • 10ppm quoted speed (A4 mono) • 4.5ppm quoted speed (A4 colour) • SD card slot • USB 2.0 • 802.11n Wi-Fi • 146x390x300mm (HxWxD) • 4.3kg • One-year warranty
around for ink when you need it.
Epson's alternative EcoTank printers are a lot cheaper to run – and, of course, cost a lot more to buy. One way to look at all this is that if you don't print very many pages, you're quids in. For occasional use, the Expression Home XP-452 is a decent little printer, complete with flatbed scanner on top for photocopying single pages and digitising documents and photos.
It's not fast, printing black text at 10 pages per minute (ppm) unless you use the 16ppm draft mode, which is not only less crisp but makes the mechanism sound like it's being fried. Colour graphics pages only reached 2.4ppm, and scanning an A4 page at 300dpi took 39 seconds, though you could use a lower resolution for everyday copies. Output looked fine – nothing special, but with no problems except that photocopies were slightly dark, which you can adjust. Despite the low price, both Wi-Fi and an SD card slot are included.
VERDICT
Best Epson Expression Home XP-452 prices ?

Epson XP452 AIO WIFI PRINTER C11CH15401 Printers Multifunction Printers

MORE DEALS

ALTERNATIVE
Cheaper to run in theory, but wastefully combines three inks in one refill and is noticeably slower