There's something about this distribution that compels Mayank Sharma to put on his deerstalker and investigate any shortcomings…Read our Elive 3.0 Review.
In Brief
A Debian-based distro that uses the lightweight Enlightenment desktop environment to create a beautiful, modern desktop without consuming too many resources. See also Sparky Linux, but Elive is in a league of its own thanks primarily to its level of customisation.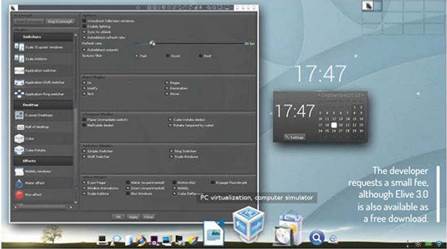 Usually, all it takes is something trivial like a misconfigured program, too many repositories or window controls on the wrong side for reviewers to dismiss a distro as unusable. So you can imagine our plight when we find one that makes our jaws drop right from the get-go.
Elive is one of a handful of distros that's still developed by a lone developer. It's no wonder then that this 3.0 release comes eight years after its previous iteration. It's taken the developer these many years to polish the distro to a high finish, right from the efficacious boot menu to the dapper-looking desktop.
Of the many impressive aspects of the distro, the first is its boot menu. It lists about a dozen options and between them we were able to boot Elive on everything including a fairly recent quad-core laptop with a Nvidia GeForce GT 740M graphics card, an Atom-based netbook and an ancient 1.7GHz Celeron PC. The distro is also very verbose, sometimes irritatingly so. as it sets up your desktop. It detected multiple monitors as well as dual graphics cards and suggested options to best configure them. If you boot the distro from a USB drive you can also enable persistence mode. Others can use its custom installer to anchor Elive to the hard disk.
The idiosyncratic installer is one of the distro's weakest points. It's best for taking over the entire disk or detecting and upgrading existing Elive installations and offer features such as disk encryption. But its multi-boot installation capabilities aren't as mature as the rest of the distro.
A snazzy-looking Enlightenment
Elive uses a heavily customised Enlightenment 17.6 desktop environment. In fact. Elive 2's rendition of Enlightenment even impressed Jeff Hoogland, who went on to use the DE in Bodhi Linux (before forking it into the Moksa DE). The desktop has a simple layout with the Engage Mac-style dock at the bottom that's very smooth even on the lower spec machines. However, if Elive detects accelerated graphics on the computer it'll offer to enable the Ecomorph OpenGL compositing manager, which offers an amazing array of snazzy visual effects.
The icing on the cake is that even with all the effects at full blast, it won't trouble the processor too much.
Another impressive feature of the distro is its collection of programs. Listing them all would take up the entire page and then some. Suffice to say, there's no application category or specialisation that hasn't been catered to. Some, like web browsers, have multiple options. Thankfully, you can choose to get rid of many of these specialised and redundant programs as part of the installation. This explains why. although the distro recommends at least 15GB of disk space for smooth operation, you can install it in less than half that.
The software, though, is both Elive's source of strength and weakness. While the thoroughness is impressive, many of the programs are a few notches behind their latest releases. That's because Elive 3.0 is based on Debian Wheezy, which has been retired and is no longer maintained by the Debian project itself. Switching base packages is too much of a distraction for a sole developer. So Elive instead maintains its own repositories with the promise to push updates and security fixes. While it might sound grave, this in itself isn't a very strong reason to discourage Elive's target audience from taking this beautiful distro for a spin.
Elive 3.0 Review: Verdict
DEVELOPER: Samuel F Baggen
WEB: www.elivecd.org
LICENCE: Various
| | | | |
| --- | --- | --- | --- |
| FEATURES | 8/10 | EASE OF USE | 8/10 |
| PERFORMANCE | 9/10 | DOCUMENTATION | 7/10 |
Elive 3.0 Review
The score doesn't do justice to this aesthetically pleasing and fully functional desktop distribution. Its drawbacks are minor and few. but its upsides are overwhelmingly positive.
Add your review
|
Read reviews and comments
MORE DEALS