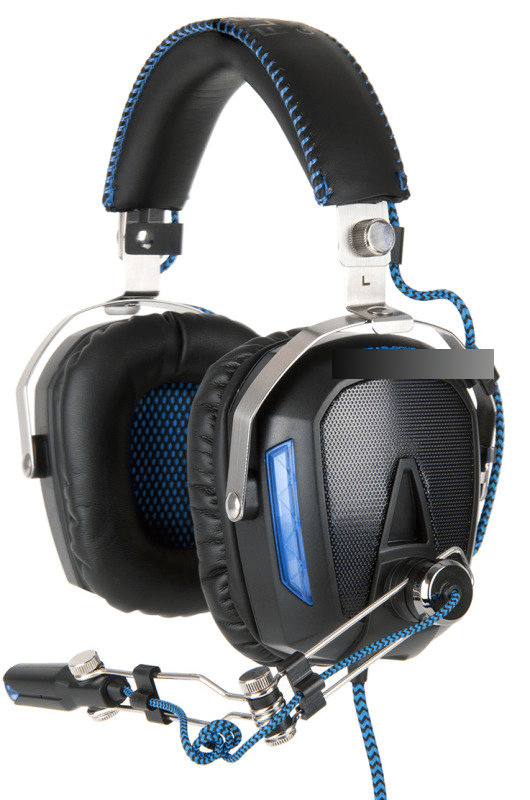 No noble gas, just great sounds
Element Gaming's top-of-the-range Xenon 700 series headset is a wonderful thing to behold. The bare metal frame, with braided wiring and a large adjustable microphone arm all speak of a product that costs in excess of a hundred pounds. Surprisingly, though, the Xenon 700 is half that price.The design of the Xenon 700 is very good indeed. The large over-ear cups are suitably padded with a soft leather cushioned ear cup that successfully cancels out most of the environmental noise. The stitched leather headband is also equally padded and easily adjustable to maximise comfort.We've seen a few bare metal frame headsets in recent months, where the actual skeleton of the headset is exposed. It's a style that works well, and the blend of naked aluminium against the blue and black colouring of the ear cups and leather padding adds to the design.
The ear cups are an interesting mix of LEDs, neatly wired cabling and plastic mesh. Inside each cup is a decent 50mm driver accompanied by a selection of various coloured LEDs. When the headset is plugged in, there's quite a light show, with a pulsating visual effect seen through the plastic mesh of the ear cup as well as on either side.
The microphone is positioned on the end of a long adjustable arm from the left ear cup. There are two main hinged sections to bring it closer to the wearer, with a rotating section at the point where it joins the ear cup. The braided wire runs through the bare metal arm, with plenty of slack for any of its available positions.
The three-metre braided cable terminates in a single USB port. For some, this can be problematic, as the headset is now locked into USB-only devices, but it's also quite beneficial. We've had problems in the past with headphone and mic ports being ripped out, and there are always more USB ports than 3.5mm audio ports.
Midway along the cable is the in-line remote. It's a large plastic module with volume buttons, ear and mic mute and a centre button for turning LEDs on or off.
In terms of performance, the Xenon 700 was flawless. Playing a selection of tracks from Audiomachine pushed the bass levels as well as mid-range frequencies, all of which the Xenon 700 handled extremely well. Voice and higher frequencies were excellent too, not just in game but also for Skype calling and other voice over IP programs.
One feature of the Xenon 700 is simulated 7.1 surround sound. While there are a number of headsets that boast a feature like this, it's rarely something that works too well in-game. Thankfully, Element Gaming has managed to pitch the 7.1 effect just right. There's a clear indication of the sound placement that really expands the game audio.
Playing something like Battlefield 4 is made significantly easier, and you're able to detect and position the enemy, which means you'll never want to drop back to a standard stereo headset again. Likewise, huge orchestral pieces were similarly spectacular.
The Element Gaming Xenon 700 headset is by far one of the best models we've reviewed in recent months. What's more, which is an absolute steal for a product of this quality. David Hayward

Superb sound and plenty of great features..