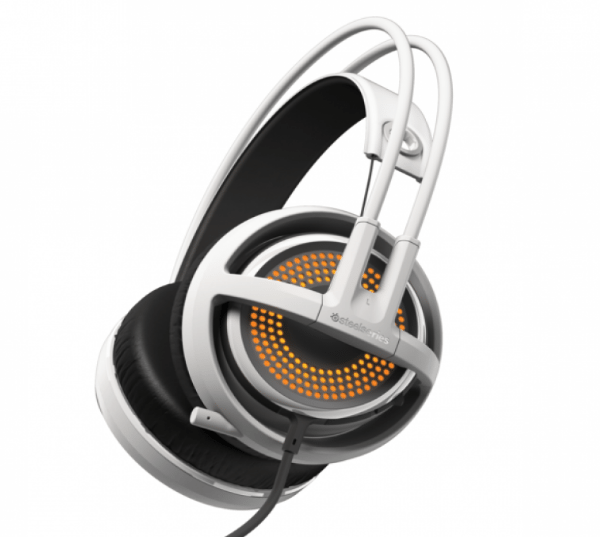 Steelseries entices gamers with a pair of marvellously effective cans
Not long ago, I reviewed the SteelSeries Siberia 200 headphones and found them to be a pleasant audio experience. The Siberia 350 headphones cost 50% more, so quite reasonably I expected more from them.
In terms of general comfort, these are as good if not better than their stablemates, but where the real difference lies is in how these they're coupled to the audio source.Where the 200 series use a de facto 3.5mm audio jack, these need USB to easily allow for the DTS 7.1 surround sound support that they're capable of. This means that they're not dependent on whatever sound hardware you have in your PC, because they're headphones and a USB sound device combined.And in going that route, the number of devices they can support is immediately whittled down to that which can handle sophisticated USB devices.
At this time, they're designed to work with a PC with the SteelSeries Engine 3 software installed, Apple Mac and the Sony PS4.
The elephant in this room is the lack of Xbox One support. That's rather odd considering that particular console is now running a version of Windows 10. And if Microsoft is the sticking point to them working on that platform, it might never be resolved.
For PC users, however, they work flawlessly as both an audio output device and also as a microphone. Driver installation is automatic on Windows, although to access some of the more exotic features, like the RGB lighting, require a visit to the SteelSeries website for the software.
With SteelSeries Engine 3 installed, per-application profiles are available, tweaking the audio and lighting to specific titles using the Gamesense technology.
For example, you can configure the headphones so that when you play a particular game, the LEDs turn red if you hit low health. As you can't see them while they're on your head, I'm not sure how this helps, but it's one of the many things you can do.
Probably more useful is a full five-band equaliser and the ability to toggle DTS separation on and off.
Because Engine 3 works with all current SteelSeries hardware, including mice and keyboards, you can synchronise the Siberia 350's LED colours to any other SteelSeries hardware you own. Recently, it has added cloud storage of these settings under a SteelSeries ID, so you can automatically replicate all configurations between multiple computers.
As interesting as all these feature are, what I find much more convincing in the Siberia 350 is the quality of the audio. The 50mm neodymium drivers generate sound that's delightfully crisp, and it spans an impressively wide frequency range. Spatial audio effects are well rendered, allowing you to access the direction of incoming fire and the resonating roar of engines with equal clarity. Combat games, music, movies – it's all good.
In terms of hardware controls, there's a volume dial on the cable and a microphone mute switch behind the left earpiece, where the retractable mic resides.
The microphone seems a notch up from the 200 series and as good as I've used on a headset that's £150 or less. If you want better than this, then you need to consider the Siberia 650 or its ilk, if you can afford them.
In addition to the microphone, the other major upgrade over the 200 series is the memory foam ear cushions. These enabled me to wear the Siberia 350s for a very long, multi-hour gaming session over the Easter weekend, without any discomfort or overheating issues.
If there is a caveat to these headphones it's the USB cable and specifically how short it is. At just 5ft (1.5m), it makes no accommodation for the PS4 owner who has his/her console under a TV at least 10ft away. A USB extender isn't expensive, but SteelSeries should have considered this issue and included an official one in the box.
That point aside, and the fact that you can't use these with general music devices, these are still exceptionally well made and designed, and certainly worth what SteelSeries is asking for them.
The only real question here is black/orange or black/white, because unless you like to spend silly money on headphones, these are almost perfect for gaming on a PC.
I do hope at some point that they're made compatible with the Xbox One and that SteelSeries extends the USB cable somehow, because if it did that, then these could easily become the new gold standard for gaming audio. Mark Pickavance
An excellent gaming headset for PC and PS4 gamers.
Key Features
• 50mm Neodymium Drivers
• Onboard USB Soundcard
• Headphone Frequency Response: 10 – 28000 Hz
• Headphone Sensitivity: 80 dB
• Microphone Frequency Response: 50-16000 Hz
• Microphone Pickup Pattern: Unidirectional
• Microphone Sensitivity: -42 dB
• Microphone Impedance: 2200 Ohm
• Cable Length: 1.5 m
• Connector Type: USB.