Download and write a Windows ISO
Rufus lets you create boo-table USB flash drives, so you can to download a Windows ISO direct, so you install a Windows or Linux operating system on multiple don't have to rummage through the computers. We last looked at this speedy tool in issue Microsoft website or use tricksy 454 (bit.ly/webuser454), but the latest update adds the ability workarounds to get a copy of the OS.
Rufus: rufus.ie | 10 mins | Windows 8.1,10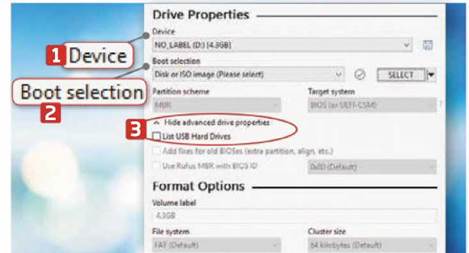 1 To run Rufus 3.5, search in the Start bar for the desktop app. Device 1 lists all inserted USB drives and 'Boot selection' 2 contains your Operating System choices. Choose 'Show advanced drive properties' to force Rufus to display USB hard drives, 3 if that's your target save destination.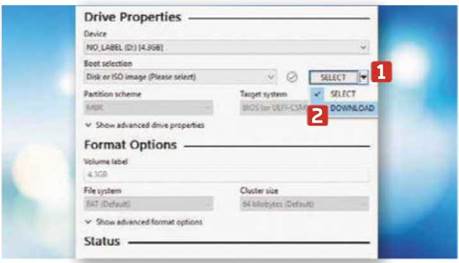 Previously, Rufus asked you to download the Windows ISO from Microsoft in advance (available from bit.ly/windows474), then run the tool. Now, you can just click the drop-down menu to the right of 'Boot selection' 1 By default, this reads Select; you should change it to Download. 2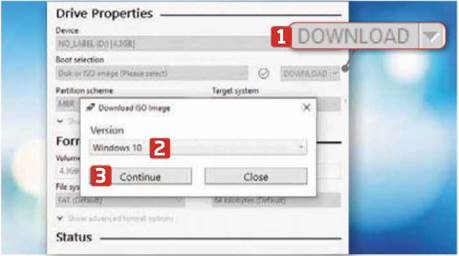 Click Download again – the word, 1 not the downward-­facing arrow. A pop-up opens asking which ISO image you want to download.2 In this latest version of Rufus, clicking the drop-down arrow offers two options: Windows 10 and Windows 8.1. Make your choice and click Continue. 3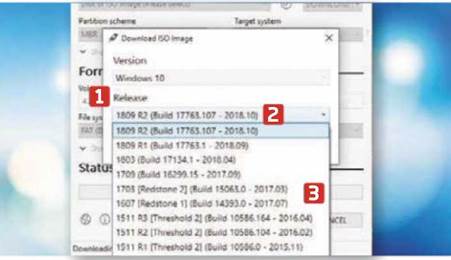 4   A fresh drop-down menu is added, which lets you decide which release build or version of Windows you need 1 – useful if a Microsoft update bricks your computer.
The latest version sits at the top 2 with older releases below. 3 Select the one you want, then click Continue.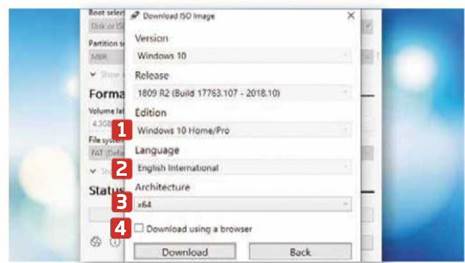 5 The next drop-down menu lets you specify the Windows edition you want – for example, Home, Pro or Education, 1 Click Continue and select your preferred language for the OS 2 and the system's architecture (x86 for 32-bit or x64 for 64-bit). 3 Tick 'Download using a browser', if you wish. 4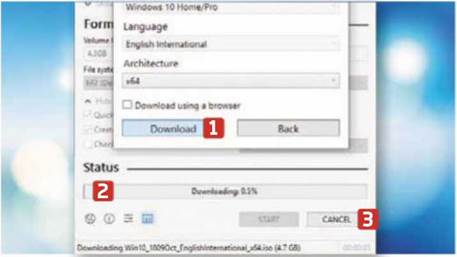 6  Finally, click Download. 1 File Explorer appears, so point the tool at the target destination and press Save. Rufus is best used with a USB drive, but the ISO can also be downloaded to your hard drive – the status bar shows its progress. 2 Click Cancel 3 to halt the process if you want.