After upgrading from her budget Android, Jane Hoskyn decides to take her settings, apps and files with her by…
Transferring data to a new phone
Join me, if you will, as I bid farewell to the fifth Moto G Android phone I've shared my life with since 2013. Th don't seem to last me very long, and I'm starting to think that's because I need to loosen my tight fist and buy a tougher phone than a Moto.
Moto Gs cost less than £ and are absolutely brilliant when you first use them, but they lack stamina – at least if you use them as much as I do. My daily diet of photos, videos, emails, music, podcasts, messages and browsing (that's just breakfast) seems to defeat them. My Moto years have been a proof-of-concept demonstration of the one principle I understood at Economics A level: false economy. If you have to spend another £ on a new phone every year, it's not really cheap. So I've mortgaged the house and bought a Samsung Galaxy S8.
In the past, I've tended not to bother transferring data from my previous phone to the new one. Cere's joy in starting afresh. And the data I care about most – photos, videos, messages – is stored in those accounts or in Google anyway. But this time, for the sake of this column, I set out to do it properly. No more customising all my settings from scratch, and no more re-installing apps one by one.
I found dozens of PC programs that offered to act as a backup/transfer hub on my computer, but these tools generally cost money, and many (such as Wondershare's Dr.fone) make my junk-offender radar nervous. So I turned to the Google Play Store and found thousands of free data-transfer apps.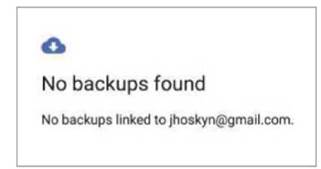 Jane assumed she just needed Google Backup to move data from one Android to another – wrong!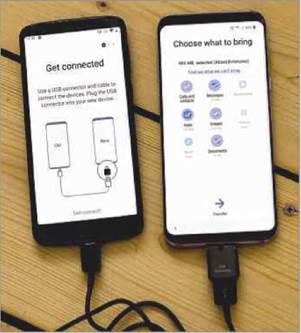 A USB cable and Samsung app transferred Jane's data in the end, but WhatsApp refused to join in
Share Data (www.snipca.com/31322) lets you transfer apps, settings and more without an internet connection; Files To SD Card (www.snipca.com/31323) uses your storage card as a middleman; and Samsung Smart Switch (www.snipca.com/31324) transfers from any device – iPhone, BlackBerry, whatever – to a Samsung.
My inherent laziness stepped in to remind me that my new phone and old phone can both get online, so why not just use Google to transfer everything?
In my Moto's settings I went to Google, Backup and then chose what to save. I excluded photos and videos (already in Google Photos), then tapped 'Back up now'. It only took a few minutes. Next, I moved the SD card and SIM card to the new phone, logged into my Google account on it, and awaited my lovely automatic import.
Oh great. 'No backups found'. What? Why? Rather than scour my Google universe for my missing Moto data, I learned from a Galaxy S8 user guide (www.snipca.com/31325) that my phone's special double-ended USB-C cable connects my old and new phones, sucking data out of one and into the other, like a blood transfusion. I scrubbed
My cable connected my old and new phones, sucking data out of one and into the other, like a blood transfusion
up and plugged in, then downloaded the Samsung Smart Switch app to my old phone as instructed.
The transfusion was successful and included my apps and their settings (though not passwords), contacts, texts and call logs, plus media files I'd not already stored in Google Photos and Google Play Music. But my WhatsApp messages weren't included. This is because WhatsApp stores data to your device and leaves it there unless you back it up, but the app works with your SIM card (now in my new phone). It does have its own process for transferring messages, though. On my old phone I went to WhatsApp Settings, Chats, 'Chat backup' to save my messages to a file in Google Drive. You can then download the file to your new device.
But while I looked for the backup file in Drive, I decided I'd revert to my default preference for a clean slate, at least in WhatsApp. Most of my messages deserve to be lost. The idea that our entire digital history should follow us around is frankly oppressive. Some of it is best left ephemeral, like digital mayflies.