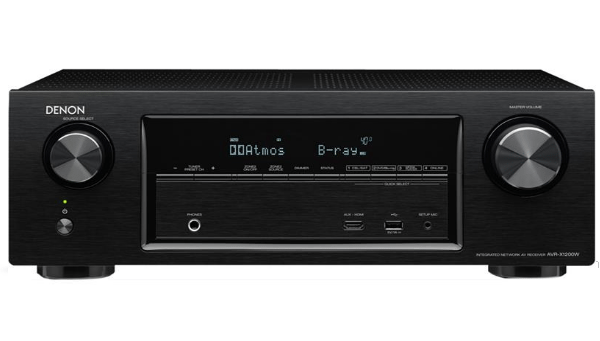 With its smart design, Denon's AV receiver looks ready for business – and Danny Phillips discovers it has the features and performance skills to woo him too
The price tag suggests Denon's latest entry-level AV receiver should be a no-frills affair, but that's not the case. This is a budget feature-seeker's dream, with more badges on the front than a Cub Scout's jumper.
The biggest bonus at this price is the inclusion of Dolby Atmos and DTS:X support, the latter courtesy of – you guessed it – a forthcoming firmware update. Still, if you're kitted out with in-ceiling or upfiring speakers and fancy cocooning yourself in sound, then the AVR-X1200W spoils you for choice.The Denon doesn't skimp on wireless features either, with built-in Bluetooth and Wi-Fi. The latter allows you to stream music via DLNA, AirPlay, Spotify Connect or internet radio. 192kHz/24-bit DACs pave the way for hi-res music playback (FLAC, WAV, ALAC, DSD, AIFF) while the Audyssey Silver processing suite throws automatic calibration, optimisation and volume-levelling into the bargain.It's a solidly-made, good-looking receiver, dressed in black (there's no silver option) with an uncluttered brusheffect fascia. As a seven-channel affair, you can use it in the traditional manner with surround back channels or serve up 5.1.2 Atmos.

Denon shouts a 145W-per-channel power figure, which sounds ludicrously meaty for a amp. Closer inspection reveals this to be a single-channel measurement, at 1kHz into 6 Ohms and with 1% THD.

A quad-core 32-bit DSP engine handles the sonic magic and overall the receiver is slick in operation. Burrowing through the onscreen menus searching for music on my NAS drive – even with a good 1,000 albums on there – the Denon doesn't stop to think as I scroll through the list.

That said, the menus are dull as dishwater and the remote's plasticky design leaves a lot to be desired – thankfully there's a neater smartphone control app.

Connectivity covers the basics but it's far from exhaustive. There are six HDMI 2.0a inputs (one on the front, five at the back), with support for 4K/HDR and HDCP 2.2, plus two optical and two analogue inputs, Ethernet and a front-mounted USB port. 4K upscaling and MHL support are missing, and there's only one HDMI output.

Get down to business with Jurassic World on Blu-ray and the Denon delivers a more commanding performance than you might expect. I was taken aback by the ease with which it drove a Monitor Audio Gold speaker array to enthusiastic levels, despite costing the same as the surround speakers alone. It's not a monstrous power pusher, but there's enough juice here.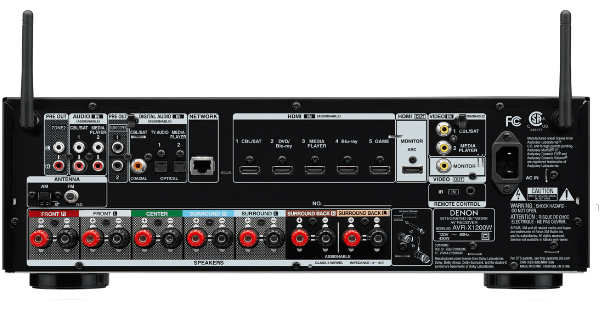 As the Indominus Rex attacks the gyrosphere, the AVR-X1200W makes the aggressive effects snap. It brings drama and tension in abundance, not to mention scale – the creature sounds huge as it roars and lunges about.
But the real skill of this receiver is how it serves up all the excitement with neutrality and composure. The Denon doesn't seem to impose a particular character on the sound or skew the balance to make things brighter or bassier. I didn't have to keep fiddling with the EQ or turn the volume down to avoid brashness – I just let the movie play and the straight-edged presentation gave a clear, faithful reproduction of the soundtrack without sacrificing energy or dynamism. It pulled me into the movie with ease.
The amp's talent for sonic picture painting is enhanced by sharp detail reproduction and authoritative dialogue. Switched to the Dolby Atmos-encoded Mad Max: Fury Road, the Denon proves canny at three dimensions too, sending cars careering overhead smoothly while orchestrating the earthbound carnage with carefully controlled vigour. Certainly, Atmos-fans are better served by a nine channel AVR, but if your budget/space is pegged, this will do the job.
The audio performance alone would be enough to make the AVR-X1200W a worthy purchase. Add in the packed feature list (including next-gen format support) and classy design and this Denon appears nothing short of excellent value for money.
Denon's Atmos amp defies the low price tag with a solid spec and dazzling sound quality. Great choice for budget buyers.
SPECIFICATIONS
DOLBY ATMOS: Yes DTS:X: Yes (ready) THX: No POWER OUTPUT (CLAIMED): 7 x 145W (6 Ohms) HDMI: 6 x inputs; 1 x outputs AV INPUTS: 2 x composite video; 2 x digital audio (2 x optical); 2 x analogue audio ANALOGUE MULTICHANNEL INPUT: No MULTICHANNEL OUTPUT: No (2-channel pre-out only) MULTIROOM: Yes. Zone 2 VIDEO UPSCALING: No DIMENSIONS: 434(w) x 339(d) x 151(h)mm WEIGHT: 8.5kg
FEATURES
Integrated Bluetooth and Wi-Fi; Apple OS and Android control apps; Audyssey Silver (MultEQ, Dynamic Volume, Dynamic EQ); DLNA media playback; Ethernet; USB; FM tuner; Spotify Connect; AirPlay; 4K 60Hz HDR support; HDCP 2.2 compliant; 32-bit DSP processor; Setup Assistant; 2 x subwoofer outputs; HEOS Link; DSD, FLAC, WAV, ALAC hi-res playback.