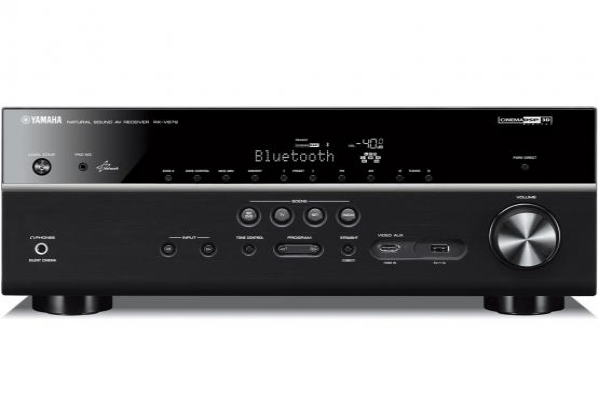 Dedicated home cinema owners can't live without their AVR. These metal slabs perform much of the grunt work when it comes to putting movies on screen and through your speakers, and – in our convergent era – tackle music streaming and home networking, too. But as our source gear and desired formats change, AVRs need to keep up.
Subsequently, Yamaha's RX-V679 has been born to run with next-gen 4K video sources. HDMI 2.0a connectivity, replete with HDCP 2.2 support, allows it to pass UHD HDR and copy-protected 4K sources. It's not full support across the board, though. Of the six HDMIs here (five rear, one at the front), three are HDCP 2.2-ready. That's no doubt enough for now, but maybe not in the future.The receiver is a seven-channel design, with power rated at 90W per channel (8 Ohms, 20Hz-20kHz, two-channel measurement). As one of the brand's Total Purity Concept designs, it employs an anti-vibration construction, individual power supplies to the analogue and digital circuits to suppress erroneous noise, and discrete amps.
The AVR's 10kg weight won't break any backs, yet it seems well put together and the general styling – particularly in this titanium finish that accentuates the two-tone front fascia – is appealing. That front panel is a bit of a button-fest, though. AV-Holics with trigger-happy children be warned.
Those seven channels of welly can be configured in different ways (5.1 plus stereo zone, 7.1, etc), but Atmos/DTS:X isn't on offer. While the likes of Denon have brought 3D audio down to this mass-market price point, Yamaha, in its V-x79 models, hasn't.Incoming shortly is a new RX-V581 receiver that decodes Dolby and DTS's advanced mixes.
This receiver, which had a similar price when it first broke cover in 2015.
With Atmos off the cards with the RX-V679, I suspect some buyers will never use those sixth and seventh channels. 7.1 BD mixes have been around for yonks but corresponding affordable speaker packages aren't that common, and while a 5.1 set can be quite easily installed in a regular living room, adding two rears typically requires some seating reconfiguration.Not that the RX-V679 is completely height dimension ignorant. The unit's rear-back speaker terminals can be reassigned for front presence duties, where speakers are mounted high on the front wall. Similar in a way to DTS Neo:X, only using Yamaha's in-house Cinema DSP.

Installation isn't complex. In fact, compared to higher-end AVRs, it's positively simple. As expected, Yamaha's YPAO room EQ/speaker calibration is on hand to, theoretically, get the amp sounding the best it can in your cinema, even tailoring the parameters of Yamaha's plethora of DSP modes. Whack the puck-shaped microphone into the front-panel input, flee the room and let it get to work. It's single-point measurement only, and takes about a minute. Once done, it's worth checking the measurements (speaker size, level, crossover, distance) to see if you're happy with the analysis.

Having felt let down by the poor UI on Yamaha's YSP-1600 soundbar, the menu here is a clear step up. You can overlay many of the adjustment menus on top of what you're watching. It's only when you dig deep that the UI becomes full screen.

The remote is fairly family-friendly – certainly more so than the science calculator confusion offered by rival Pioneer. Yamaha's control app, if you're that way inclined, is graphically smart and fun to use, especially on a tablet/phablet.

HDMI passthrough in Standby is a useful feature, but note this is automatically set to 'Off ' in the user menus. One-touch sonic tweaks include Extra Bass and Enhancer. The former is self-explanatory, the latter works to return some of the nuance to low-res sources. It's very welcome, as the Yamaha's Bluetooth, Wi-Fi and Ethernet hookups (not to mention integration into its MusicCast multiroom family), mean such sources will be commonplace.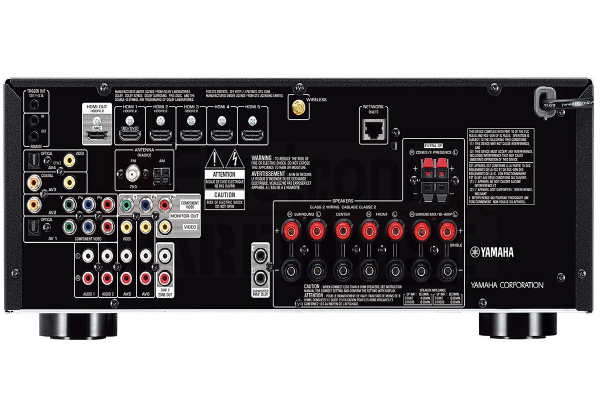 With a Monitor Audio MASS system connected, I cued up the long-awaited Bad Boys II Blu-ray and its DTS-HD MA 5.1 mix. The Yamaha offered a sprightly, efficient multichannel presentation, zipping audio effects through the surround channels and proffering clarity to dialogue. If asked to sum it up in one word, I'd say 'Slick.'
The film's long-winded Miami car-chase/gunfight (Chapter 3) presents a barrage of shattering windscreens, metallic slams, purring engines – particularly our heroes' Ferrari – and crackling gunfire. When Will Smith declares 'I think I done just got mad' and injudiciously shoots down a couple of dope-runners with his handheld machine gun, my listening room was peppered with bullet-fire while the background score swelled with menace. The following wraparound shootout sequence delivered more snappy FX placement. It's a clear, confident performance.
The Yamaha isn't the most snarling of AV amps, though. Lightness of feet and spacious soundstaging is the headline feature here, rather than gut-punching weight and mid-range thrust. That said, I found the sound got more involving the louder I pushed it. That may read like an obvious comment, but the RX-V679 seems to unfurl its wings when asked to do more. At lower levels it sounds a bit safe. Pushed too high, though, and it lost composure.
Treble details are crisp and bright. The RX-V679 sounds a little skewed to that end of the spectrum, actually. It's a trait that creates excitement with movie soundtracks, but a smoother edge would be appreciated with music and easier on the ear.
It's still a fun receiver with music, though. Even a low-bitrate playback (via 'net radio) of Frank Solivan and Dirty Kitchen's bluegrass lament Tarred and
Feathered had detail in the banjos and pleasing rhythm. Selecting the Enhancer function teased out more bass punch; tipping the AVR into multispeaker stereo mode created a funky room-filling soundscape. And there are plenty of other post-processing modes to play with.
Back with movies, Pacifi c Rim's monster mayhem again showed the Yamaha's imaging strengths and passion for sound steering. YPAO off ers three presets – Flat, Front and Natural – plus a manual adjustment (good for tweakers) and Through, which turns it off . Diff erences between the three curves were slight in my system, but I preferred Front, as it seemed to give a better balance and beefed up dialogue presentation. That said, kicking YPAO into touch didn't drastically alter the sound signature.
Sonically appealing, the RX-V679 can look like a bit of a steal, particularly with newer models due that have pushed its price down. The feature set is healthy, and most of the things that are missing – a second HDMI output, vinylfriendly phono input – aren't deal-breakers. Usability is fine; this isn't an AV headscratcher.
However, while 4K-enabled, the absence of Atmos and DTS:X decoding is a spec-sheet miss that needs to taken into account.
A sweet-sounding AVR at a tantalising price point that makes a good upgrade if 4K video is a concern. But with no 3D audio support, it's up against some stiff competition.
SPECIFICATIONS
DOLBY ATMOS: No DTS:X: No THX: No POWER OUTPUT (CLAIMED): 7 x 90W (8 Ohms) HDMI: 6 x inputs; 1 x output AV INPUTS: 4 x composite video; 4 x digital audio (2 x optical, 2 x coaxial); 2 x component video ANALOGUE MULTICHANNEL INPUT: No MULTICHANNEL OUTPUT: No MULTIROOM: Yes. Zone 2 (plus Yamaha MusicCast integration) VIDEO UPSCALING: Yes. To 2,160p DIMENSIONS: 435(w) x 378(d) x 171(h)mm WEIGHT: 10kg
FEATURES
Integrated Bluetooth and Wi-Fi; Apple OS and Android control apps; DLNA media playback; Ethernet; USB; YPAO room EQ; AirPlay; FM/AM tuner; vTuner internet radio; HDCP 2.2; HDMI 2.0a inputs (x 3); 12V trigger; Burr-Brown DACs.