SUPPLIER currys.co.uk
Acer's Predator XB253Q display is easily the most stylish model on test. From the slender metal feet of its stand, to the ultra-slim bezels that sit partially below the top surface of the screen, it's daintier and classier-looking than its competitors. This first impression is backed up by excellent build quality and a premium feel throughout, including a fully adjustable stand.
Elsewhere, in terms of basic features, there's not too much to set this display apart from the others on test. Unlike the Asus TUF Gaming VG279QM and AOC 32G2Z, it includes a USB hub, with two ports on the side and two around the back, but that's about it for extra features.
The panel itself has a 24.5in diagonal and is based on IPS technology, with a top refresh rate of 240Hz. There's also support for AMD's FreeSync technology, and compatibility with Nvidia's G-Sync tech, eliminating tearing effects. You get a claimed 1ms response time too, making for an impressive list of overall gaming features.
SPEC
Screen size 24.5in
Resolution 1,920 x 1,080
Panel technology IPS
Maximum refresh rate 240Hz
Response time 1ms
Contrast 1,000:1
Adaptive sync FreeSync and G-Sync compatible
Display inputs 1 x DisplayPort 1.2,2 x HDMI 2
Audio 2 x 2W speakers, headphone out
Stand adjustment Height, pivot, rotation, tilt
HDR certification HDR 400
Extras 100 x 100mm VESA mount, 4-port USB 3 hub
One feature that isn't present is any sort backlight strobing blur reduction technology. In this regard, the Asus display has a clear advantage for sheer gaming performance. It's only a feature we'd feel the need to enable during fast-paced FPS gaming anyway, but of course, that's the main domain of these 240Hz screens.
Otherwise, overall gaming performance from this screen is excellent. The AOC AG251FZ2E's TN panel feels just a bit snappier, thanks to its even faster response time, but this display didn't hold us back in our gaming sessions.
What's more, while this display lags behind the Asus a little in terms of gaming performance, it has an advantage in image quality. The moment you turn on this display, you're immediately struck by the depth of the dark parts of its image, and the brightness of strong colours. This is down to the Acer's panel having a much higher native contrast ratio than the Asus, at 1,279:1 compared to 937:1.
The smaller size of this screen also feels like a more natural fit for the 1080p resolution than a 27 in panel.
While its pixel pitch of 0.28mm isn't quite as sharp as the pitch of a typical 27in screen with a 2,560 x 1,440 resolution (0.23mm), it's well ahead of the 0.31mm of the 27in 1080p Asus monitor. As such, this screen looks much sharper.
Overall image quality is great too. Although the colour balance is a little off the mark right out of the box, it's not enough to cause major concern and this display's image quality delivers in every other regard.
The use of an IPS panel ensures viewing angles are excellent too. Meanwhile, the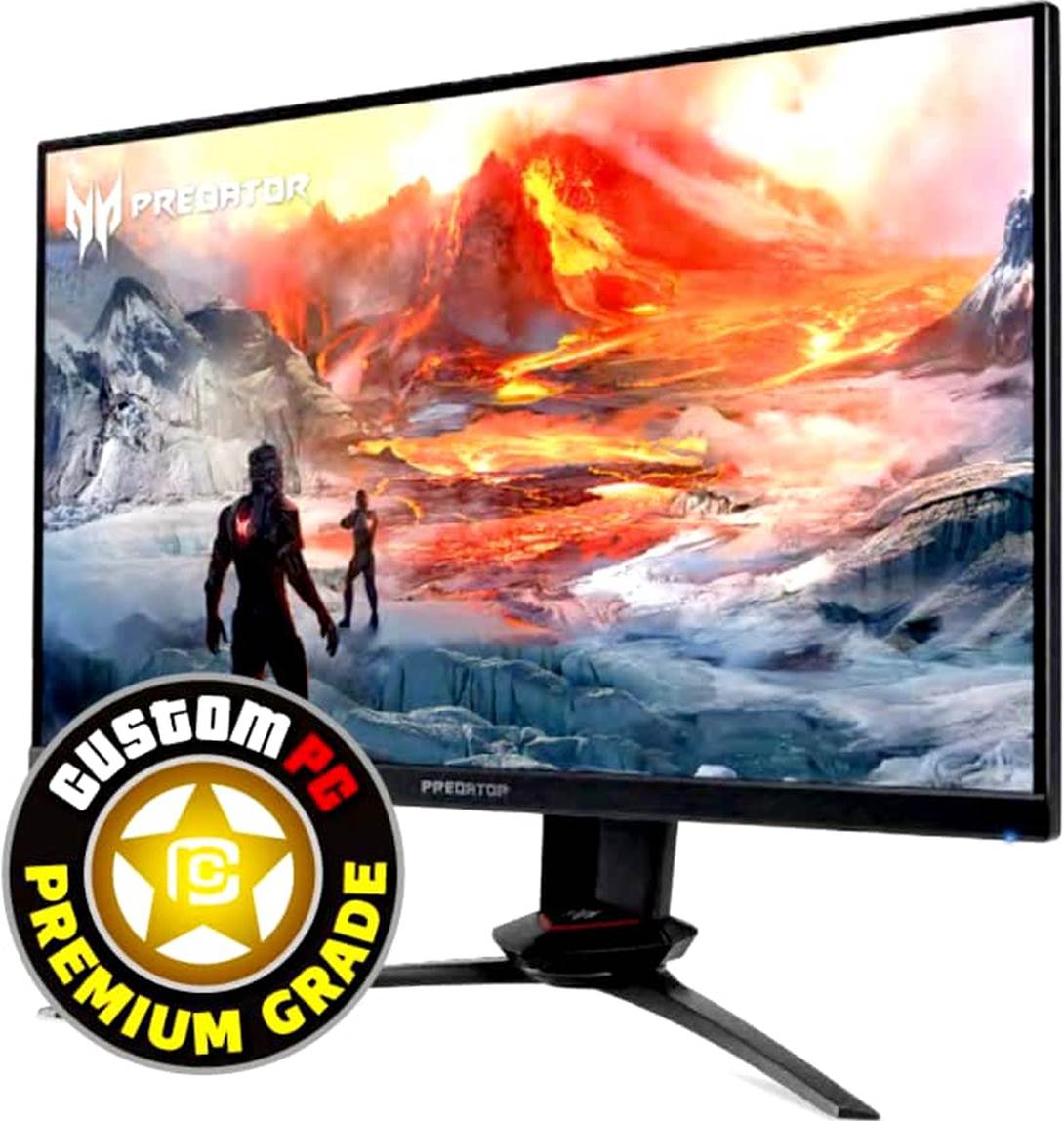 on-screen menus are easy to navigate and the controls are easy to use too – this display is easy to set up exactly how you want it.
Conclusion
The prices of 240Hz monitors are astonishing compared with just a year or so ago. This Acer display delivers fantastic 240Hz gaming performance and has excellent image quality. You get a few premium touches, such as a quality stand and USB ports and all. It's only the absence of Asus' proprietary ELMB blur reduction technology that holds it back.
VERDICT
Acer Predator XB253Q Review
Top-notch all-round performance, great image quality and a premium feel make this Acer display an easy recommendation.
PROS
High contrast for IPS
Great overall image quality
Premium design and extra features
G-Sync compatibility
CONS
TN panels can feel snappier
No ELMB support
No blur reduction
Add your review
Best Acer Predator XB253Q prices ?
MORE DEALS