Jessie has gone stable, and this new LTS release for Debian seems to have spent only a short time at the testing branch
Wheezy felt like it was in testing for a long time, yet already we've had 8.0 Jessie supersede it as the next stable. It's odd to think it's been two years since then, but here we are with 8.0 stable and the latest LTS release for the venerable Debian distro. With Stretch the next testing build, and probably the one we'll see used most in desktop distros,what is the actual stable release like?
[wpsm_toplist]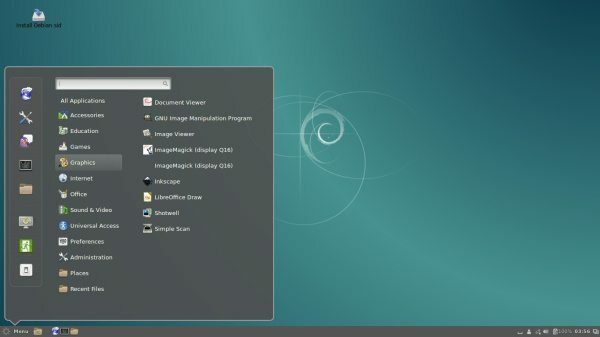 First off, if you've been using Jessie over the last few months for any extended period of time, you will probably know what to expect. With the feature freeze in November, the five months leading to release were mostly bug testing to make sure that the final product was worthy of the stable name. It's definitely succeeded in this, being able to run well on a variety of hardware types and in situations where it's using a slightly wrong kernel for the hardware, such as with PAE support issues, for example.Debian is very much a basic distro in that it offers you a base, graphical distro with a good selection of software installed and decent tools to expand on it to make it anything you want.
There are no special, homegrown desktop environments, package managers, software centers or external services and such. It comes in a variety of flavors to suit many people's needs, including the now standard 32- and 64-bit spins, a variety of desktop editions and a command line version for those who want to start basic. Debian 8.0 continues this trend, albeit now giving you more up-to-date software packages and a few more options such as Mint's Cinnamon desktop.Installation is straightforward, using a simple graphical installer with the live desktop versions that offer enough control and options to create a very decent system before you even log in for the first time. It takes a bit more babying than modern Ubuntus and Fedoras, but the actual installation process is not particularly time consuming on a medium-to-low powered modern system.
Using Debian once it's installed is as advertised: stable. We had no issues using it in day-to-day situations. By default there's a fair bit of software installed on the distro, so you can quickly get started with any work that you wanted to do. Package management in the desktop environments is handled by the old faithful Synaptic; this also includes any software or other updates for the system, which you'll have to remember to do yourself rather than relying on a pop-up notification.Another addition to the stable branch that's notable over Wheezy is the switch to systemd – it looks like 2015 will continue the trend of distros adopting the new system manager. From a general user perspective, it won't matter to you at all. You can still continue to use Debian as your operating system without everything upending itself.
As for devs, Debian at least offers the choice of rolling back to an init-based system, so if it's being that egregious, you at least have the choice for the next five years of long-term support.
Right now, Jessie is great, it is light and offers a range of options for every kind of user. Testing may still be the preferred distro for some though, as software inevitably becomes outdated over time, which can be an inconvenience.People who want a stable distro to serve them for the next few years will be more than happy with this version of Debian 8. There is even more choice available and a lot of the software is at an excellent up-to-date state. Rob Zwetsloot Debian 8 is a fine new stable in the Debian line of distros, perfect for all kinds of users for at least the next six months, while still excellent for those who like ease of use, familiarity and good security on one distro for a more extended period of time.