Crucial blows it with this bargain-basement SSD
We're big fans of Crucial's SATA SSDs. In fact, it's been our go-to brand in this segment of the solid-state market for years. Its MX500 is our default recommendation for those wanting a big. reliable, and reasonably fast SATA SSD.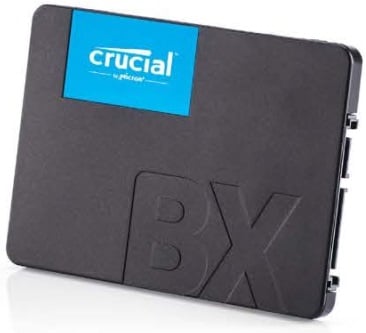 So. when we say its blown it with the BX500. we take no pleasure in bashing what is generally a very good brand. But hang on, what exactly is the BX500? It's a new budget 2.5-inch SATA SSD, and first impressions are promising.
For starters, it's based on the same 64-layer 3D TLC NAND memory as the MX500. In other words, it's not a QLC drive, with all the concerns over performance and durability that would imply. What's more. Crucial rates even this bottom-feeding 120GB drive at 540MB/s for reads and 500MB/s for writes. That's within 10MB/s of even the beefiest 2TB MX500. Impressive.
The BX500 also uses a variant of the SMI SM2258 controller—again, similar to the MX500. So. what's the problem? Our suspicions were first aroused by Crucial's failure to quote random rather than sequential performance numbers. Even the detailed data sheet omits random performance. Odd. The 40TB of claimed write endurance isn't exactly confidence inspiring, either.
A closer look at the SMI SM2258 chip reveals something important: It's the SM2258XT. the suffix indicating this is the so-called DRAM-less version. Put simply, omitting a DRAM cache is an easy way to save a few bucks. But at what cost to the drive's performance?
In terms of sequential throughput in synthetic benchmarks, the BX500 isn't too terrible. It hits the claimed spec for reads, while writes of 238MB/S are down on the claims, but still look tolerable. The synthetic 4K random performance doesn't look all that bad. either.
CLIFF NOTES
All of which demonstrates how synthetic tests don't always capture a drive's true character. During our pre-test routine, which includes fully filling the drive, then deleting the data, the true horror of what Crucial has done emerged. Copy a multi-gigabyte file to the BX500, and it looks dandy at first, humming along just below 500MB/s. But after about 1.5GB's worth of transfer, the rate falls off a cliff, then oscillates between 10MB/s and 80MB/s.
The initial drop almost certainly reflects the point at which the drive's SLC cache is exhausted. Inevitably on such a small, cheap drive, that cache is limited. Even then, the post-cache performance is hideous, a fact that probably reflects the further lack of a DRAM cache.
It's not clear how larger drives from the BX500 portfolio perform; it's also available as 240GB and 480GB. Likely, you get a bit more SLC cache with the larger drives that will obscure the poor performance a bit longer. But you'll hit the underlying crapiness soon enough.
This is for buyers who choose based on a combination of price and superficial specs. It's dirt cheap, the headline read and write speeds look decent, so why not save a few bucks? The impact of that saving is catastrophic. You can't buy a 120GB MX500, but the 240GB BX500 is just $ cheaper than the 250GB MX500, the latter being a bit bigger, and a far more consistent performer.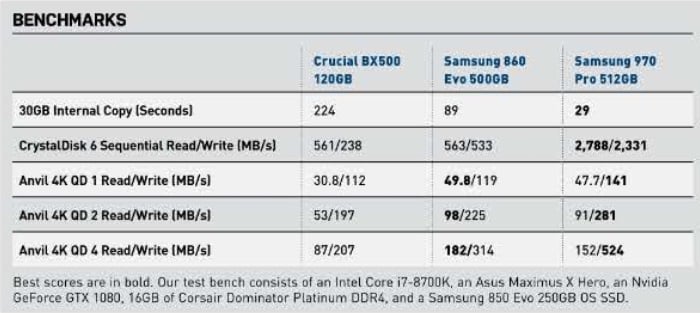 We could argue you get what you pay for. so buyers only have themselves to blame. But it's reasonable to make assumptions about the basic quality of a drive from Crucial without needing to dig deep into the technical documents or even read a review. The BX500 falls short of those expectations. This drive is unworthy of the brand.
Jeremy Laird
Crucial BX500 120GB Review
PROS
Very cheap drive from a proper brand; mostly good specifications.
CONS
Minimal SLC cache and no DRAM kills performance.
Add your review
Best Crucial BX500 120GB prices ?

Crucial Technology 25 120GB BX500 SSD SATA Drive 7mm CT120BX500SSD1 Components SSD Solid State Drive
£

38.97
1 used from £25.99
8 new from £26.69
in stock


Ever wonder why your phone responds faster than your computer? It's because your phone runs on flash memory. Add flash to your laptop or desktop computer with the Crucial BX500 SSD, the easiest way to get all the speed of a new computer without the price. Accelerate everything.

MORE DEALS

Specifications