TENKEYLESS MECHANICAL KEYBOARD
For several years Corsair's mechanical keyboard line-up stayed relatively steady. After establishing a hit design with its original K70, it iterated on that design in numerous ways without fundamentally changing the formula. Just recently, though, the company overhauled its keyboard line-up, and the ten keyless K70 RGB TKL is the latest to get an update. Read our CORSAIR K70 RGB TKL Review.
Like the other updated keyboards, the most obvious change is the styling. While the overall shape and feel is familiar, the very thick and coarsely brushed aluminium top plate has gone, replaced by a thinner, more smoothly brushed plate that still looks and feels premium, but lacks a bit of the generous feel of the older design.
The addition of a plastic panel on the top, into which is set an RGB-illuminated Corsair logo and a painted-on K70 logo on the left edge, also takes away a little class from the previous, rather-charming industrial design. Still, it remains a simple, classy-looking keyboard that feels solidly made and has plenty of features.
Most prominent of those new features is a removable cable that plugs into a USB Type-C port on the rear. Next to the USB port is another new feature, which is a switch for putting the keyboard in tournament mode. This disables any backlighting animations, instead setting the keys to a uniform red backlight, and turns off any macros to prevent accidental activation. It's the sort of feature that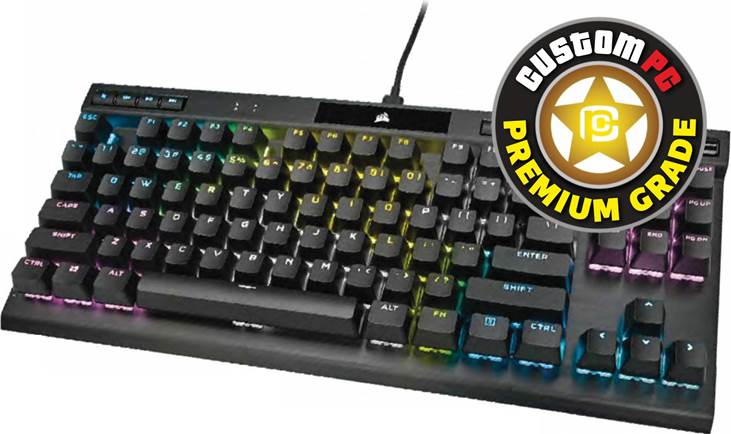 could be set up with profiles, but it's handy to have an easy, one-touch method.
This keyboard is also fully RGB backlit, with Corsair's software providing umpteen effects and comprehensive custom lighting options.
The default lighting pattern looks a bit jarring, with its constantly shifting mix of white, purple, blue, green and yellow (as pictured), but it's easy to change. Corsair is using double shot PBT keycaps too, so the legends won't quickly wear off or become shiny.
At the top of the keyboard is an array of multimedia and extra function buttons. On the left are Stop, Back, Play /Pause and Forward media controls, while on the right are controls for profile switching, backlight brightness (with six settings) and Windows key lock, along with a mute button and a knurled metal volume wheel. It's a very useful selection, even if it does add considerably to the size of the keyboard.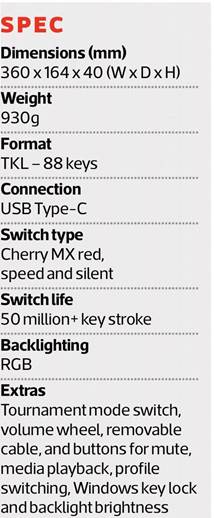 Corsair has opted for Cherry MX switches but only the Red, Speed and Silent options, all of which are linear, so fans of tactile and audible feedback miss out. The Red switches we tested offer a smooth, rapid and reliable key response. They also registered as quieter (64.?dB in our test) than those of the Roccat Vulcan TKL Pro, although to our ears, the K70 sounds a little boomier and transfers key strikes into the desk a little more.
You also get Corsair's latest Axon processor as in the K56 RGB Mini, with its 8kHz polling rate and 4kHz key scan rate, so its performance is up there with the best- not that we noticed any difference in performance compared with standard keyboards with slower specs in these regards.
Conclusion
Corsair's new TKL keyboard is a mechanical keyboard tour de force. It's stylish, packed with features and has all the performance you could need. It lacks the truly premium feel of higher-end or custom keyboards, and it's a little on the large side for portability, but it's a solid, well-made and feature-rich option if you want a smaller keyboard than standard-sized models.
EDWARD CHESTER
VERDICT
CORSAIR K70 RGB TKL Review
A great combination of compact size, solid build quality and decent capabilities, this is a top-notch TKL keyboard.
PROS
Stylish design
Removable USB Type-C cable
Useful tournament mode switch
Loads of extra buttons
CONS
Slightly noisy keys
Quite large and heavy for a TKL board
No USB pass­through port
Add your review
Best CORSAIR K70 RGB TKL prices ?

£

179.70
5 used from £129.77
6 new from £179.70
in stock


$

266.58
5 new from $266.58
in stock


The item in this listing is a brand new sealed product in its original manufacture retail packaging. This product will come with a Minimum 1 year warranty. Corsair CH-9119014-NA K70 RGB CHAMPION SERIES Gaming Keyboard
$

193.70

$244.72
out of stock

MORE DEALS