TENKEYLESS MECHANICAL KEYBOARD
The Vulcan Pro and Vulcan TKL Pro sit at the top of Roccat's keyboard line-up and offer a premium, low-profile mechanical keyboard design based on the company's own Titan switches. We're looking atthe ten keyless (TKU version here, which drops the numpad to make for a more compact and slightly cheaper option, although at £ inc VAT. this is still a pricey typing tool. Read our ROCCAT VULCAN TKL PRO Review.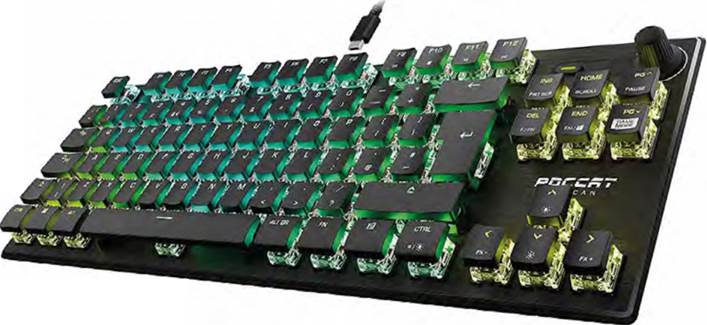 For all its many other intriguing qualities, the single most striking aspect of this keyboard is its design. While billed as low-profile, this mainly pertains to the keycaps themselves, which measure just 4mm thick at their front edge and 2mm thick at the back. These thin plates then sit on switches that don't appear any more low-profile than more conventional Cherry MX style switches.
The net effect is that the key tops only sit around 5mm lower than resolutely non-low-profile boards, such as the Ducky Shine 7 (See Issue 212). Moreover, the caps have a smaller footprint and don't sit around the switch when pressed, but instead butt up to the switch.
With the switch casing being clear and RGB ­illuminated, you end up with this rather strange, although not necessarily unappealing, effect of lots of exposed RGB switch mechanisms and these teeny keycap plates floating on top.
Styling aside, the keys feel as good as more conventional ones. The small caps offer a surprising amount of contouring for their size (unlike many low-profile keyboards), and they're very stable with a particularly pleasant linear motion from the switches below. Linear switches aren't everyone's favourite switches for typing due to the lack of tactile feedback, but we got used to these ones very quickly and preferred them to the linear switches on the Corsair K70 RGB TKL, if only marginally. Their optical switching mechanism also makes for a

faster response than mechanical keys – not that you'll notice – and a massive 100-million keystroke rating.
The included caps have a pleasantly grippy surface and clear legends, but they're also just made from ABS plastic with printed legends, so they won't last as long as premium PBT double shot keys, such as the ones on the Corsair K70 RGB TKL. They're compatible with Cherry MX keycaps, though, so you can just swap them out.
You don't get a huge amount of extra features. There's a precisely notched volume wheel in the top right, along with a mute button, but otherwise, all other extra functions are confined to secondary functions of the standard keys. On the underside there are single-level flip-down feet, while around the back is a Type-C USB port for the included, braided cable.
As befits a compact keyboard with a removable cable, the Vulcan TKL Pro is relatively light, weighing just 660g, yet this keyboard doesn't feel at all flimsy and offers a solid typing experience with no noticeable flex or too much lightweight clatter, unlike some mechanical keyboards. We measured a maximum of 66.8dB from a distance of 20cm while typing, though, which isn't particularly quiet.
The Vulcan TKL Pro is fully customisable via Roccat's software, which lets you reprogram keys, assign macros and control lighting effects.
Conclusion
The Vulcan TKL Pro is a great-quality compact mechanical keyboard that will appeal to people wanting a little low-lying portable keyboard without compromising on performance. It's a great gaming and typing tool. The main considerations will be whether you like the styling of the slim keycaps and exposed lighting, and whether you can stomach the fairly high price for a non­custom TKL keyboard.
EDWARD CHESTER
VERDICT
ROCCAT VULCAN TKL PRO Review
A potentially divisive keycap design and high price, but the Vulcan TKL Pro is otherwise a very capable keyboard.
PROS
Smooth typing experience
Premium fee
Very prominent RGB lighting
Removable Type-C cable
CONS
Slightly odd thin keycaps
Expensive
Divisive styling
Add your review
Best ROCCAT VULCAN TKL PRO prices ?
MORE DEALS