60 PER CENT MECHANICAL KEYBOARD
The K65 RGB Mini is Corsair's first foray into the 60 per cent keyboard market. As with all such keyboards, it eschews the numpad, F-keys and even cursor keys of larger-format keyboards, making for a tiny footprint that looks great and saves desk space. Read our CORSAIR K65 RGB Mini Review.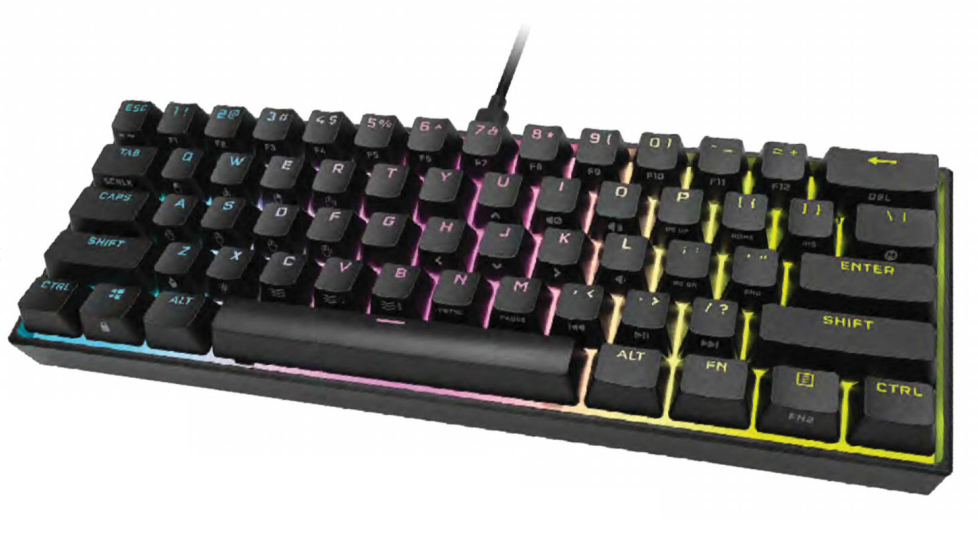 SPEC
Dimensions (mm) 294x105x44(WxDxH)
Weight 580g
Format 60 per cent- 62 keys
Connection USBType-C
Switch type Cherry MX Red, Speed and Silent
Switch life 50 million+ key stroke
Backlighting RGB
Extras
Removable cable, keycap removal tool, spare spacebar key
However, the loss of so many keys means there's a steep learning curve if you're not used to these keyboards. All the lost key functions are relegated to secondary functions on other keys, which are activated by pressing the Fn key along with the required key. For instance, Delete is a secondary function of Backspace, and the F-keys are secondary functions of the number keys.
Most of these compromises are manageable but we struggled with the cursor keys being secondary functions of U, H, J and K. It's bad enough that they're secondary functions at all, but we found it too much of a stretch to reach the keys while also holding down the Fn key with our right hand.
Having a second Fn key on the left, or repositioning the cursors keys lower down and to the right, would make them more comfortable to use. Or you could just have them as primary functions, as on the Royal Kludge RK61 (see Issue 208, p61). You can reprogram the keys to work in this way but the key legends won't change.
Otherwise, there's very little to fault with this keyboard.
It looks simple and classy with its all-black plastic build and white inner section that enhances the RGB backlighting. It also feels very solidly assembled yet also quite light, making it genuinely portable. The removable (and braided) 1.8m Type-C USB cable helps even further here.
There are no other physical features on the unit itself though – not even flip-down feet on the underside. On the plus side, Corsair includes a keycap removal tool, a spare keycap with a Corsair logo on it and an alternative spacebar with a snazzy triangular pattern on it.
The keycaps are also double shot and made from PBT. so the legends won't wear away, go shiny and lose their grippy texture too quickly. The switches themselves are Cherry MX with a choice of linear Red, Silent or Speed variants.
We tested the Red versions and they felt as smooth and responsive as ever. Surprisingly, they registered as slightly louder than the ones on the Corsair K70 TKL at 64.7dB, but to our ears sounded less intrusive. They have a lighter, higher-pitched clatter compared with the much hollower, boomy noise of the K70.
Meanwhile, the keyboard's on-board memory can store macros, lighting profiles and key assignments ready for use on any computer. Or, if you install Corsair's iCUE software, you can set up all this as software profiles. The final feather in the cap of this keyboard is its Axon processor, which allows for an 8kHz polling rate, 4kHz keyscan (detects key presses four times faster than normal) and 20-layer on-board lighting effects. Many users will never notice or take advantage of these advanced features, but they're welcome additions for power users.
Conclusion
The K65 RGB Mini is a fantastic 60 per cent keyboard in terms of looks, build quality, programmability and features, and it has great switches and premium keycaps. However, the default layout of secondary functions slowed us down considerably in everyday keyboard tasks. If you're already familiar with 60 per cent keyboards and know you don't need the extra keys, though, this is a great model.
EDWARD CHESTER
VERDICT
CORSAIR K65 RGB Mini Review
60 per cent keyboards aren't for everyone, but this is a quality option if you can get used to its layout.
PROS
Stylish 60 per cent layout
Ultra-compact design
Removable USB Type-Cport
Double shot PBT keycaps
CONS
Steep learning curve
Quite expensive
Divisive default layout
Add your review
Best CORSAIR K65 RGB Mini prices ?
$

153.98

$199.98
1 new from $153.98
in stock


£

160.98

£179.98
1 new from £160.98
in stock

MORE DEALS