The full-sized version of Logitech's MX Keys keyboard impressed us when we reviewed it a few months ago, and now Logitech has added a mini model to the range that drops the numpad cluster, and squeezes the cursor keys under the right Shift and Enter keys. It makes for a much more compact keyboard but it also results in a few compromises. Read our LOGITECH MX KEYS MINI Review.
BLUETOOTH KEYBOARD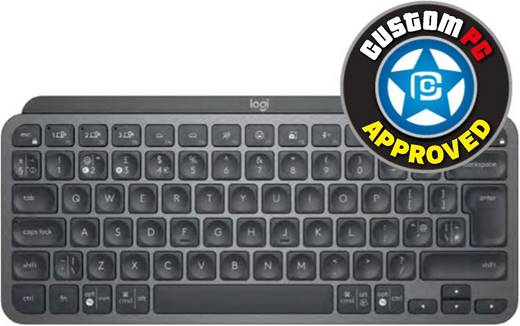 What isn't compromised here is the design and build quality. The simple metallic dark grey (graphite) top and otherwise black plastic colouring is simple, subtle and smart, as is the overall shape with its gentle rounded edges. Fetching light pink and silver/white versions are also available. The tenkeyless design also helps with the smart appearance, as the lack of gaps between the alphanumeric keys, cursors and numpad makes the whole unit look uniform.
spec
Dimensions (mm)
296 x 132 x 21 (W x D x H)
Weight
506g
Format
TKL – 80 keys
Connections
Bluetooth, USB Type-C (charging only)
Switch type
Scissor membrane
Backlighting White
Stated battery life
Ten days non-stop use / up to five months standby without backlight
Extras
Connects to three devices at once, emoji keys, Mac and PC key legends
You don't get much in the way of physical features. There's a USB Type-C charging port on the back, alongside the power switch, but the USB port can't be used to interface with a computer – it's Bluetooth only. Meanwhile, the battery compartment doubles as a raised foot at the back of the keyboard to give it a better angle.
This compartment is sealed, so you can't replace the batteries. While such a setup is largely forgivable on really compact devices such as mice, it's an irritation for a device such as a keyboard, where the size of the battery compartment would make it easy to just use rechargeable AA batteries. That said, the supplied battery has a great lifespan, with ten days of non-stop use, and up to five months of standby charge.
This keyboard can also connect to three devices at once, and seamlessly switch between them at the touch of a button (F1- F3). The other F keys also provide backlight brightness adjustment (white only, with seven levels of brightness), voice command/ assistant, an emoji menu, screenshot and mute, volume and media playback functions.
What's more, Logitech's Flow software enables you to copy and paste data between the devices connected to your keyboard. It simply routes the data via the software/Logitech's servers, rather than doing anything clever on the keyboard, but it still makes for a wonderfully easy way to move data.
The key layout here largely works well, given the loss of quite a few keys. The cursor keys don't feel too restrictive despite their small size, and although they're not labelled, they double up as Home/End/PgUp/PgDown keys when used with the Fn key. There's also a dedicated Del key so, at least that essential key isn't confined to a secondary function.
What's more, the MX Keys Mini has both Mac and PC key legends, so if you're swapping between devices for work and home, you won't be left having to remember which button doubles as which.
The action of the low-profile scissor switch keys is also very easygoing, providing a defined but not overly stiff actuation point, so you know when a key's been pressed but don't get finger fatigue. The keys are also very quiet, registering just 50dB in our test.
Conclusion
The MX Keys Mini is a fantastic compact Bluetooth keyboard. It looks great, it's well built, it has a pleasant typing action and its multi-device connection feature is great.
The only downers are the high price and the non-replaceable battery, but we suspect the latter two features won't be overly missed by most users of a device such as this one.
EDWARD CHESTER
VERDICT
Editor choice
LOGITECH MX KEYS MINI Review
A great-looking, well-built compact Bluetooth keyboard with a pleasant typing action. It's not cheap, but it does its job well.
PROS
Great design
Good typing performance
Easy multi-device connection
CONS
No USB data connection
Non-replaceable battery
Expensive
Add your review
|
Read reviews and comments
Best LOGITECH MX KEYS MINI prices ?
MORE DEALS