If we had to pick our favourite keyboard on test based on design alone, the SteelSeries Apex 3 TKL would easily take the win. It certainly helps that the compact tenkeyless (TKL) form factor looks a little less bulky than the full-sized keyboards on test, but the full-sized version of this keyboard looks great too. Instead, it's the subtler details that really elevate this keyboard.
SUPPLIER steelseries.com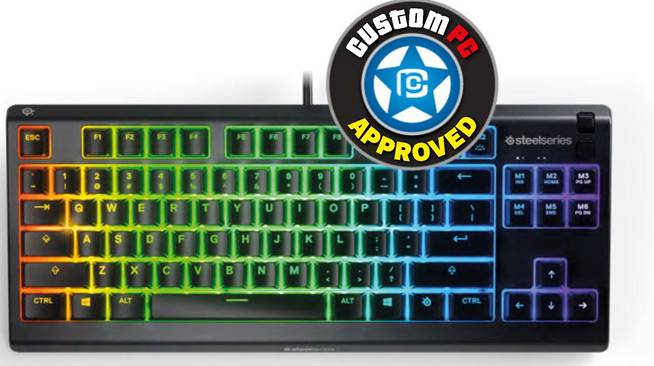 For a start, the backlighting is neatly contained in translucent, sunken sections that provide an attractive way for the lighting to fill out below the keys without spilling everywhere. The lighting is also split up into eight equal-size columns – more than some keyboards – allowing for a particularly attractive flowing, colour-shift effect. You can change the speed and colours of this effect, choose a breathing transition or opting for a static colour.
The shape is smart too, with sides that angle inwards towards the desk, creating a slim look. It also balances clean lines with just the right
spec
Dimensions (mm) 364 x 150 x 40 (W x D x H)
Weight 639g
Format TKL – 80 keys
Connections Fixed USB cable
Switch type Membrane
Switch life 20 million key presses
Backlighting 10-zone RGB
Polling rate Not stated
Keyboard rollover 24-key
Extras Volume wheel and play/ pause button, multiple cable routing channels, IP32 water resistance
amount of rounding to its edges to soften the whole design. The compact volume wheel integrated into the top-right edge and the play/pause button below it are also handy additions. Tap the wheel and it will mute audio as well, while the play/pause button will also skip forwards a track when double pressed and go back a track when triple pressed.
You don't get too many other features on the top of the keyboard but there are marked secondary functions for the F10-F12 keys that provide macro recording and brightness adjustment plus the Del/PgUp cluster provides six macro shortcut keys.
Flip over the keyboard and you'll find that, although the USB cable is fixed, its cable can be routed to exit the back of the keyboard in three different locations, either from the middle or a couple of inches from either side of the keyboard. There are also surprisingly sturdy, rubberised flip-down feet. There's no included wrist rest though.
A further nod to the Apex 3's design is the font on the keys, which is very large, easy to read and smart-looking, although the way the letter legends are pushed to the top left of each key is a little odd.
The keys use SteelSeries' Whisper-Quiet switches, which are rated to 20 million key presses. They have a very stiff initial step to their action, so require a bit of force to press, which we found a touch fatiguing and slightly slowed our typing. They're very responsive, though, not requiring you to hammer down
the keys to get a response, and the initial resistance may soften a little over time. To call the keys 'whisper-quiet' is certainly a stretch, but along with the Roccat Magma, they're the quietest on test, registering just 51.6dB.
SteelSeries also claims the Apex 3 is the first-ever water-resistant TKL gaming keyboard, which may well be true, but the waterproofing level claimed here certainly has its limits. The level of protection for an IP32 rating requires resistance to vertically dripping water with the device either flat or angled up to 15 degrees from its normal position, so it's more resistant to splashes than full-on spills.
The SteelSeries Apex 3 TKL is a great little rubber dome keyboard. It looks smart and has a well-balanced feature set with its smart multi-function multimedia buttons. Add in the waterproofing, quiet keys and decent price, and you have a winner, if you don't mind the fairly heavy key press.
Smart, capable and keenly priced, but it requires a hard key press.
OVERALL SCORE
82%
TOP OF THE WORLD
+ Attractive design
+ Decent feature set
+ Quiet keys
+ Spill resistance
BOTTOM OF THE PILE
— Quite stiff key response
— Can get full-sized keyboards for the same price
Best STEELSERIES APEX 3 TKL prices ?
MORE DEALS