Once upon a time, all PCs were beige. Read our CCL Reaper GT.
No matter what brand you picked, your computer came wrapped in the same putty-coloured, grainy-textured plastic. Then laptops got small enough to be carried around like a briefcase, and somebody noticed briefcases were black, not beige. So portable PCs became black, and gradually – led by Dell – desktop PCs followed suit.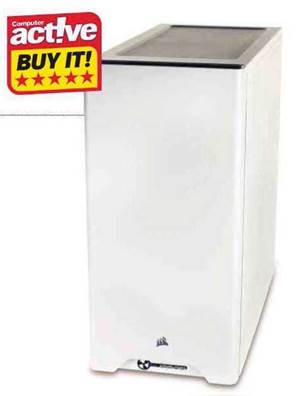 When sleek aluminium laptops emerged, they looked cooler, but upsizing their rigid polished bodies was only viable for a few top-of-the-range all-in-one PCs, so desktop PCs were stuck with black boxes. And, give or take the odd 'go-faster' stripe or LED-illuminated fan, that's the way it's stayed.
Its eye-catching design conceals a fast, capable all-round PC
So there were a few puzzled glances when we hauled CCL's Reaper GT out of its packaging. Surely some mistake?
Had they misunderstood our request for a fully specified all-round Windows 10 PC and accidentally shipped us a small fridge? They had not.
This really is an AMD Ryzen desktop PC with overclocked GTX 1080 graphics. And it really is white – from the painted finish of the Corsair Carbide case (inside and out) to the Tomahawk Arctic motherboard and even the neatly bundled cabling.
Apart from the processors and fans, black details include the braided pipes for the water cooling system that connects the CPU to a full-height radiator behind the front panel.
With the eight-core Ryzen 2700 chip reaching more than 90°C during testing, that's a very necessary precaution, and it works. Following an aggressive roar of fans on startup, the Reaper stayed cool and quiet. The MSI GTX 1080 graphics card also kept itself nice and chilled, and there's room to tweak this further via the built-in MSI Afterburner app. The motherboard's UEFI (what all PCs will eventually have instead of a traditional BIOS) also gives you easily accessible options if you want to overclock the CPU as well, although you might need to think about ordering that fridge after all.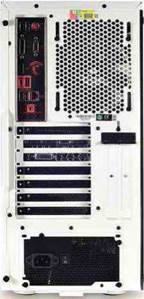 In our tests, the Reaper couldn't quite keep up with the slightly pricier Cyberpower Infinity X88 GTX, with its overclocked Intel i7-8700K processor, but it was comfortably in the same ballpark. It fell a little behind on photo- and video-editing jobs, caught up in all-round multitasking, and beat it on a couple of 3D graphics benchmark tests.
The weakest link is the Samsung 860 Evo SSD, which is installed in an M.2 slot but uses a relatively slow SATA 3 controller. It produced some of the poorest write speeds we've seen in a while, though still comfortably faster than any traditional hard drive. At worst, that means programs will take a second or two longer to load. It's just annoying that if you did want to replace it with a faster NVMe drive, you'd have to get rid of it, because there's only one M.2 connector.
By way of compensation, you get a generous 3TB of hard-drive space in the form of a decent 7200rpm
Seagate Barracuda. 16GB of fast 3 GHz DDR4 memory is fitted, with two slots free if you want to add more. There's a good selection of PCIe slots for other internal add-ons, and USB 3.0 and Type-C ports for external accessories, though no higher-speed USB 3.1 Gen2 or Thunderbolt 3. Overall, this is a lot of PC for the money, and the colour scheme is the icing on the cake.
CCL Reaper GT SPECIFICATIONS
3.6GHz AMD Ryzen 2700 8-core processor • 16GB memory • 3TB hard drive • 8GB MSI GTX 1080 graphics • 5x USB 3.0 ports • 2x USB 2.0 ports • USB Type-C port • Gigabit Ethernet port • 2x HDMI ports • 2x DVI ports • 3x Display Ports • Windows 10 Home • 437x211x446mm (HxWxD)
CCL Reaper GT: VERDICT
CCL Reaper GT Review
A capable desktop PC for everyday tasks, games and creative programs, with some room for tweaks and upgrades.
Add your review
MORE DEALS

CCL Reaper GT: ALTERNATIVE
Cyberpower Infinity X88 GTX
This overclocked Intel i7/GTX 1080 PC has a faster SSD and is also a great buy