DETAILS
Manufacturer: BT
Requirements: Any modem browser for administration, works best with a BT Infinity package
Most of the time, ISP- provided routers leaves a lot to be desired, but BT has managed buck that trend with the release of its Home Hub 5.
It's a few months old now, but for those who are on BT's Infinity package, it's certainly one to opt for or upgrade to.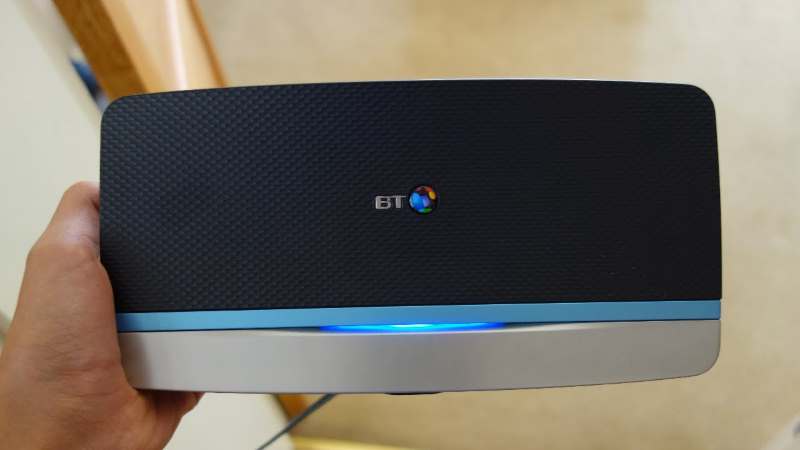 Among its list of features you'll find dual-band wireless, 2.4GHz 802.11n dual-stream 2×2 MIMO and 5GHz 802.11ac dual-stream 3×3 MIMO, as well as backward compatibility with 802.11 b/g and so on.
It measures 116 x 236 x 31 mm and is quite a slick-looking, well-constructed unit.
Around the back you'll find four gigabit Ethernet ports, an ADSL port, a gigabit WAN port, pin-hole reset, a power button and a single USB 2.0 port.
At the top of the Home Hub 5 you'll find two large buttons for reset and WPS.
The BT Home Hub 5 has plenty of connectivity. It lacks the freedom and features of other non-ISP supplied routers
with the front clear of anything other than a single large LED that emits a range of colours depending on the state of the router and connection.
Not surprisingly, the software side of the Home Hub is fairly basic and locked down to some degree.
You can enter an advanced setup and access port forwarding, dynamic DNS and so on, and you can configure the device that's attached to the USB port.
But essentially, it lacks the more powerful features and unlocked aspects
of the other, non-ISP supplied routers in this group.
Having said that, we did find that the Home Hub 5 was one of the fastest routers we had on test.
The gigabit Ethernet ports all operate to the maximum, and both wireless bands offer fantastic range and speeds with the connected devices.
In fact, in terms of range, the Home Hub 5 was only a metre short of the Trendnet AC750, reaching through two rooms and well into the back garden before the signal was eventually lost.
One problem we did have was the occasional loss of the attached USB storage device we tested the Home Hub with.
One minute it was working fine, streaming content, but after pausing the media for about 20 seconds, we found that the device was no longer identified, even when we unplugged it and plugged it back in.
In the end, we had to power cycle the Home Hub and re-attach the USB stick.
The higher speeds at 5GHz were certainly impressive, considering this is an ISP- provided router, topping 250Mbps at around 20 metres from the Home Hub itself.
However you may feel about BT and its operations, you can't fault the raw speeds that the Home Hub 5 can achieve when used with the right devices.
Overall, we found the BT Home Hub 5 to be a pretty good wireless router.
Since our tests were conducted on an Infinity line, you could say the Home Hub had a natural advantage, but the proof of the pudding was with the connected devices, and in this it shone particularly well.
It's quite expensive to buy outright, though, but if you have a BT contract in place you can probably upgrade for considerably less.
And if you already haven't, then we recommend you do so.
Best BT Home Hub 5 prices ?
$

449.00
1 new from $449.00
in stock


$

689.00

$725.00
2 new from $689.00
in stock

MORE DEALS