The router has come a long way in such a short space of time.
Where it was once an expensive addition to a network, external to the modem and offering very little to the home user, it's now the most used item of technology we own.
David Hayward tests six dual-band wireless routers this week and tries to see which are worth your cash.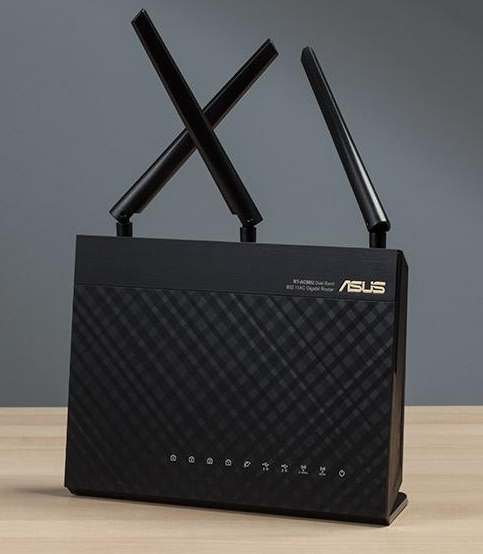 DETAILS
Manufacturer: Asus
Requirements: Separate ADSL modem, any modem web browser for administration
This Asus router was released late in 2013, but despite its age, in technological terms, it's still quite a strong contender in the wireless router market.
The Asus RT-AC68U measures 310 x 160 x 83mm and is a vertically positioned dual-band router, with three large antennas jutting out from the top.
Around the back of the unit there are four gigabit Ethernet LAN ports, a single gigabit Ethernet WAN port, front power LED, a single USB 3.0 port and, next to it, a more traditional USB 2.0 port.
You'll also find the power socket and power button in the bottom corner, and around the sides are WPS and wireless on/off buttons.
The front of the router features a series of blue LEDs indicating the status of the various connections and data activity across the LAN and WAN ports, as well as the wireless status.
As for design, the RT-AC68U has been described by some pundits as an aggressive- looking unit, and it's not too surprising to see why.
With the antenna spread out above and the sheer size of the router bearing down, you can be forgiven for thinking it's quite an ominous addition to the otherwise more friendly looking technology in the living room.
However, the RT-AC68U is an impressive performer.
With a theoretical bandwidth speed of 600Mbps + 1300Mbps, it has an impressive 1900Mbps data rate.
These numbers are all thanks to the Broadcom BCM4709 processor inside the router, along with its TurboQAM technology, which greatly improves the speeds and throughput of the older 2.4GHz band.
In addition to this, the RT-AC68U's dual-core ARM-based Cortex A9 processor and 256MB of memory certainly go a long way toward providing a more impressive network traffic management computer compared to more traditional routers.
Unfortunately, to enjoy these speeds to their full potential, you'll need to connect a compatible TurboQAM device otherwise, like the rest of us, you're left with pretty much the same throughput speeds as you'd normally see with any other router.
That said, we experienced a far better range of wireless connection, and the media viewing we tried, via DLNA, was superb and without fault, even when we had several devices all watching the same content.
In terms of the administration software, it's clear and good enough for most users to get to grips with.
There are some sections that would require a little more knowledge about networking in general, but the built-in help function is good enough to talk you through the basics.
And there are some excellent extras in the form of a network map and clear icons to help set up a hard drive to one of the USB ports.
The Asus RT-AC68U is an excellent performing router.
The addition of USB 3.0 speeds things up for local connectivity, as do the impressive internals and processing power. True, it's not the best looking or most discrete router on test, but it is the fastest.
The Asus RT-AC68U is a very capable router
To get the best performance, you'll need a TurboQAM device
Best Asus RT-AC68U prices ?
$

150.00
3 used from $85.00
2 new from $150.00
in stock

MORE DEALS