Colour Laser Printers
Brother HL-3170CDW
DETAILS
• Manufacturer: Brother
• Website: goo.gl/nStfyA
•  Requirements: Windows, Mac OS X, Linux, Server versions of OSs
This Brother HL-3170CDW is a reasonably compact printer that's aimed at small, busy offices or homes, where the users need lots of connectivity and reliability.
It would just be another bland- looking box if it wasn't for the added benefit of it being one of the newer breed of LED technology printers, which makes it more reliable than the average laser printer and a little cheaper to produce too.
However, the technology doesn't just stop with the LED feature. The 333MHz processor, with 128MB of memory, helps drive a printer that has ample connectivity in the form of USB, Ethernet and 802.11 b/g/n wi-fi. Mobile connectivity is supported well, with AirPrint, Cortado Cloud Print, Google Cloud Print, iPrint&Scan and Wi-fi Direct. And, of course, you can administer the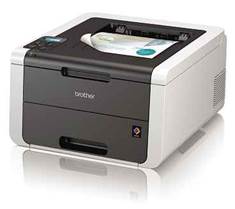 The Brother HL-3170CDW is a good, LED technology printer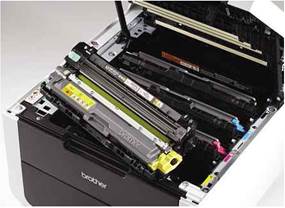 Toner is reasonably cheap too
printer functions over a network just as well as if you were standing in front of the tiny LCD control screen.
Furthermore, you get automatic double-sided prints to help save paper and a 'Deep Sleep Mode', which can be configured to send the printer into hibernation for a user- specified amount of time after the last print. When in this mode, the printer drops to a very economical 1.5W power consumption mode, and to add to that, when a print does come through, it takes about 12 seconds for the printer to 'wake' up and start printing.
There's a 250-page input tray as standard, which fed our text test pages through at a rate of around 16ppm, with the first page appearing within 18 seconds of the request being sent through. The colour PPM was good too, coming to around 12ppm.
The page quality was very good indeed, and the printer accepted everything we threw at it without any misprints, queue errors or anything resembling a lack in printer system resources.
The text page quality was sharp and readable, and the colour page test was remarkably good and of a much higher quality than we initially thought it would be. In fact, the HL-3170CDW has one of the better colour laser print-outs we've seen in a long time.
The replacement cartridges are reasonably priced as well.
Depending on where you shop, the lower running costs and higher than normal yield of the average toner replacements make for a far more efficient printer. And considering the quality of the print you get, the ample connectivity and the power saving feature, the Brother HL-3170CDW certainly has a lot going for it.
Best Brother HL-3170CDW prices ?

$

185.99
1 new from $185.99
in stock


£

164.00
1 new from £164.00
in stock


£

178.00
12 new from £161.83
in stock

MORE DEALS