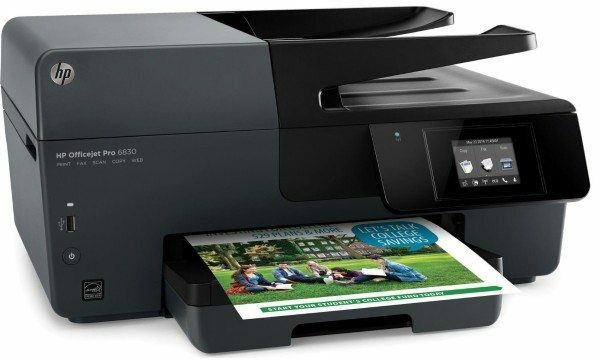 For the busy office… if you're patient.
Marketing a computer product? Want to charge more for it? Don't bother making it work better – just write 'Pro' after the name! It's a useful tip that HP long ago took to heart with its Officejet Pro printer series. This time, though, it's forgotten to bump up the price. The Officejet Pro 6830 really does look like a professional machine, with its bulky, but business-like shape and a big automatic document feeder (ADF) on the top. Yet it's under 70 quid. Could it be a bargain by any other name?
Not really. This multi-function inkjet has wired and wireless networking, a good-quality color touchscreen, a flatbed scanner on top that can digitize or photocopy up to 35 pages at once, and automatic double-sided (duplex) printing. If you have a telephone socket handy, it can even send and receive faxes, or could do if anyone else still had a fax machine in 2015. It's just that doing any of this is, well, a bit of a pain. The 250-sheet paper tray doesn't detach for loading, but we managed to insert a sheaf of A4 with it in place. We then prised it out again to load 6x4in photo paper for our color tests. When we swapped back to A4, the Officejet Pro 6830 insisted it still had 6×4. Nothing in the menus let us tell it otherwise. Eventually we twigged that although you can't pull the tray out fully, you have to pull it out partially when you change paper, or the printer ignores it. When we did make printing happen, it was fast, reaching 16.5 pages of text per minute, or 18.1ppm in draft mode. Color pages weren't too bad at 4.4ppm. Copying from the ADF, however, was much slower, taking two minutes for a 10-page black-and-white document or three-and-a-half minutes for color. And for single scans, the lid wouldn't close over thick books. HP's software also bogged us down. Not only does it lack advanced options and convenience features, it also took more than five minutes to coax the scanner through a single 6x4in photo at an enlargement-friendly 1200 dots per inch (dpi). At 600dpi it completed the task in less than 90 seconds, and looked more natural. You could think of this as a decent 600dpi scanner, fine for office use, rather than a slow 1200dpi machine. Output looked good, though, bearing in mind that this is a machine for office users rather than photo buffs. Ink costs are middling, at just under 5p per color page. Lots of features at a very reasonable price, but other printers are much easier to use.
Specifications
• 600x1200dpi maximum print resolution
• 27ppm colour and 35ppm mono quoted speeds
• 1200x1200dpi maximum scan resolution
• USB
• 802.11n Wi-Fi
• 224x462x388mm (HxWxD)
• 8kg
• One-year warranty.